Google Voice Search – Alright, this news is probably not so new but some of you may not have known yet. Last month (June 2011), Google actually made an update so that you can now use your voice to do a Google search. The Google Voice Search is available on mobile and also on your desktop, assuming you have the Google Chrome browser installed.

To start Google Voice Search, simply click on the microphone icon on the right side of the Google search text field: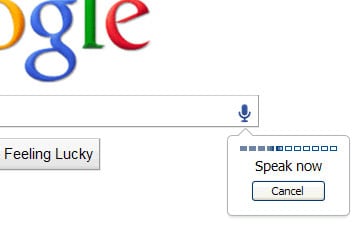 Then start speaking through your microphone to start searching. Check the video below to see how Google Voice Search works in action (although it's pretty straight forward, really):
The guys at BreakfastNewYork took this new feature a step further. They built an open source dev board to inspire people to bring forth their own creativity andtake Google Voice Search to the next level. From speaking robots to sirens, things get crazier and more fun.
Though I still personally prefer typing hen I need to search for things and do my research, some people are not so comfortable in having to type the keywords in – this is especially true for a non techie (not always, though, so please don't get cranky!). Being able to speak your thoughts out can be different at times to typing them with a keyboard. Besides, you can also get your kids to do some fun search together using Google Voice Search. The next step for Google is probably to speak out the search results – which would be useful for people having eyesight problems.