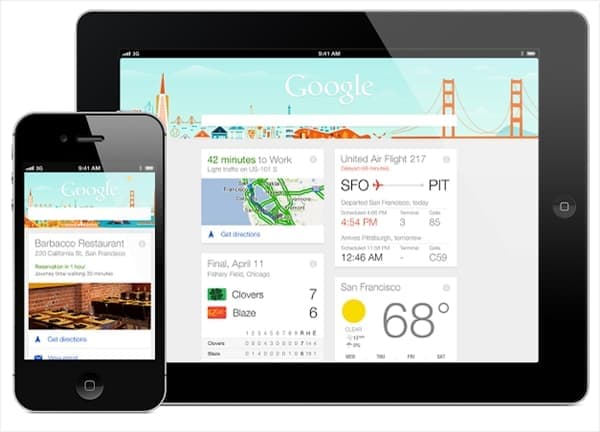 Google Now on iOS – The Google Now video was leaked some weeks ago, so we all knew that Google Now would be coming to iOS. The question was only, when? The fact is, that the answer is now.
If you don't know what Google Now is and why you should care, you may want to keep reading before you decide to ignore this news.
Google Now works by predicting your next move and displaying the right information to you at the right time. So for example, if you drive to work at a specific time each morning, Google Now will display the best route for you with lesser traffic congestion. Or if you always search and find out the score of your favorite sports team, Google Now can automatically grab that info for you, even before you start searching for it.
To be honest, I don't use Google Now (I'm on Android at the moment, reviewing Samsung GALAXY S4) and I don't think I need it. I walk to work, I don't follow any sports, and I don't travel much. The only bit that interests me is probably the weather. But even then, Australians have learned to trust BOM (Bureau of Meteorology) for weather forecasts (which is not used by Google to get the weather data from).
Google Now looks really handy for travellers though as it can also grab the right travel information and present it to you.
The Google Now official video:
Nevertheless, iPhone users who can make use of Google Now to its fullest will be really happy with this news.
Source: Google Now on your iPhone and iPad