Though I come from a country where everyone has a BlackBerry (Indonesia), I had never actually used one. I found that the OS looked a bit stale and wasn't a big fan of their phone design. In my opinion, BlackBerry needed a breakthrough to keep their fans happy and also to convert some over.
With the announcement of BlackBerry Z10 along with a sparkly new BlackBerry 10 OS, it is definitely the breakthrough that we've all been waiting for.
For a start, the BlackBerry Z10 design features a brand new fresh design. It looks completely different compared to the older generation of BlackBerry's square-y phones. The Z10 actually looks really elegant and modern.
The phone is also easy to grip, especially with the excellent rear chassis material and texture. I can comfortably use the Z10 with one hand without being scared of dropping the phone over; even when I have to reach the four corners of the screen. The phone overall is also slim and lightweight.
BlackBerry Z10's display is stunning. It features a 4.2″ touchscreen with 365 ppi display (1280 x 768 resolution). I found that the display really shines once I'm inside an app (like Facebook) and not noticeable so much when you are looking at rows of app icons. Texts are sharp and the colors look vibrant.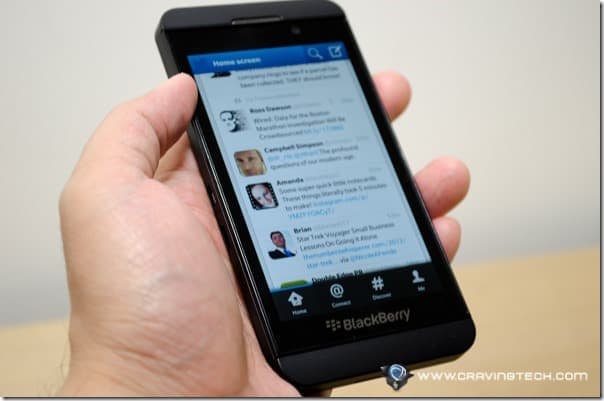 The Z10 is powered by a dual-core 1.5GHz processor and 2GB of RAM, delivering smooth and pleasant interactions across the OS. You can also expand the storage with a microSD card (up to 32GB). The phone is using a standard micro USB port so it will go well with your other microSD tablets and devices.
I personally love the BlackBerry Hub, a central location of every notification that you can think of (text messages, BlackBerry Messenger, Whatsapp, Facebook, Twitter, etc).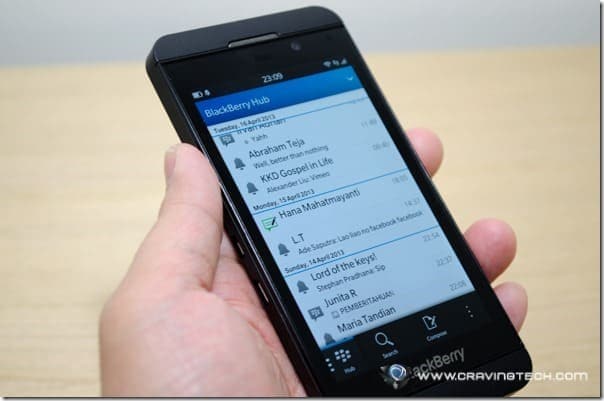 Rather than having to go to each app one by one to read your latest messages and notifications, you can now simply visit the BlackBerry Hub. The apps are also integrated so it actually acts more than just a "notification placeholder". Just by swiping to the right from the Home screen, you can get a quick access to the area. You can also do a peek but I find that it requires a bit more effort than just going directly to the BlackBerry Hub.
BlackBerry 10 OS pretty much relies on gestures which take some time to get used to, but effective once mastered. To wake and unlock the device, you can do a swipe from bottom to top (which gives a really cool effect and I wish every other phone has this cool feature).
At any time while you are interacting with the device, you can also do a swipe from bottom to top to go back to the Home screen. There is no Home or Back button, so it may take a while to reset your brain.
The Home screen is quite different in BlackBerry 10 OS compared to the other mobile OS. Swiping from bottom to top (as I mentioned earlier), will actually minimise the current active app to the background and bring you to your recently used/minimised apps screen (which is the Home screen).
This is a different approach but I'm glad that they took the risk in having their own design and decision. I think it's great. Most of us only use the few same apps for a whole day (such as Facebook, BlackBerry Messenger, Twitter), so it makes more sense to have quicker access to these.
To make the design more interesting, these apps are not just minimised. Any notifications or updates on the apps will also be shown on the Home screen. Developers can code and choose what to do here (I haven't really checked into this but this is my assumption).
The camera is not the best smartphone camera out there but still takes good photos.
BlackBerry also includes a map app (with voice navigation) but it is sort of a hit and miss. When I travelled from Fitzroy North to South Yarra, it guided me to turn right when there was no such road and took me to an Eastern Freeway instead (since there is no road to turn to). This is a software/map update issue, so definitely something that can be fixed in the future.
Overall, the BlackBerry 10 OS is really promising, considering this is their first release. Once we have more apps in the store and a few polishing updates, BlackBerry 10 OS will be a force to reckon with.
Disclosure: This post is sponsored by BlackBerry but all opinions are 100% mine.