On a suprising move by Google, the Google Chrome Browser beta tag has been removed. This is very unusual by Google because most of its products and services are always labelled as Beta, even when they have been available to public for years. Gmail, for example, is still tagged as a Beta.
Nevertheless, if you are using Google Chrome, head off to the official Google Blog page to read more about this news and upgrade yours.
My Google Chrome version was 0.4.154.33 before I made the update. The funny thing was, Google Chrome displayed "Google Chrome is up to date (0.4.154.33)" even though it is not (the latest non-Beta release is meant to be version 1.0.154.36).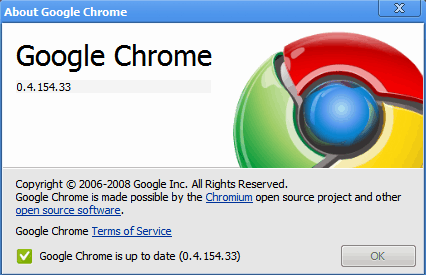 So I decided to just re-download and re-install Google Chrome. The update went through fine and my Google Chrome now says "Google Chrome is up to date (1.0.154.36)".