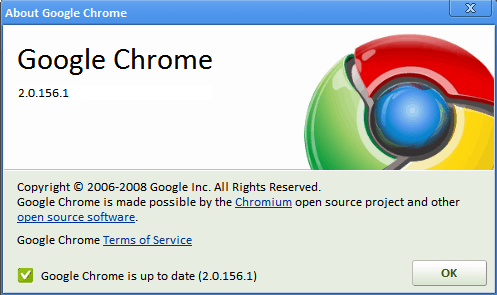 Not satisfied with your latest build of Google Chrome? Then feel free to try the new released (not to public yet) Google Chrome 2.0 Pre Beta (Build 2.0.156.1).
This Google Chrome build number is only available if you have subscribed to received the latest updates on the Developer Preview Channel. Read my post on how to switch your Google Chrome to receive updates on the Developer Preview Channel.
So what's new?
New Features in Google Chrome 2 (Build 2.0.156.1)
Google Chrome form auto complete
Now most people who require a high degree of privacy may hate this, but I positively welcome this feature. It's one of the reason why I still loved my Firefox with its auto suggest form completion. It has helped me a lot when commenting on other blogs so I don't have to type my name, email, and blog's URL thousands of times. I'm glad that Chrome has this feature too now.

Google Chrome better zoom
Previously only texts are made bigger and smaller when you do the magic CTRL + Mouse Wheel. This time, even images and other components are made bigger.
Google Chrome different User Profile
Now you can have multiple profiles assigned to your browser. If you share your computer with your family members, you'll love this feature.
Rather than listing all new features here on the post, I'd encourage you to simply go to the release notes at Google Chrome's development release notes page.
Unfortunately, no extensions or Google Gear support whatsoever yet.