I've been trialing the new version of NOD32 from ESET for several weeks now (NOD32 v4 Public Beta 1, Build 4.0.68) so here are my impressions on the product.
NOD32 and Kaspersky are my most favorite antivirus applications because they don't make your computer sluggish and they are good at picking up viruses. The new Norton Antivirus came close too with its Gamer Edition.
Since it's still on Beta 1, interfaces and features may change.
NOD32 v4 Beta 1 Features
In short, it protects your computer from malware (basically what an antivirus should do). The new version includes new features such as (taken from the Public Beta official page):
Support for Microsoft Windows Live Mail and Mozilla Thunderbird mail user agents
Scanning of SSL-encrypted HTTPS and POP3S traffic
Integrated SysRescue module for creating bootable discs and USB flash drives
Integrated SysInspector module for analyzing runnings processes on computer
Device driver-based cleaning module to remove malware which runs at boot time
Watch Activity pane graphs File and Network Activity with second, minute or hour precision
Text mode interface for compatibility with screen-readers and other assistive technologies
Apart from detecting viruses, as you can see above, there are other features built into it as a package. It even detected that I have been naughty and not updating my Windows XP properly as you can see below:
NOD32 v4 Beta 1 User Interface
The interface is quite clean and elegant. The default skin that comes with it is enough and since it's just an antivirus, you shouldn't be bothered with trying to re-skin the application. The less you see your antivirus program displayed on your screen (or its warning), the better, right?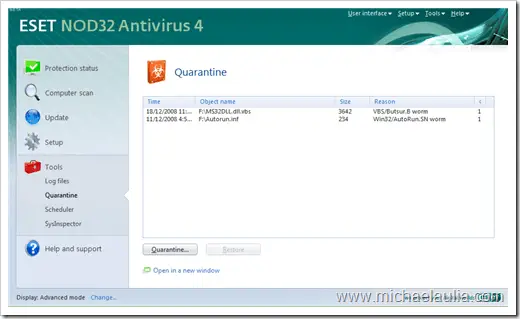 There are some summary statistics if you are into that sort of thing built into the product: Number of infected objects, number of clean objects, and so on.
The basic interface and default settings should be enough for most casual users. But if you want to know the itty gritty details of what it's doing, feel free to go through the Advanced Setup/Settings.

When not opened, the icon will sit nicely on the system tray and provides you a quick access by right clicking on the icon. To disable the antivirus temporarily, you can simply right click on the icon and disable the antivirus (useful if you want to play a game, for example).
NOD32 v4 Performance
As I said earlier, I don't notice any degradation on my system performance when I have NOD32 version 4 Beta 1 up and running. It eats up around 50 MB of RAM on Windows XP Service Pack 3 (egui.exe and ekrn.exe processes). Performance is quite important on my Windows XP machine since I haven't reformatted that machine for several years!
As for virus detections, honestly it's a bit hard for me to test. But I always have this computer that has been infected by a worm (No, not my computer) so I gave it a try. Plugged my USB Flash drive on that machine and plugged it on my machine with NOD32 version 4 Public Beta 1 installed. A few seconds later, I saw this popping up on my screen:
So far so good! NOD32 detected the worm as AutoRun.SN worm and safely removed the infected file (Autorun.inf) created by the worm automatically.
Conclusion
Even on Beta 1, ESET NOD32 version 4 antivirus looks pretty solid. I haven't encountered any bugs and so far it looks pretty stable with no crashes at all. It also works on the leaked Windows 7 Beta builds so if you are looking for a good antivirus while playing around with your Windows 7 build, take NOD32 v4.
The NOD32 Public Beta page can be accessed here.