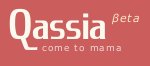 Qassia is a site where you can submit articles or stories to (oh no, not this type of site again!?). Wait, there's a bit of difference with Qassia.com. 
In Qassia, you can submit any articles (they call it "Intel") that you can think of. Whether it's about a local restaurant, information about a person, a place, or anything, it doesn't matter. It doesn't even have to be a "quality" post, I may say. After it's submitted, it has to be rated by other members (at least 12) for it to go "live" on Qassia's directory. Once it's "live", your site (which you entered on your profile) will get back links from Qassia and also traffic, when a reader reads your post and click on the link to go to your site/blog.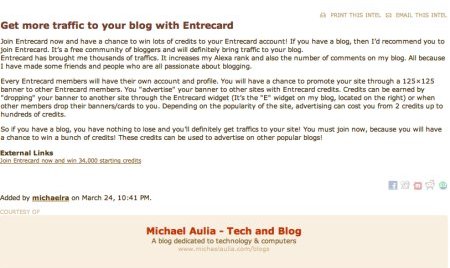 Submit an article and have your blog/site displayed and back-linked at the bottom
In Qassia, you can earn Qassia dollars. You earn more dollars by submitting more Intel or rating other people stories. The "richer" you are, the higher your posts will rank on Qassia directories. At some point in the future, I'm sure this currency can be used for something else.
A question that makes me wonder is: you'll get unlimited back links from Qassia.com, depending on how many articles you have submitted to it. What I'm not sure is (and if you are an SEO expert, please share your view here), I thought that it doesn't matter how many back links that you get from one site. It will always be counted as 1 back link by Google, am I right?


I got 2 Backlinks by submitting 2 articles to Qassia.com
 
Nevertheless, Qassia worth's a try. You can also submit an article from your own site/blog. Simply copy pastes yours and submits "a new Intel" at Qassia. Yes, it is allowed. For a one minute work, you'll get back links and possibly traffic if people like your Intel.
Qassia.com is currently still in private beta but has more than 10,000 members now. If you want to join Qassia.com and give it a go, you can get a closed invitation from my profile page at Qassia here (use the Register button on the left).