Note: This is a guest post written by Elijah Nelson – Are you on the hunt for the latest and greatest electronic gadgets? Look no further than Geekbuying, your one-stop destination for all your tech needs! With a huge selection of products to choose from, ranging from phones and tablets to drones and 3D printers, Geekbuying has something for everyone. What's more, their prices are incredibly competitive and they offer a wide range of payment options.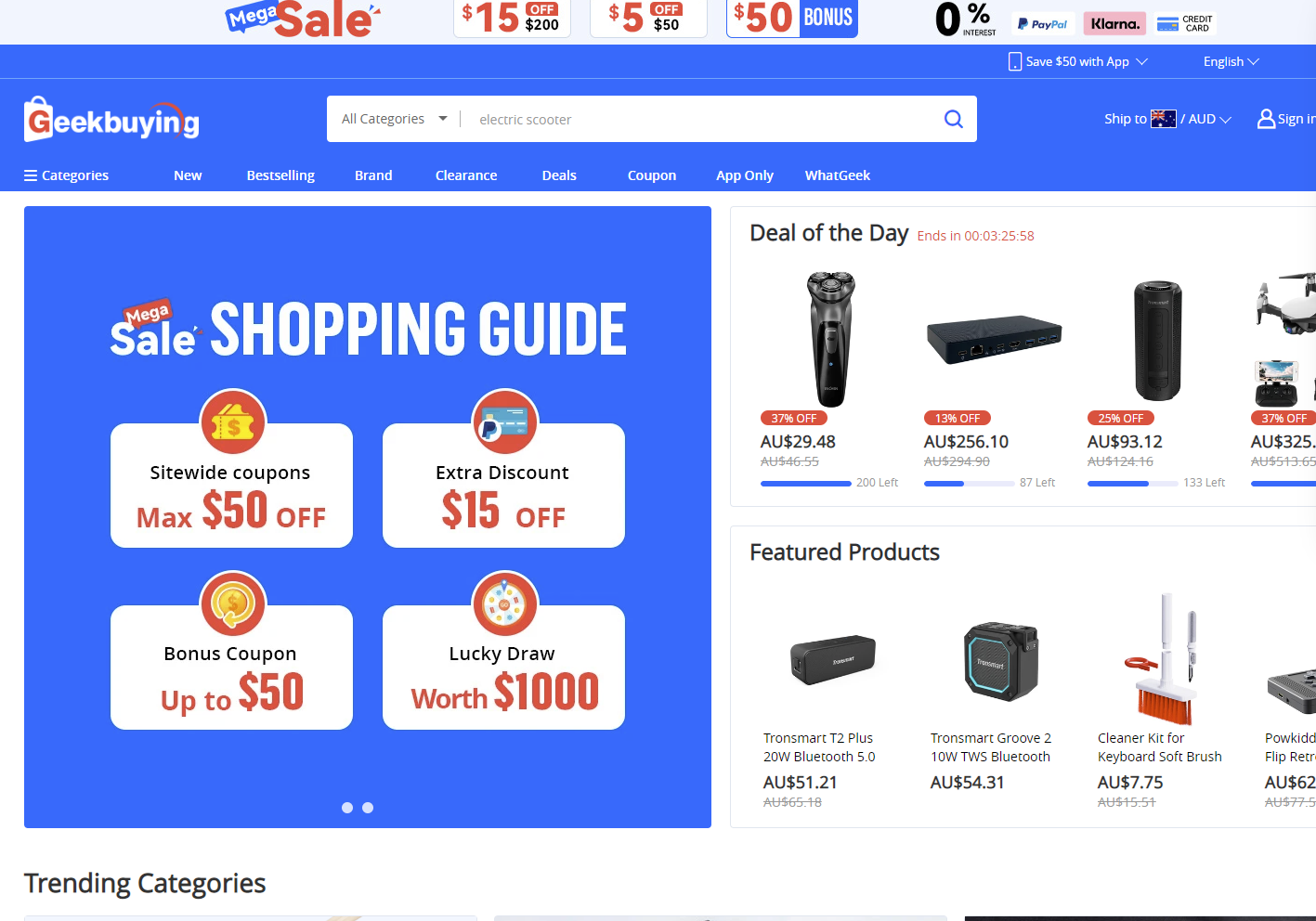 Why should you buy from Geekbuying?
GeekBuying is a trusted shopping destination for tech enthusiasts and gaming fans around the world. With an abundant selection of products, it's no surprise that GeekBuying is one of the leading online retailers in the industry. As if their range of products wasn't enough, they also provide customers with multiple payment options for added convenience.
GeekBuying has a strong commitment to customer satisfaction. They are dedicated to providing secure payment solutions that are reliable and safe. Whether you're paying by credit card or PayPal account, you can rest assured that your information is safe with GeekBuying's encryption technology. When it comes to online shopping, people often worry about user privacy and the potential of their data being used by companies for other commercial purposes. Fortunately, Geekbuying offers a secure platform that puts emphasis on user privacy and has no need for other commercial purposes.
In addition to providing quality products at competitive prices, Geekbuying also offers excellent after-sales service which includes free shipping with no hidden charges or minimum order requirements. Our warehouse is based in the United States, so you can rest assured that your orders will arrive quickly and safely. Our customer service team is available 24/7 to help you with any queries or concerns. With our unparalleled selection of products, unbeatable prices, and stellar customer service, we guarantee satisfaction every time.
About Geekbuying.com
Geekbuying was founded in 2012 with the mission to devote itself to building an efficient brand channel that caters to customers across the globe. They have more than 5 million registered users and have sold more than 300,000 products in more than 200 countries and regions around the globe. Geekbuying has won many international awards, such as the "outstanding merchant award" from PayPal. In June last year, Geekbuying successfully celebrated its 10th birthday and launched its new UI, which was covered by many major media outlets including Yahoo, Macworld, PCWorld, and TechHive. The founder of Geekbuying said:
"The 10th anniversary is an opportunity for Geekbuying to achieve breakthroughs. The 10th anniversary is an opportunity for Geekbuying to achieve breakthroughs. Our mission is to devote ourselves to building an efficient brand channel to go overseas. We have three core values: respecting people, exceeding customer expectations, and pursuing excellence. We always believe that users are the driving force and to be the most sincere company is always our goal."
Geekbuying.com has developed partnerships with many well-known media outlets (i.e. Techradar, Tom's Guide, Techadvisor, etc.) and has long-term cooperations with brands such as Lenovo, Gamesir, Zendure, Creality, and Razer.
Local Stock with Quick Delivery
At present, Geekbuying's warehouse has 3D printers and other tech products in stock. Products are sent directly to customers from the US-based warehouse. Geekbuying has committed to shipping 80% of its products from US warehouses. Customers usually receive purchases within 1-5 days, and the shipment fee for many products is free (except for remote areas).
Payment Security and User Privacy
Geekbuying provides a wide variety of payment options to all users.
PayPal
PayPal Credit
Klarna
Credit Card/Debit Card
Western Union
Wire Transfer
In addition to secure payment options, Geekbuying recognizes the importance of personal information privacy. They guarantee the security of each user's personal information, and never use it for other commercial purposes. Geekbuying's complete privacy policy can be read here.
24-hour Customer Service
GeekBuying has established an excellent customer service system with a well-trained team. Contacts can be found on the Contact Us page. Customers can usually expect a response within 24 hours and custom reviews can be found on the review website Resellerratings.com.
Warranty & Return Policy
Rest assured that Geekbuying takes full responsibility for its products and provides after-sales service including return service on DOA products. In addition to the DOA policy, Geekbuying provides a 7-14 day return/refund option for any products that don't meet a customer's need (return shipping is paid by the customer). A one-year warranty is also included on electronics so that customers can enjoy a 12-month FREE repair warranty. The full return policy can be found here.
Summary
Geekbuying is a trustworthy online shopping website with more than 10 years of operating experience. The site is a great online resource for a tech enthusiast. A wide range of products is offered from smartphones to wearables, laptops to tablets, and much more. With an intuitive search tool, a friendly customer service team, and great deals, it's no surprise that GeekBuying has become one of the most popular tech retailers on the web. Whether you're looking for a new gadget or just some replacement parts, GeekBuying probably has what you need at a great price.