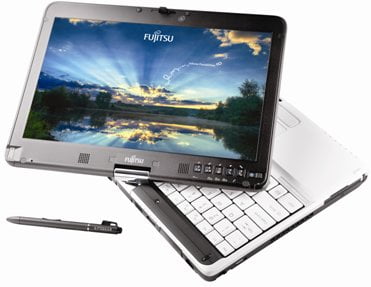 Fujitsu announces the TH700 and T730 LifeBook series, with multi-touch screen tablet convertible notebooks. Don't want to get an iPad? Might want to consider this one if you are looking for a hybrid of an iPad + a notebook perhaps :)
Below is the official press release from Fujitsu Australia.

Sydney, Australia: 26 July, 2010 – Fujitsu today announces the launch of their newest array of tablet computing delights that raise the bar of mobility and functionality. Refreshed with the latest processors and performance capabilities, including a 12.1 inch screen and Dual Digitizer multi-touch function, the LifeBook TH700 and T730* push boundaries further to let you perform everyday activities with greater ease, efficiency and style.
"The Fujitsu LifeBook TH700 and T730 with its responsive multi-touch screen are designed to allow you to interact with a tablet-convertible notebook the way you want it to be: using keyboard, stylus pen or two finger touch." shares Mr. Ivan Chan, Business Director, Fujitsu PC Australia.
Designed with first-time Tablet PC users in mind, the LifeBook TH700 comes in a glossy black cover embellished with a distinctive Fujitsu Infinity Mark on the cover for the trendy and stylish users. Comparatively, the LifeBook T730* portrays a confident and professional demeanor with its matte black cover with a prominent white keyboard area.
Featuring a 12.1-inch WXGA TFT screen with Dual Digitizer for an intuitive touch experience, the LifeBook T730* allows you an optional view angle of R/L/U/D: 80/80/80/80 degrees and a bi-directional hinge for a comfortable use during presentation or discussion..
Do more with pen inputs and touch with the Fujitsu LifeBook TH700 and T730*. Targeted at users who enjoy both the type and touch usage scenarios, these two Tablet PCs present a perfect multi-touch experience with the pre-installed Windows® 7 operating system to both first-time Tablet PC and professional users respectively.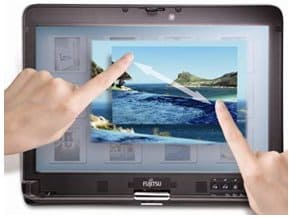 Both Tablet PCs are equipped with the latest Intel® Core™ Processor; Intel® Core™ i3-350M processor for the LifeBook TH700 and an option of the Intel® Core™ i5-520M or Intel® Core™ i7-620M for the LifeBook T730*. Complemented by a high-capacity Hard Disk Drive (500GB for LifeBook TH700 and a 320GB/500GB for LifeBook T730*), both models are mighty workhorses, which are able to support heavy work usage and competent in seamless file transfers with built-in Bluetooth® capabilities and 3.5G connectivity options. With such heavy work usage in mind, the chassis of both Tablet PCs are increased slightly by a barely noticeable 0.5mm to ensure better ventilation for long hours of use. This ensures the Tablet PCs will not get heated up should you need to spend long-hours working on an artwork or a project.
For the maximum on-the-go flexibility, LifeBook TH700 and T730* come with hot-swappable modular bay device. Simply swap between optional accessories of a secondary battery which gives you an extended battery life of up to 8.15hrs1, a weight saver for a lighter notebook or a 2nd HDD fitting kit to maximize storage capability.
Knowing the importance of security to any notebook user, both the LifeBook TH700 and T730* are equipped with a whole gamut of security features including Fingerprint Sensor, 3D Shock Sensor, BIOS Lock, LifeBook Lock and a HD Lock so as to protect your highly confidential documents and your notebook.
The LifeBook TH700 or T730* instantaneously turns into a social and entertainment tool with its built-in HDMI output and watch movies on a large screen, or stay connected with friends with a 2.0 Mega Pixel camera and built-in stereo microphone so you can chat with friends through VoIP.
Fujitsu remains firmly committed to the promotion of a cleaner environment and complies with the European Union's Restriction of Hazardous Substances directive (RoHS) across its entire range of products. In addition, Fujitsu has established a set of commitments that goes beyond RoHS requirements, thus allowing it to stay keenly focused on its customers' health and well-being as well as to embrace a healthier environment for all. By adopting a green factory concept and being committed to the cause of energy-efficient computing, Fujitsu also fights to sustain the Earth as a sponsor and a member of the Climate Savers Computing Initiative.
Pricing and Availability – Fujitsu LifeBook TH700
Vendor: Fujitsu PC Australia
Model:  LifeBook TH700
RRP: from A$2,099
Website: http://au.fujitsu.com/pc
Customer Care Hotline: 1800 288 283
Distributors:  Bluechip Infotech and Multimedia Technology
Availability: July