Belkin Pleated Sleeve case is meant for a naked iPad case. Some iPad users prefer to use it naked and some prefer to use a case, adding extra layer of protection despite of losing the aesthetic and adding some degree of bulkiness. If you like to use your iPad as it is, you might want to get a good case just for carrying the iPad out of the house. Try Belkin Pleated Sleeve case, perhaps?
The Belkin Pleated Sleeve Case is actually pretty slim and can be considered as a soft case. It's available in Black, Perfect Plum, Flint Gray, or Indigo Blue. The review unit I have is the Perfect Plum:
Its reinforced pad helps to protect the iPad from the usual bumps and scratches but I'm not sure if the case can survive a long fall to a hard floor, though. The neoprene material offers some degree of protection but not as much as a hard case, of course. It's a tradeoff for being lightweight.
Overall, the look is quite pleasing and not dull, thanks to the "patterns" on its exterior: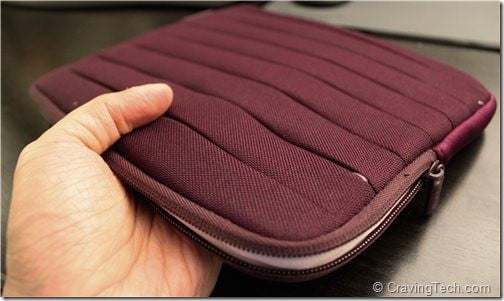 There is also an extra pocket at the front, sealable with a zipper. You definitely can't fit something bulky inside but things like the iPad's USB cable and flat items will do fine.
Overall, I love how the Belkin pleated sleeve case looks and how light it is. It has a reinforced neoprone exterior to protect the iPad and has a soft comfortable material inside.
The case is definitely designed for a naked iPad (iPad without a case) but it works well with the Belkin Grip Vue I reviewed earlier. In fact, the Belkin Grip Vue + Screen Overlay + Pleated Sleeve work great together! You can use the Grip Vue when your iPad is used at home and slide it into the Pleated sleeve case when you ever want to take your iPad out with you.
The Belkin Pleated sleeve case doesn't have any handles to carry though so it's best to be put into a bag (or you can carry it by hand if you want to). The case also gives protection to your iPad from light rains, sand, and dust which are not covered with a portfolio iPad case style.