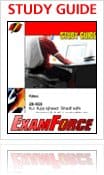 As an I.T person, staying up to date with the I.T world is very important, especially if you want to get the best jobs on the I.T market. ExamForce, a leading provider of exam preparation materials, is currently having a special offer to provide some study guide bundles and sample exams for you.
These free study guides and sample exams are provided for Cisco, CompTIA, Microsoft, Oracle, and for I.T security certificates.
ExamForce IT Certification Study Guide Bundle
Microsoft
70-631 TS: Windows SharePoint Services 3.0 Configuration – 29 pages
70-640 TS: Windows Server 2008 Active Directory, Configuration – 78 pages
70-290 Managing and Maintaining a Server 2003 Environment – 45 pages
CompTIA
N10-004 CompTIA Network+ – 75 pages
Cisco
640-802 Cisco Certified Network Associate (CCNA) (Provided as two study guides)
CCNA 640-816 Interconnecting Cisco Networking Devices Part II (ICND2) – 51 pages
CCNA 640-822 Interconnecting Cisco Networking Devices Part 1 (ICND1) – 71 pages
1Z0-040 Oracle Database 10G New Features for Administrators Practice Exam
This practice exam provides sets a baseline of knowledge and helps test takers focus their study where they need it most.
CramMaster 1Z0-040 covers the following Oracle recommended objective categories:
Installation
Server Configuration
Load and Unload Data
Automatic Management
Manageability Infrastructure
Application Tuning
Support for Analytical Applications
System Resource Management
Automating Tasks with the Scheduler
Space Management
Improved VLDB Support
Backup and Recovery Enhancements
Flashback Any Error
General Storage Enhancement
Automatic Storage Management
Maintain Software
Security
Miscellaneous New Features
SY0-201 CompTIA Security+ Special Edition Practice Exam and Study Guide
CompTIA's Security+ exam is a critical step for anyone interested in IT security. It's a key component in the Department of Defense's 8570.1 initiative that mandates federal IT workers and contractors gain security certifications to work with the federal government.
ExamForce's SY0-201 CompTIA Security+ covers the following CompTIA's recommended objective categories:
Systems Security
Network Infrastructure
Access Control
Assessments and Audits
Cryptography
Organizational Security
Happy practicing!