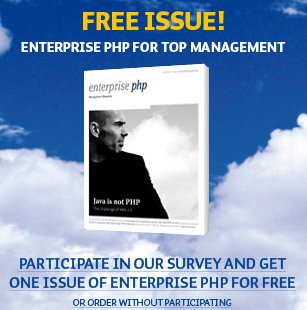 Free Enterprise PHP Magazine just for you!
It doesn't matter where you live, you can grab the free magazine after filling in a survey. The survey was fairly short, probably only took 2-3 minutes to fill.
If you are a PHP developer or someone who involves on the management where your products/services revolve around PHP scripts, then there is no reason not to grab the free magazine.
The link can be found on Enterprise PHP page here.
Let's just hope that they really deliver the magazine :)