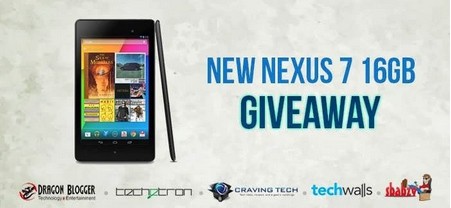 Google Nexus 7 Giveaway – Loving that new Nexus 7 from Google? Along with Dragon Blogger, SBABZY, TechWalls, Techetron and The Game Technician, we are all sponsoring a brand new Google Nexus 7 Tablet 16GB to be given away to 1 winner (or $229 cash transferred via PayPal if you live outside of the U.S – see the T&C  below).

You can increase your odds of winning by sharing your custom link in the PromoSimple giveaway below and convincing others to sign up with your referral link, up to 250 bonus entries can be gained this way. Also it is setup so you can tweet from the widget 1x per day so you can get 30 extra entries if you come back and tweet everyday from the widget (bookmark this site).
Remember to do all of the entries, thank our sponsors and if you do write a blog post and become a co-host remember to leave the post URL as your entry validation. As an additional benefit, if you choose to become a co-host you can win $50 cash for hosting the winning entry even if you don't win (or that in addition if you do win).
All the best, everyone!
Giveaway Rules/Terms & Conditions:
Eligibility: Worldwide, except for the state of NSW in Australia and if your country does not support such promotion. You also need to be over the age of 18 where rules and restrictions apply.
See contest rules for details, but if you live outside the U.S. you have a few options; You can receive $229 cash via Paypal instead of the Google Nexus 7 due to the costs in shipping and limitations in shipping Internationally directly from Google's site, you could gift it to someone else in the U.S, or if you are willing to pay for shipping, Justin from DragonBlogger will order the Nexus 7 delivered to him and then ship the device Internationally to you as long as you are covering shipping costs. This will add time to the delivery as it has to ship to him and then ship overseas to you however.