ECOVACS ROBOTICS has just unveiled its latest groundbreaking home cleaning innovation, the DEEBOT T20 OMNI. This new addition to ECOVACS' dual vacuuming and mopping lineup sets a new standard in home cleaning, combining cutting-edge features like Auto-Mop Lifting and Hot-Water Mop Washing.
The DEEBOT T20 OMNI introduces a range of flagship features, starting with its powerful cleaning capabilities. It's the first ECOVACS model to boast 6,000Pa of suction power alongside a 5200mAh battery, delivering over four hours of cleaning on a single charge. It's pretty impressive and can certainly clean big rooms and houses with ease. The OZMO TURBO rotating mopping system, previously seen only in ECOVACS' top-of-the-line X1 Family, ensures thorough and efficient mopping performance.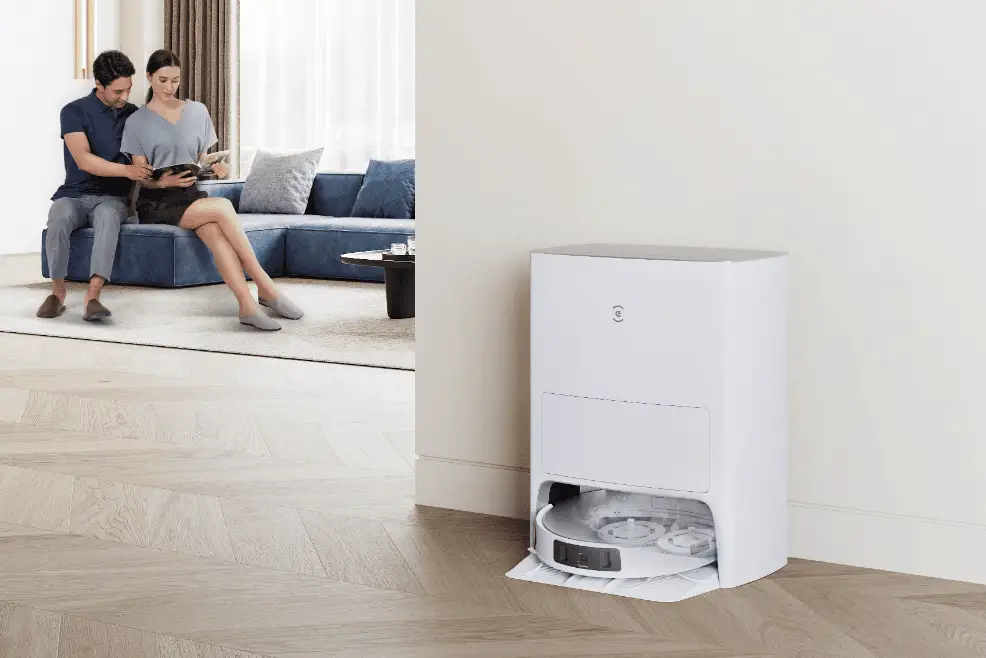 The DEEBOT T20 OMNI includes the OMNI station, making it the first time this innovative feature is available outside of the X1 OMNI model. The OMNI station enables the DEEBOT to empty its dustbag, wash and dry its mop pads, and recharge simultaneously. Alongside the onboard AI Voice Assistant YIKO, TrueDetect 3D 3.0 Obstacle detection, and TrueMapping 2.0 mapping technology, the DEEBOT T20 OMNI stands as an exceptional cleaning solution, setting itself apart from the rest.
With Auto-Lift Mopping and Hot-Water Mop Washing, the DEEBOT T20 OMNI ensures effortless and sparkling cleaning experiences. The OZMOTM Turbo 2.0 Rotating Mopping System, applying consistent pressure to the floor, guarantees up to 99.99% stain removal assurance. The Auto-Lift Mopping technology automatically detects carpets, lifting mop pads, and increasing suction power for effective carpet and floor cleaning.
The Hot-Water Mop Washing function heats water to 55? for effective removal of oil, dirt, and sticky residues from mop pads. Additionally, the OMNI station simplifies maintenance with features like hot-water washing, hot air drying, and auto-emptying of the DEEBOT's onboard dustbin.
The DEEBOT T20 OMNI also boasts ECOVACS' strongest suction power at 6,000Pa and offers one-click Housekeeper Mode for customised cleaning experiences. Its AI Voice Assistant YIKO allows hands-free interaction with the DEEBOT for task completion through voice commands.
TrueDetect 3D 3.0 Obstacle Avoidance Technology ensures precise scanning and avoidance of potential ground obstacles, while TrueMapping 2.0 technology delivers highly accurate and detailed home mapping.
With a powerful 5200mAh battery, the DEEBOT T20 OMNI provides extended cleaning periods and efficient cleaning for years. Its agility and mobility enable it to navigate around homes and recognise thresholds into rooms, ensuring comprehensive cleaning.
The DEEBOT T20 OMNI is now available with an RRP of A$1,799 at select JB Hi-Fi, Harvey Norman, Godfreys, Bing Lee stores, and online at various retailers and ECOVACS' official website.
It'd be interesting to see how the DEEBOT T20 OMNI perform. If you are not familiar with ECOVACS, make sure to check our review on the WINBOT X, a smart robot window cleaner.