When I joined Plurk, I first noticed this dancing banana emoticon being used everywhere on the plurk messages. It's simple but yet made me grin widely. That was the first time I saw it in my whole life :D 
The Dancing Banana is also known as "Peanut Butter Jelly"  or "Humpo The Banana" (source: Wikipaedia, if you want to know more about the history)
The Dancing Banana Emoticons can be seen everywhere around the web: on blogs, forums, and instant messengers like msn/wlm. There are lots of dancing banana variants in which you can use for different situations.
If you want some dancing banana goodness on your msn/wlm messenger or looking for some dancing banana icons for your discussion forum, I've zipped them all up in one single file for you to download.

Below are some examples of Dancing Banana emoticons and their variants:






and a banana party at Plurk's: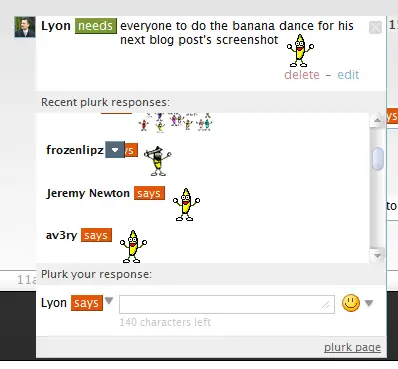 There are over a hundred of the Dancing Banana Emoticons that I found over the web (there are a few duplicates), but I've saved them and zipped them up to make it easier for you to download.
I've also named the folders in the zip file to the URL where I found the emoticons (for credits).
Without further ado, download the whole set of Dancing Banana Emoticons here or here (please let me know if the download links are no longer working).
And if you love the bananas, don't forget to share this post to the whole world!