Note: This is a guest post written by Emma Crameri
d-brand phone cases – While looking for a phone case for my brand-new Google Pixel mobile, I stumbled upon a review by someone I respected and decided to try dbrand.
dbrand sells skins, cases, screen protectors and darkplates. They have an innovative range of designs, including special editions. Think leather, Icons by Marques Brownlee, Robot Camo, Teardown (realistic internal scans) and block Pastels.
There are many other dbrand cases and skins, you can check our overview here.
The vinyl skins prevent fingerprints and surface scratches. You can customize your skin by mixing and matching out the different patterns and colours. You can select a pattern like matrix (honecomb), swarm, camo, dragon skin, stone (white marble or concrete), leather, titanium, or wood. The block colours are sunset red, sunrise orange, mellow yellow, seafoam green, sky blue, kind of purple (lilac), pink and grey.
I placed my order on the dbrand website. It took a little while to arrive but I was pleasantly surprised by the luxe packaging. The black box has the byline of 'it's not a product, it's a culture'. Inside the box was instructions, my phone case, three vinyl stickers and a microfiber cloth.
You'll need to visit the web address to see how to install your phone case. This page has dedicated instructions for each different vendor and product. I watched an informative 5-minute video.
Apply the Skin
You'll need to wipe your phone so it's clean before applying the skin. My set of skins included a back, back accent and camera. My version did not have the logo.
I was lucky to not need a hair-dryer to smooth down the edges. You'll apply the camera skin first. Then add the smaller top skin for the back. The hardest skin to attach is the largest back accent. Make sure it's straight and even on both sides. It took me a couple of goes to get this right. I discovered it's best to attach near the camera bar first.
Apply the Grip
The phone case or grip is super easy to add to your phone. Just apply pressure on the opposite corners and lift it off.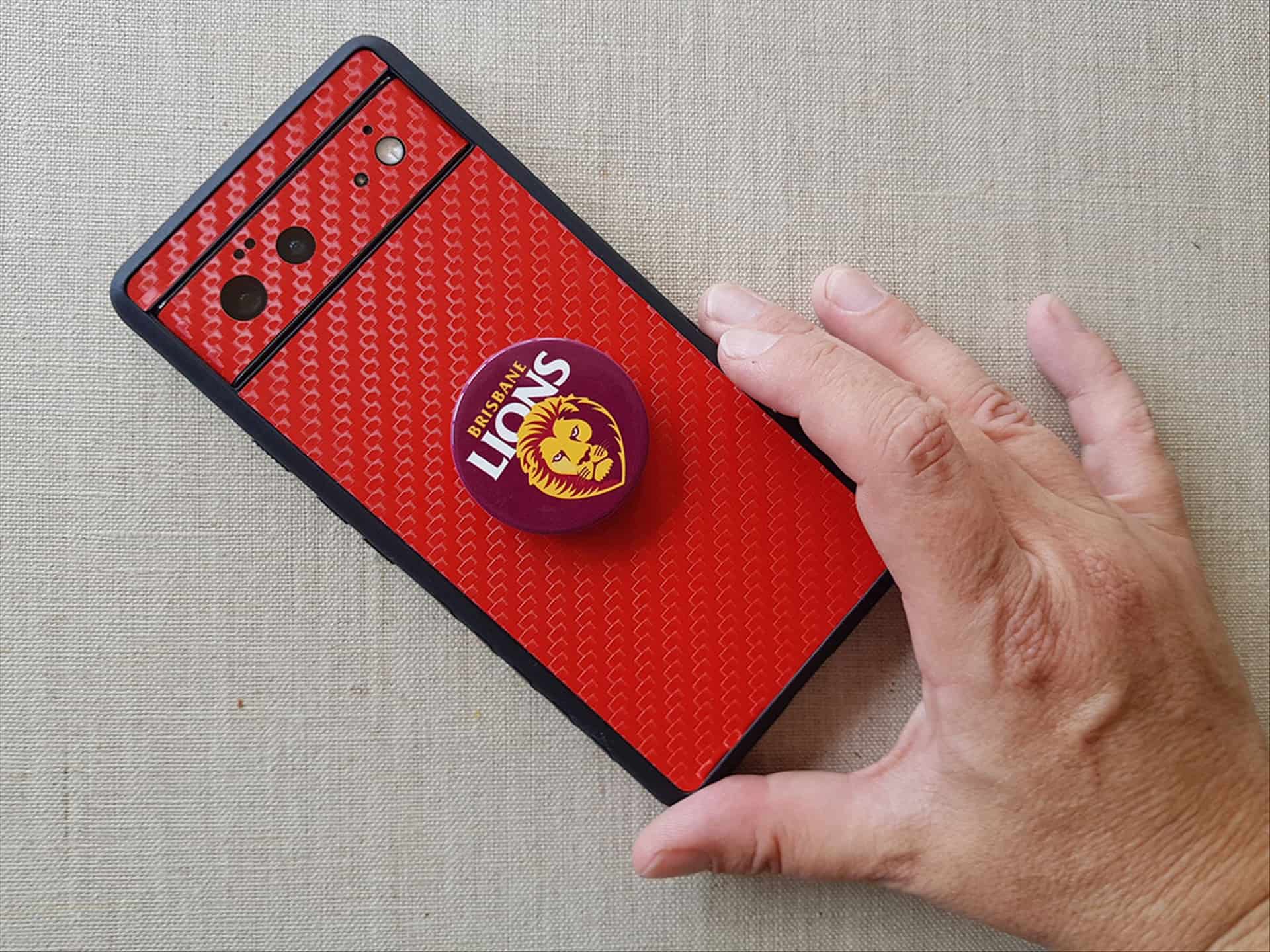 Pros
Uses premium 3M vinyl with an amazing deep red colour and a cool etched 3d pattern
Solid well-made phone case
Disguises the weird camera on a Google Pixel so both sides of the phone are flat
Grips to surfaces
Cons
Takes a couple of times to perfect the skin placement
I'm loving my beautiful red skin and tough black phone case so much that I'll be buying my next phone case and skin from dbrand! Free shipping to the USA and Canada. Love these d-brand phone cases!