With the world of mp3 players primarily dominated by iPods, it's always a fresh thing to see a player which doesn't have an "i" tag in front of it. Creative Zen X-Fi Style is such player, the latest media player by Creative, available in 3 different sizes (8GB, 16GB, and 32GB) and 3 different colors (Red, Black, and White). How does it compete with the other media players out there? Let's take a look closer in this Creative Zen X-Fi Style review post.
Creative Zen X-Fi Style Review – Audio quality
What makes the Creative ZEN X-Fi series special is definitely the audio quality, powered by the X-Fi technology. In the computers' market, the Creative Sound Blaster X-Fi series have delivered great audio qualities for years. This technology is now accessible on a mobile media player for pure music listening. The X-Fi Crystallizer (can be disabled/enabled on the player settings) feels like a cheat as it magically enhances your music to the next level. There is also the X-Fi Expand technology that allows you to experience sound staging in headphone audio. These settings can be adjusted to your liking – I set mine to less than a half as I found that it started to sound funny on higher levels. There is also a built-in speaker but the volume is so small that you need to crank the volume up if you want to use it – best is to plug your earphones to listen to it. The audio quality is definitely better than my iPod Nano 4th Gen and more noticeable when the Bit rate of the audio file is high enough (preferably greater than 128 kbps). The sample music files that come with it serves well to satisfy your ears (192kbps Bit rate) and to show off the high fidelity.
Creative Zen X-Fi Style Review – Appearance and design
In terms of appearance, ZEN X-Fi Style is meant to be the stylish version on the ZEN series but apart from the colors and the patterns on the body, the X-Fi Style does look similar to the other ZEN players.
The Zen X-Fi Style's LCD screen is 320 x 240 pixels, capable of producing 262,000 colors. It's not touch screen though like the Zen X-Fi2 so you interact with it by pressing the hard buttons on the player. Interface navigation and certain functionalities are done via the navigational D-pad on the front of the player using your thumb. There is unfortunately no dedicated volume control button on the player. This is fine because when your music/video is playing, you can press the up and down button to adjust the volume. However, if you are on the other menu, you need to press a few buttons to adjust the volume, which can be annoying when a loud music is next on your current playlist.
Because you need to use the D-Pad to browse and interact with the player, it can be quite tedious if you have lots and lots of music files in the player. Fast forwarding a song or a podcast is done by pressing and holding the right button and scrolling through a list of music is done by the up or down button. I have to admit that I've started to miss my iPod Nano's wheel that allows me to scroll faster if I want to. Thankfully, you can browse using the first letter to narrow down the search before you scroll through the list.
I like the fact how you can actually customize the menu on the player (whether you want to include or exclude certain menu and also the order of the menu). This makes the X-Fi Style more personal as you can put what you want to access the most on the top of the screen and remove the stuffs that you don't need.
Speaking of a playlist earlier, what I love about the Creative Zen X-Fi Style is that you can simply drag and drop your music files to the player using the Windows Explorer. The files will also be stored as plain files so you can copy, move, or delete them easily. A software called Creative Centrale can help you in managing your media, playlists, and all that but it's not really required if you don't want to. This is a big plus especially to those who hate using iTunes on their computers.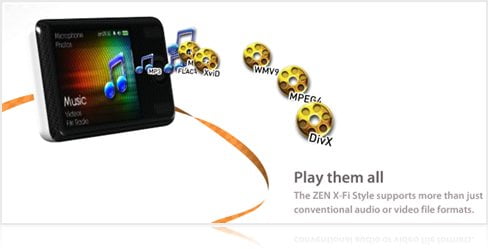 Creative Zen X-Fi Style Review – Other features
Apart from being able to play conventional audio and video formats, the Zen X-Fi Style also includes extra features such as:
RSS reader (download the feed when you connect to your computer through the USB)
Voice Recorder
Video/Audio Out (need to buy the cables separately though)
Photo albums/viewers
Organizers: Clock, Alarm, Calendar, Task, Contacts
I personally find features like the RSS, photos, and organizers are a bit too much as I already have my phone or computer to cover that, thank you very much. It doesn't hurt to have them, though (some might like/need it) and you can always remove them from the menu altogether if you think that you won't ever need it (don't worry, you can re-enable them back).
X-Fi Style can go to a ScreenSaver mode, Sleep, and complete Shutdown. If you lock the player, it seems to go to a screensaver mode (screen turned off but audio still playing) after a while. If you turn the Sleep mode on, the player will be turned off but it will remember the state where it's left off (good for listening long podcasts). If you turn the Shutdown mode on or manually shut it down by holding the power button, the player will be turned off and you have to listen to a track from the beginning. I wish it has a way to manually set it to Sleep because at the moment, it has to be automated (ex: Sleep after 15 mins) – meaning it will go to sleep all of a sudden after 15 minutes, even when you are still listening to a music or a podcast!
Creative Zen X-Fi Style Review – Conclusion
Creative Zen X-Fi Style delivers high quality sound, in fact, much better than the iPod Nano I have. The X-Fi Crystallizer feels like a cheat as it magically enhances your music and the player is also very light and compact in size. The fact that you don't need an iTunes or even any software to manage your music files is a big plus.
The way you navigate using the D-pad is unfortunately quite standard and can get tedious if you have a large music collection. You might also have a hard time in navigating the D-pad if you have a very large hand. There are also no dedicated volume control buttons on the Zen X-Fi Style but assuming that you are always on the "Now Playing" screen, you can use the Up and Down to tweak the volume.
All in all, if you are looking for an alternative to iPod, Zen X-Fi Style is definitely for you. You will miss the navigational wheel that does all but you will be welcomed with a higher quality sound and more music to your ears with the X-Fi technology.
NOTE: Review unit provided by Creative. Photos were taken with Canon EOS 500D.
Creative Zen X-Fi Style Review Pros
+ Compact
+ High quality of audio
+ X-Fi technology
+ Don't need to sync to any software
+ Can become an audio recorder (equipped with a mic)
+ Video out
Creative Zen X-Fi Style Review Cons
– Might be too small to navigate if you have a big hand
– Not too intuitive
– No dedicated volume button
If you have other impressions you want to add, feel free to do so on this Creative Zen X-Fi Style Review's post comment form below.
Creative Zen X-Fi Style Review