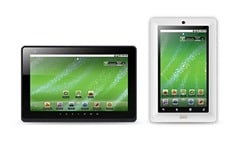 This new device looks pretty sleek and according to the specifications, its sound quality is definitely something to brag about. An iPad alternative?
There is no review sample yet at this stage so in the meantime, feel free to read Creative's official press release below.
CREATIVE LAUNCHES ZIIO TABLETS AND ZEN TOUCH 2 THAT RESHAPE THE WORLD OF WIRELESS ENTERTAINMENT WITH PURE ANDROID AUDIO
Together with the WP-300 Bluetooth Headphones, These Devices Take Pure Wireless Entertainment Beyond Music to Movies and Casual Games
SINGAPORE – 2 November 2010 – Creative Technology Ltd. today announced the release of a new Pure Wireless Entertainment solution comprising of Creative ZiiO 7" and ZiiO 10" Pure Wireless Entertainment Tablets, Creative ZEN Touch 2 Wireless Entertainment Device and Creative WP-300 Bluetooth Headphones. These new offerings together with Creative's already extensive range of Pure Wireless speakers, give users everywhere the most complete pure wireless entertainment system available today.
Creative ZiiO 10" and 7" Pure Wireless Entertainment Tablets
Creative ZiiO Pure Wireless Entertainment Tablet
The Creative ZiiO touch tablet — the world's first apt-X enabled touch screen tablet — which runs on Android, delivers the best wireless audio performance you will get from an Android™-based tablet in the market, differentiating it from similar devices.
Creative ZiiO tablet also delivers the most seamless, fuss-free Bluetooth pairing experience you will ever have with Creative's extensive range of speakers and headphones.
All this has been made possible through the know-how gleaned from Creative's longstanding history of audio engineering expertise that produced the Sound Blaster, X-Fi and a host of award winning portable media players and speaker systems. In the process of creating a Creative ZiiO tablet, Creative applies these high audio standard benchmarks to each tablet through a rigorous series of in-house critical listening tests.
In the actual device, this seamless superior wireless audio quality has been achieved with the Pure Android Audio application and the apt-X codec found in each Creative ZiiO tablet:
1) The Pure Android Audio application
A unique fully upgradable comprehensive easy-to-use integrated suite of applications for the purest wireless audio experience that allows you to access all your audio enhancement and wireless connectivity setting at a touch of an onscreen button. The technologies housed under Pure Android Audio currently include:
X-Fi Crystalizer for Crystal Clear Audio in Your Music
Digital music today pales in comparison to the real thing. That is because important details disappear in the high and low ranges when you rip your CDs into digital music. X-Fi Crystalizer intelligently restores lost detail and enhances your digital audio content to amazing clarity.
X-Fi Expand for Expansive Audio in Your Movies and Games
X-Fi Expand intelligently expands your game and movie soundtracks into an immersive audio experience with a breathtakingly realistic depth of field. The effect becomes most apparent when used with earphones – you will feel as if you are listening to your game or movie soundtracks from a pair of high-end speakers instead of earphones.
Bluetooth  2.1 Wireless Technology
Together with the apt-X codec, Bluetooth allows you to stream high fidelity stereo wirelessly to all compatible stereo Bluetooth speakers and headphones, such as the ZiiSound D5, ZiiSound T6 (the all new premium 2.1 speaker with Surround Sound) and Creative WP-300.
2) The High Performance Low-Latency apt-X Codec
The high performance codec allows Creative ZiiO to deliver high quality audio wirelessly to compatible apt-X Bluetooth speakers and headphones.
Just like other touch screen tablets, the easy-to-use device lets you check your emails on-the-go, watch their favourite movies (Creative ZiiO lets you connect the tablet to a larger screen via a HD cable for an enhanced movie viewing experience if you wish), as well as play your music and casual games. You can also download applications from the Internet and ZiiStore; this versatile touch screen device runs on the Android operating system, enabling you to easily install more applications from tens of thousands of cool choices on the Web for free.
Creative ZiiO tablet is also the first tablet to utilise Creative's in-house ZMS-08 processor that is engineered to deliver the high performance media-rich processing required of next-generation devices.
Source: Creative Singapore press release