CORSAIR NIGHTSABRE WIRELESS Review – The KATAR ELITE WIRELESS has been my primary gaming mouse for many months now but CORSAIR has just released a new wireless mouse, the NIGHTSABRE WIRELESS. How good is it? Will this take over the throne?
While my expectation was high, it's actually not as simple as I thought it'd be. The mouse itself has a different design, shape, and weight. So in a sense, there is no better mouse but it depends on the size of your hand and preference. So in short, both are good mice but the NIGHTSABRE WIRELESS looks to be suited more for gamers with slightly larger hands and prefer a heavier mouse (for a palm grip or want to have some control over the glide)
CORSAIR NIGHTSABRE WIRELESS REVIEW – UNBOXING AND PACKAGING CONTENTS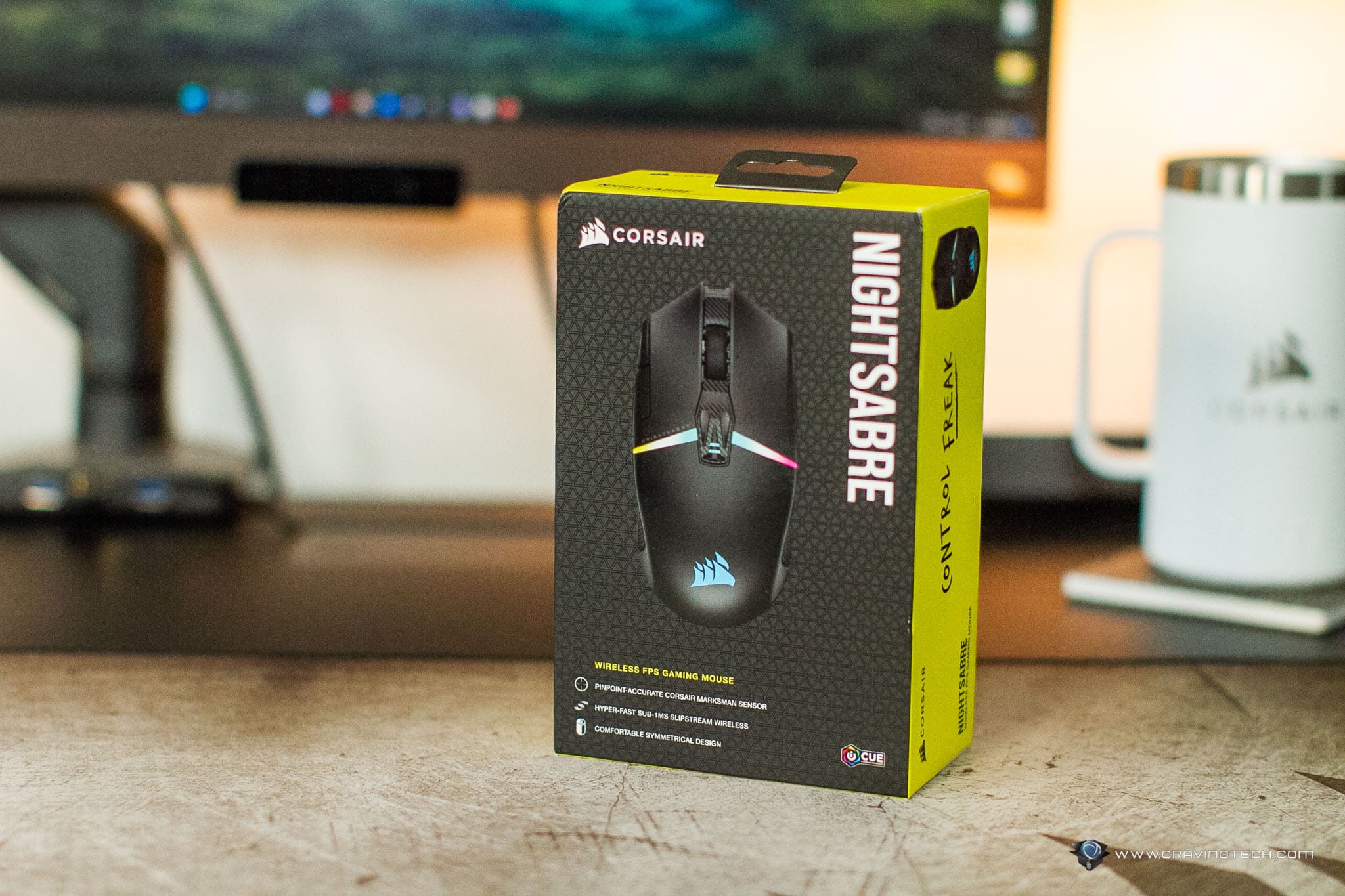 CORSAIR NIGHTSABRE WIRELESS REVIEW – DESIGN AND FEATURES
The NIGHTSABRE WIRELESS has a longer dimension than the KATAR ELITE WIRELESS, and it's a perfect size for all grip types, including palm grip. It's designed for those with Medium hands though I still find it easy to use with a fingertip grip and small hands like mine. It weighs slightly below 100 grams though (99 grams) so if you are used to using lightweight gaming mice, you'll feel the weightiness of the NIGHTSABRE WIRELESS.
Its symmetrical in shape and I really like how easy it is to grip, thanks to the non-slippery texture on both sides of the mouse. The mouse is definitely designed for right-handed gamers due to the placement of the two additional buttons on the top left side of the mouse body. And instead of a single button below the scroll wheel, you get two (so you can do one to increase DPI and the other to decrease it, for example). Not to mention that the scroll wheel can also be tilted sideways to give you extra triggers/actions.
So in total, you get 11 programmable buttons, which is plenty. I'm not a fan of the two top buttons location though as they are prone to accidental presses during a frantic battle, but you can thankfully turn them off.
The toggle button to switch between two wireless connectivity (2.4GHz and Bluetooth) is located at the bottom of the mouse. The wireless dongle can also be stored here so you won't lose it when you travel.
I also like the RGB lighting zones spread over the mouse body (there are seven of them) and they let out a subtle, yet mesmerising effect to the eyes.
The mouse has an onboard memory so you can also store up to 5 different profiles inside the mouse without needing to install iCUE software. This is great if you are carrying the mouse to a friend's house or a tournament.
CORSAIR NIGHTSABRE WIRELESS REVIEW – GAMING EXPERIENCE
So how good is the mouse for playing games?
CORSAIR NIGHTSABRE WIRELESS is powered by CORSAIR MARKSMAN 26,000 DPI optical sensor with 650 IPS Tracking Speed and up to 50G acceleration. While numbers don't guarantee how good a sensor is, you can check my Overwatch 2 gameplay montage below when I was testing and reviewing the mouse.
In terms of performance, the sensor offers accurate tracking and pinpoint accuracy – as needed in an online first-person-shooter (FPS) game like Overwatch 2, Valorant, or CS:GO. Mouse clicks seem to register instantly, thanks to the optical switches and I've been using it in Wireless mode. I never felt any lag all thanks to the sub-1ms SLIPSTREAM WIRELESS technology.
The mouse supports up to 2,000Hz polling rate to give you the advantage so if you have a good gaming PC, you should enable this through iCUE.
CORSAIR NIGHTSABRE WIRELESS REVIEW CONCLUSION
CORSAIR NIGHTSABRE WIRELESS is another excellent wireless gaming mouse from CORSAIR focusing on performance, great grip, and style. It has 11 programmable buttons, 7 customisable RGB lighting zones, and 5 on-board profiles support.
The mouse is on the heavier side, but it's a perfect weight for those on a palm grip or those with medium (or large) hands. If you have smaller hands, on a claw/fingertip grip, and prefer lighter mouse, I'd still recommend the KATAR ELITE WIRELESS instead.
CORSAIR NIGHTSABRE WIRELESS is available now at retailers around Australia like Mwave and retails for A$249.
Note: CORSAIR NIGHTSABRE WIRELESS review sample was supplied for reviewing
CORSAIR NIGHTSABRE WIRELESS Review
Summary
CORSAIR NIGHTSABRE WIRELESS RGB Gaming Mouse offers dual-wireless connectivity with 2,000Hz polling rate, customisable RGB lighting, and advanced optical sensor for a responsive, accurate gaming experience.
Pros
Accurate, fast performance sensor
Up to 2,000Hz polling rate
Non-slippery textured side grip
DPI can be adjusted in single steps
11 programmable buttons in total
Cons
Some buttons are prone to accidental presses
A bit on the heavier side for a claw/fingertip grip with small hands
Should probably move the front lighting zones to the rear where you can actually see them when mouse is on the desk