CORSAIR K65 PRO MINI Review – At 65% size, CORSAIR K65 PRO Mini offers that super compact, space-saving you want on your desk, giving you good ergonomics while playing your games.
It has an outstanding build quality, durability, fast optical-mechanical switches, on-board memory to store your profiles and customisations, and an insane 8,000Hz polling rate – giving you the advantage when playing competitive, fast-paced games.
CORSAIR K65 PRO MINI Review – Packaging Contents and Unboxing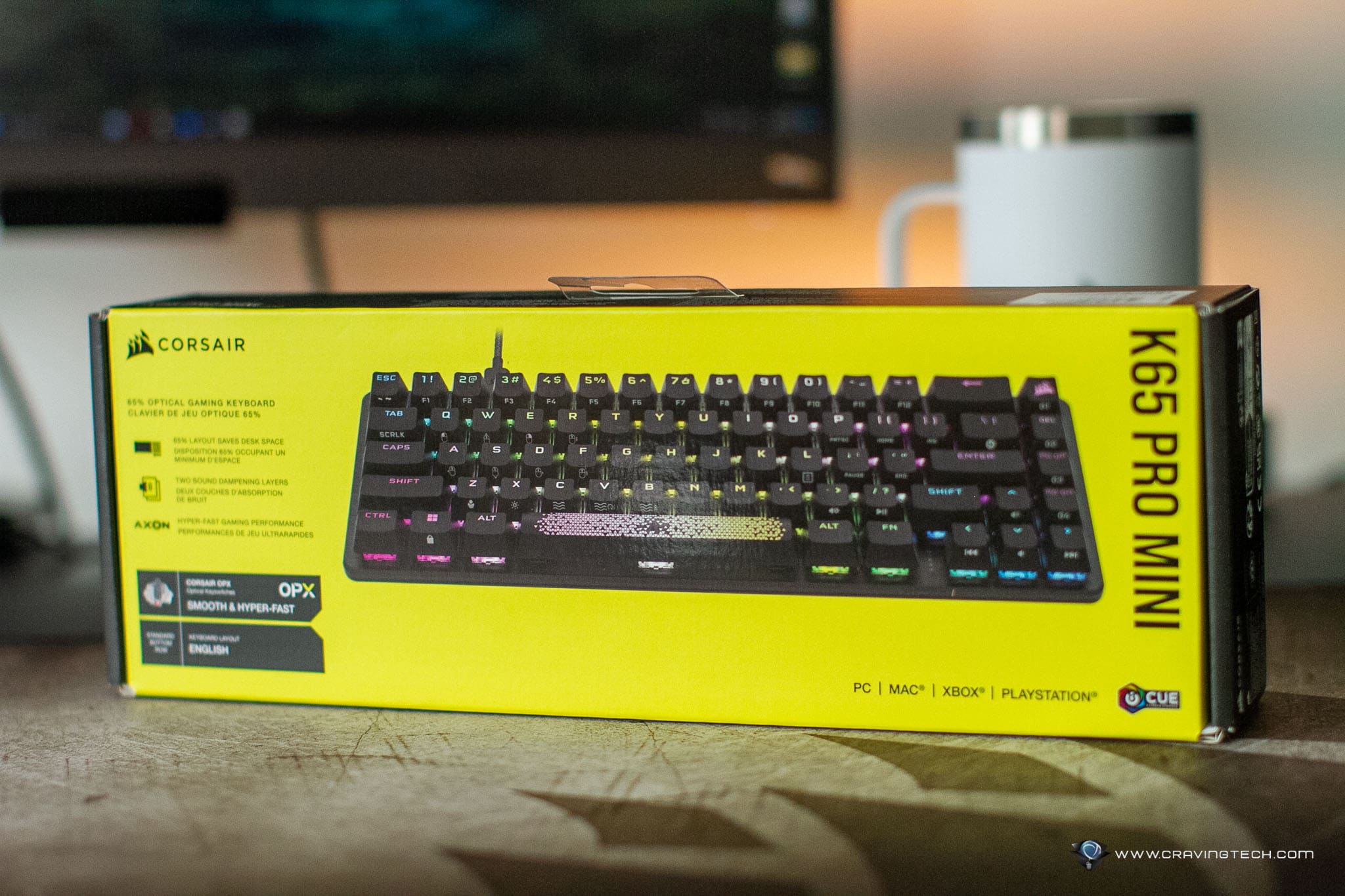 CORSAIR K65 PRO MINI Review – Design and Features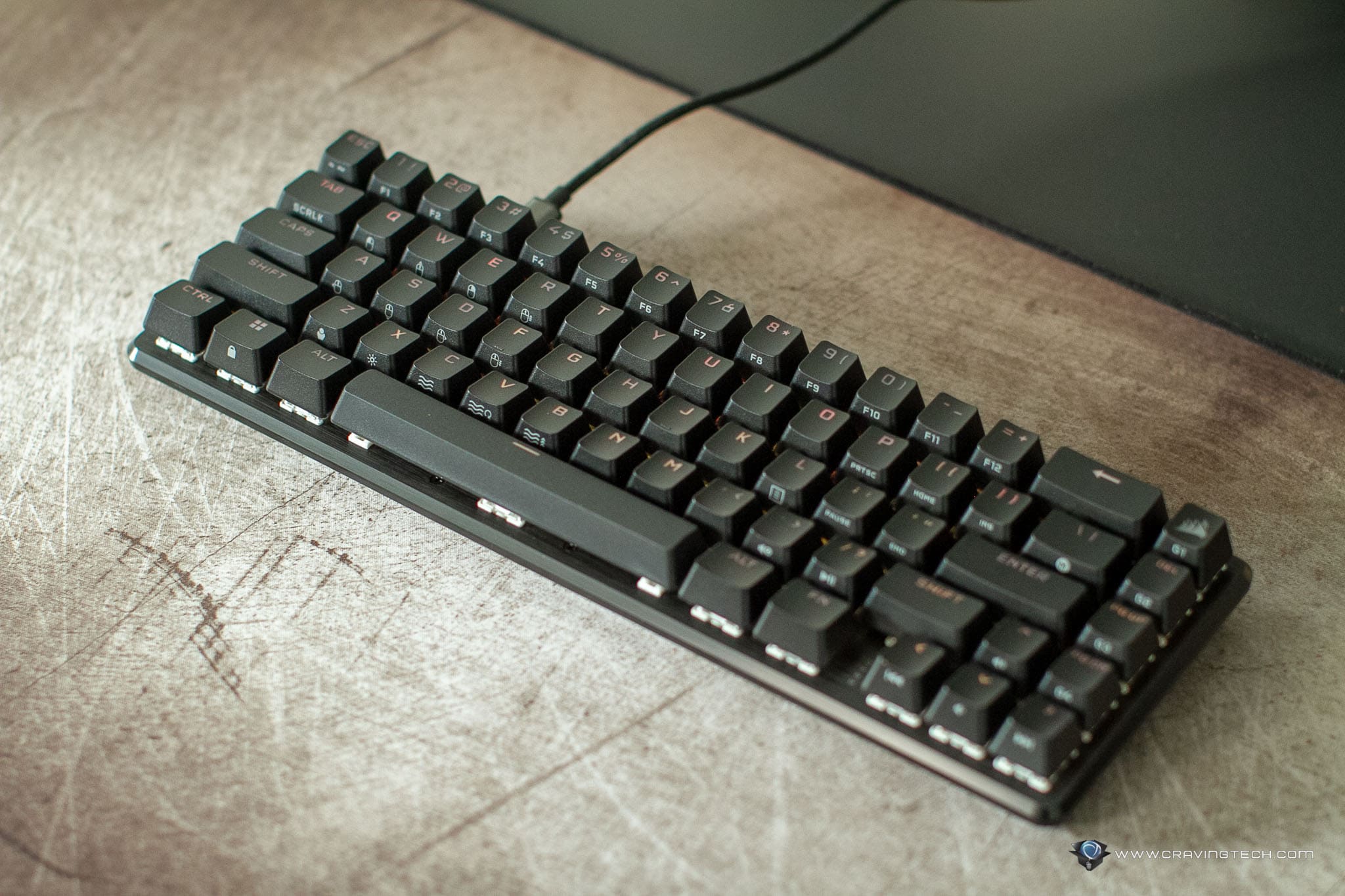 While the keyboard itself is very compact in size, it doesn't forego durability. With aluminium frame and PBT keycaps, durability is definitely one of its strongest suits. Corsair is known for producing durable peripherals (we've reviewed tons of them here at Craving Tech), and this keyboard is no exception. It's built to withstand heavy usage and offers reliable performance over time.
The USB-C cable is detachable which makes it easier to carry this keyboard inside your backpack like the STM Dux to a tournament or a friend's house. The cable is also braided for an extra protection.
Powered by CORSAIR's OPX optical-mechanical switches, the keyboard provides faster actuation and response times compared to keyboards with traditional mechanical switches, and we all need every advantage we can get. If your key registers some milliseconds faster than your opponents', it is still an advantage and any kinds of advantage can win you games.
CORSAIR's OPX optical-mechanical switches have 1.0mm actuation distance and if you compare this to the traditional Cherry MX switches which have 2mm actuation distance, Corsair's ones are twice faster on paper.
I've been testing the keyboard playing Overwatch 2 every day and I also really like how responsive the switches are, and how fast they perform. Movements and actions feel instantaneous, the keys are well-spaced, and the labels are clearly marked.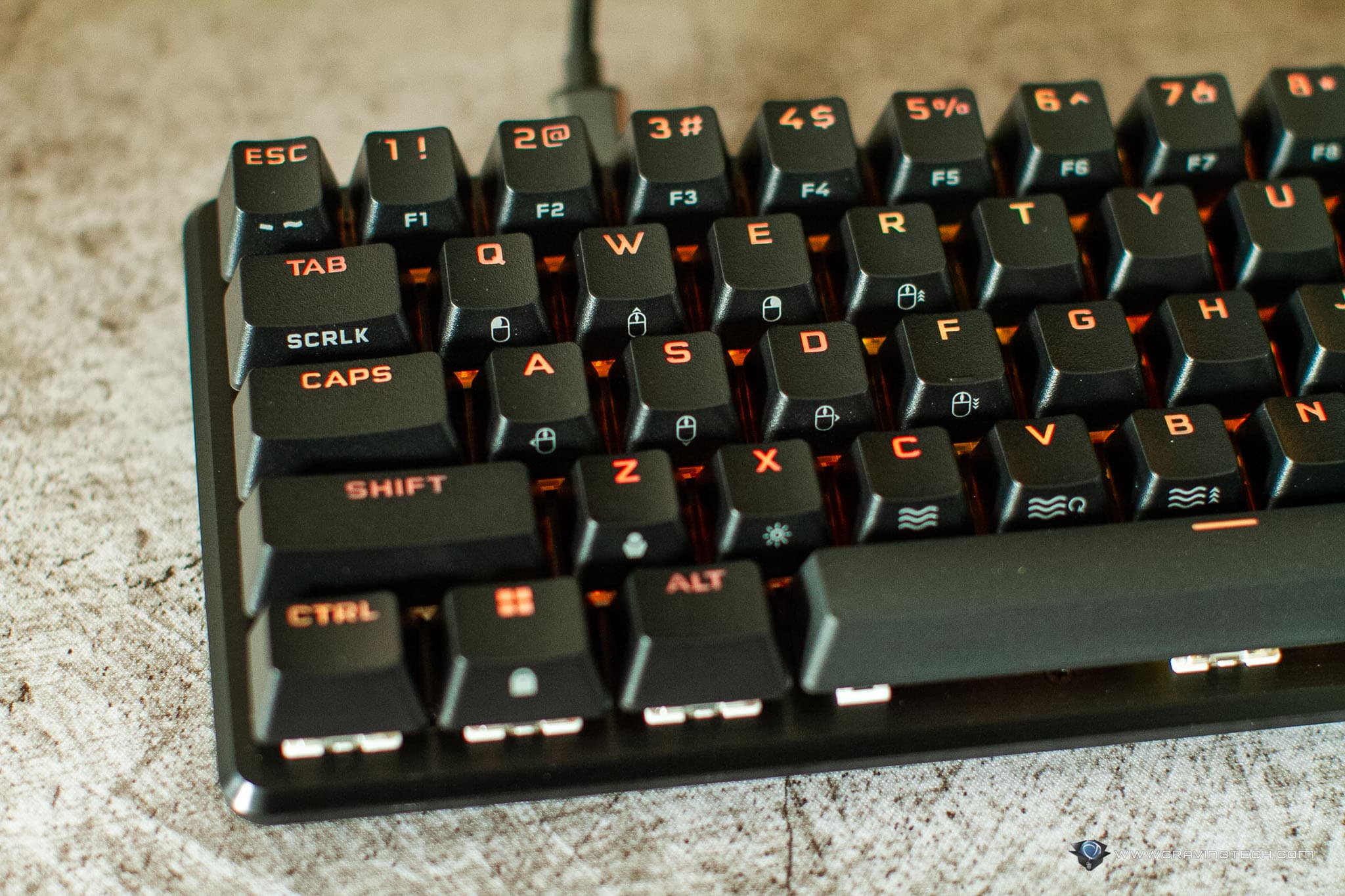 Now, a 65% size keyboard does have its "problem". For example, it doesn't have dedicated keys like Home, PageUp, Del, etc like a TKL or full-size keyboard would. You can however, access them through a Function key and thankfully, these are clearly marked on the keyboard. You still have to learn and get used to these, of course. If you are planning to use this keyboard for working and typing essays, you might feel frustrated at first but it's the price that you have to pay for having a keyboard this compact. If your main use is gaming however, it's perfect.
CORSAIR K65 PRO MINI is also one of the few keyboards out there offering an insane 8,000Hz polling rate. Sure, you really need a beefy PC to be able to enable this without any issues but even if you don't, you can still select 2,000Hz and that will still give you a good investment until you upgrade your PC in the future.
If you are the type who likes to create all kinds of different profiles with different settings, you'll definitely be pleased with this keyboard. Thanks to its onboard memory, you can actually store up to 50 onboard profiles in the hardware itself. You can cycle this easily through a function key which means you don't need iCUE to be installed or run. If you are only using one profile, this is good too because you can store your preferred DPI settings in the keyboard itself. You can then carry the keyboard elsewhere, plug it into someone else's PC, and you can still have access to those DPI settings (including profiles, lighting, etc).
It comes with RGB backlighting and it's completely customisable through the CORSAIR's iCUE software, where you can also assign profiles and personalise the keyboard to your liking.
I did have an issue with the keyboard freezing after iCUE is running, even when I reconnected the cable (unless I closed iCUE from the Task Manager). However, the most recent firmware update of the keyboard seems to fix the problem for good. If you do have the same issue, make sure to update the keyboard firmware to the latest.
CORSAIR K65 PRO MINI Review Conclusion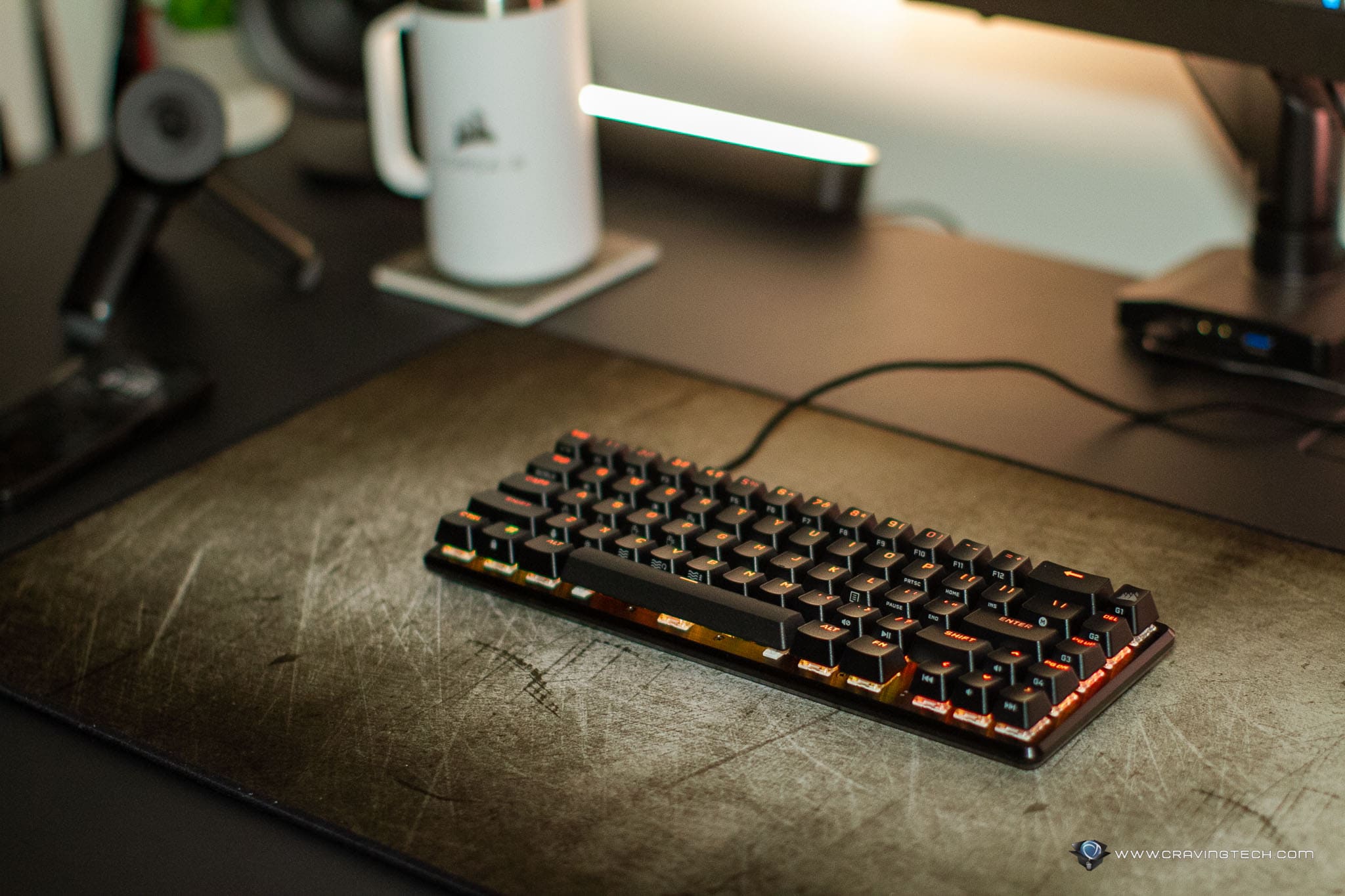 CORSAIR K65 PRO Mini is an excellent, compact (mini) gaming keyboard with durability, quality, and performance combined. It supports superfast 8,000Hz polling rate, optical-mechanical switches with 1.0mm actuation distance and nice tactile feel, and can be used to store many functions and settings in multiple profiles.
It's actually great for typing too as I type the review using the keyboard. However, if you rely heavily on certain dedicated keys for working, it might take some time to get used to. You still have access to them but it requires you to utilise the Function key. Thankfully, the labels are clearly marked and can be seen clearly. Plus, the keys are backlit too.
CORSAIR K65 PRO MINI is available now at retailers around Australia like Mwave and retails for A$199. It's also available at Amazon.com
Disclosure: CORSAIR K65 PRO MINI review sample was supplied for reviewing
CORSAIR K65 PRO MINI Review
Summary
Corsair K65 RGB MINI offers a compact yet powerful gaming keyboard solution, featuring optical mechanical switches, 8,000Hz polling rate, customisable RGB lighting, and durable design
Pros
Compact design, great space-saver
Durability
Fast, responsive, optical-switches
8,000Hz polling rate support
Onboard memory
RGB lighting
Labels are clearly marked
Cons
8,000Hz requires high-end PCs, and do you actually need it?
No dedicated multimedia controls, among others. Not a great size if you use it for work extensively