CORSAIR HS80 RGB Wireless Premium Gaming Headset Review – CORSAIR's latest wireless gaming headset, the HS80, is a premium one. It is not just because of the premium look-and-feel, but thanks to the Dolby Atmos feature built-in.
Dolby Atmos is an immersive audio technology that uses three-dimensional precision to immerse you in a more realistic experience, both in gaming and movie watching. You've probably experienced it in the cinemas, through your sound entertainment system, or even with a compact soundbar like the Creative Stage 360.
And you can now bring that experience closer to your ears with CORSAIR HS80 RGB Wireless Premium Gaming Headset – now comes in White!
CORSAIR HS80 RGB Wireless Premium Gaming Headset Review – Packaging Contents & Unboxing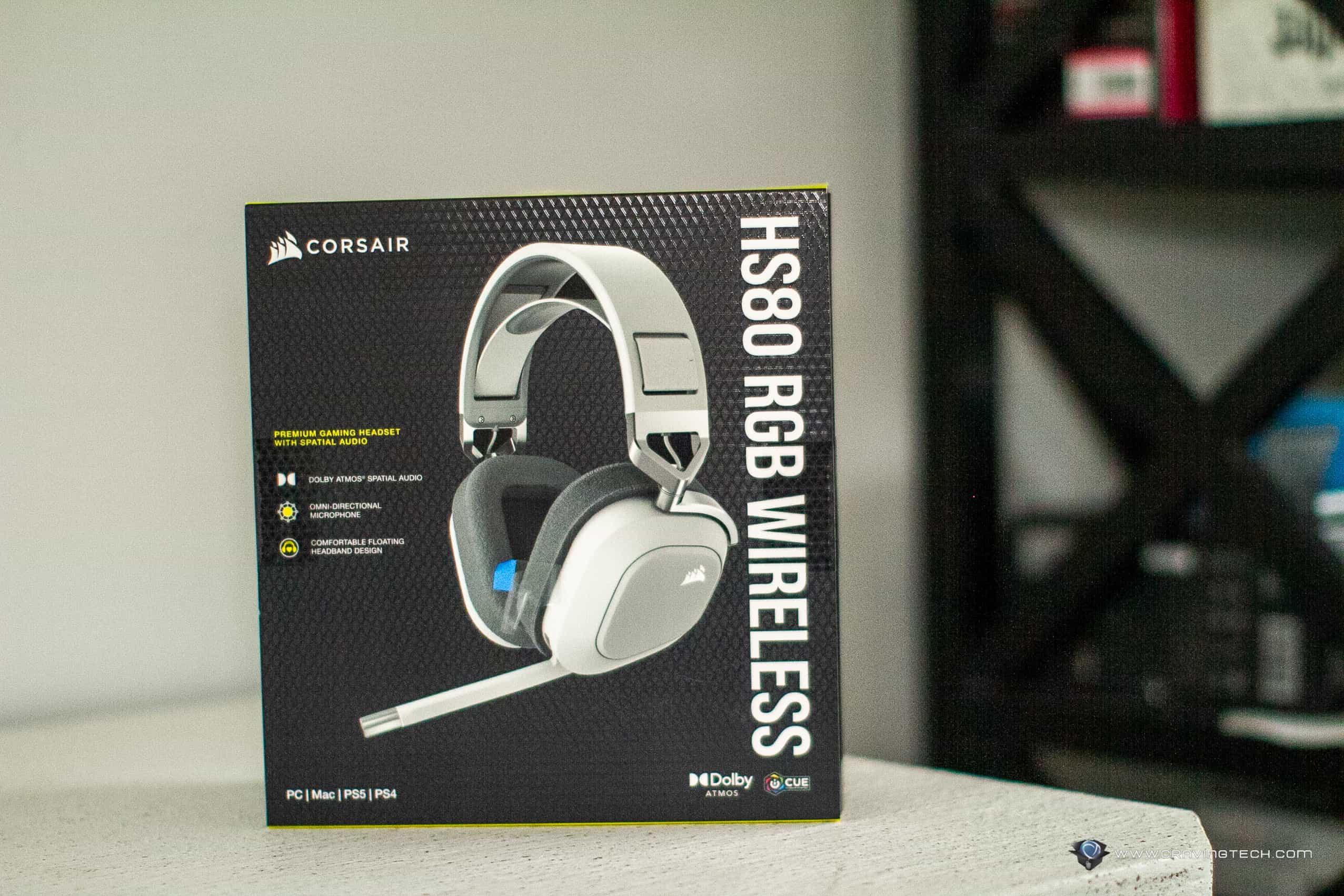 CORSAIR HS80 RGB Wireless Premium Gaming Headset Review – Design & Features
CORSAIR HS80 RGB Wireless features a stylish-looking design with combination of aluminium and metallic frame looks. Unlike their higher-end Virtuoso RGB Wireless XT however, it doesn't have that big, round earpads or even padding on the headband. Instead, It uses an adjustable ski-google style band and oval-shaped earpads.
The stress-free floating headband design is comfortable on the head and the headset gives a tighter feel on the ears compared to the SteelSeries Arctis 7P+ I just reviewed.
I'm seriously digging the looks which make the headset feels less bulky and has a modern aesthetic appeal at the same time.
As for controls on the headset itself, you have a volume dial, power on/off button, and a tiny battery status indicator. For charging, a USB-C port is available and you can also use the headphone wired.
When used wired, the CORSAIR HS80 RGB will output 24-bit/96KHz audio compared to 24-bit/48KHz audio in wireless mode. And yes, that makes a big difference if your ears can tell – especially when listening to music. But note that if you are only listening to typical music streaming service that doesn't support it, then there's not much point in using the headset wired.
And obviously, the Dolby Atmos support offers impressive 3D audio that will make you aware of your surroundings even more when playing games. But even without enabling Dolby Atmos, the headset itself already has good audio positioning in games like Overwatch (that already has built-in Dolby Atmos).
In the clip below, I could hear the enemy's Reinhardt charging (twice) and identify where he was coming from and quickly hooked him, denying him of killing my teammate who got caught in his charge. And before the clip ends, I could hear the enemy's Reaper shots in our flank and that allowed me to stop his ultimate skill afterwards – though he managed to get one of my teammates. At least our supports were all alive.
CORSAIR HS80 RGB Wireless Premium has up to 20 hours of battery life which may not sound much, but the headset does offer low-latency and high-quality audio (incl. Dolby Atmos) – so it's definitely a nice trade-off. This means however, that you have to charge the headset more frequently if you game every day but at least you can still use the headset wired (and gain that nice, higher audio quality).
The microphone can be flipped up and down, which will automatically mute and unmute the microphone. You can check for the microphone mute indicator at the tip of the microphone boom and you'll also hear an audio cue at the same time. Surprisingly, that, and the two CORSAIR logos on the ear pads are the only ones lit up with RGBs. I personally don't care much about RGBs on a gaming headset though, but some may be disappointed and want more.
Also noted that the CORSAIR HS80 RGB Wireless can be used both on the PC and PS5.
CORSAIR HS80 RGB Wireless Premium Gaming Headset Review Conclusion
CORSAIR HS80 RGB Wireless is a great gaming headset if you game both on the PC and PlayStation 5, and do not have any headsets yet. It has a sleek and modern design, with good sound quality including Dolby Atmos which is normally reserved on higher-end headsets.
Sure, there are a few shortcomings as well such as the microphone can't be detached (so if you already have a studio/desk microphone set up, this will be an eyesore), it doesn't have many RGB areas, has 20 hours of battery life, and the headset has a tighter feel (which you may or may not like).
However, the sound quality is fantastic, thanks to the 50mm drivers and the Dolby Atmos is something that you'd want if you are going to watch movies a lot with the headset, or playing games that require really good sound positioning. I also like that the headset does not feel bulky compared to the CORSAIR Virtuoso RGB Wireless XT.
The headset is available now for purchase at retailers around Australia and also at Amazon.
Disclosure: CORSAIR HS80 RGB Wireless Premium Gaming Headset review sample was supplied for reviewing
CORSAIR HS80 RGB Wireless Premium Gaming Headset Review
Summary
Wireless gaming headset from CORSAIR with Dolby Atmos technology
Pros
Stylish and sleek looking
Durable construction
Excellent sound quality
Compatible on PC and PS5
Dolby Atmos support
Cons
Tight feel may not be for everyone
20 hours of battery life
Microphone is not detachable