WD_BLACK SN750 SE Review – With the "SE" (Second Edition) tag, one might wonder what's new on the new edition and what's the difference between that and the original WD_Black SN750 that we've had before.
In short summary, the SN750 SE supports PCIe Gen4 interface (and Gen3 backward compatibility), draws less power, and has slightly faster reading speed (but at slightly slower writing speed). There are also other technical facts (that you may or may not care about) such as the controllers used, existence of DRAM cache, and the core.
In terms of speed, on the 1TB storage capacity:
WD_Black SN750 has 3,470MB/s read and 3,000MB/s write speed 
WD_Black SN750 SE has 3,600MB/s and 2,830MB/s read speed
In real life, you most likely may not notice a lot of difference. With my own CrystalDiskMark benchmark test, I get the promised speed of 3,604MB/s read and 2,893.95MB/s write speed (or 3,600MB/s and 2,830MB/s as stated):
If you are planning to use the drive as a game or operating system (Windows) drive, the SE's faster reading speed definitely sounds more promising than the predecessor. But how far do you notice the difference between the two, I'm not really sure as they only differ by 100-170MB/s.
Saying that, however, if you are still using SATA drives (which usually tops around 550MB/s), 100MB/s faster does make a huge difference. So in reality, you will most likely gain some loading speed especially when you are playing open world games like Cyberpunk 2077 with huge data to load each time. Every second matters for sure.
While the SN750 SE utilises PCIe Gen4 interface, it doesn't have the super fast speed like the WD_Black SN850's 7,000MB/s read and 5,300MB/s write speed. The SN750 SE is definitely still aimed towards non-hardcore consumers who want a fast storage but doesn't really need it to be the fastest possible (which is definitely much pricier).
However, also note that the SN750 SE is not available in 2TB and 4TB capacity – whereas you have these options with the original SN750, plus you can opt to get a heatsink on top. But if you are not aiming to get more than 1TB of storage space, then you're all good.
WD_BLACK SN750 SE Review Conclusion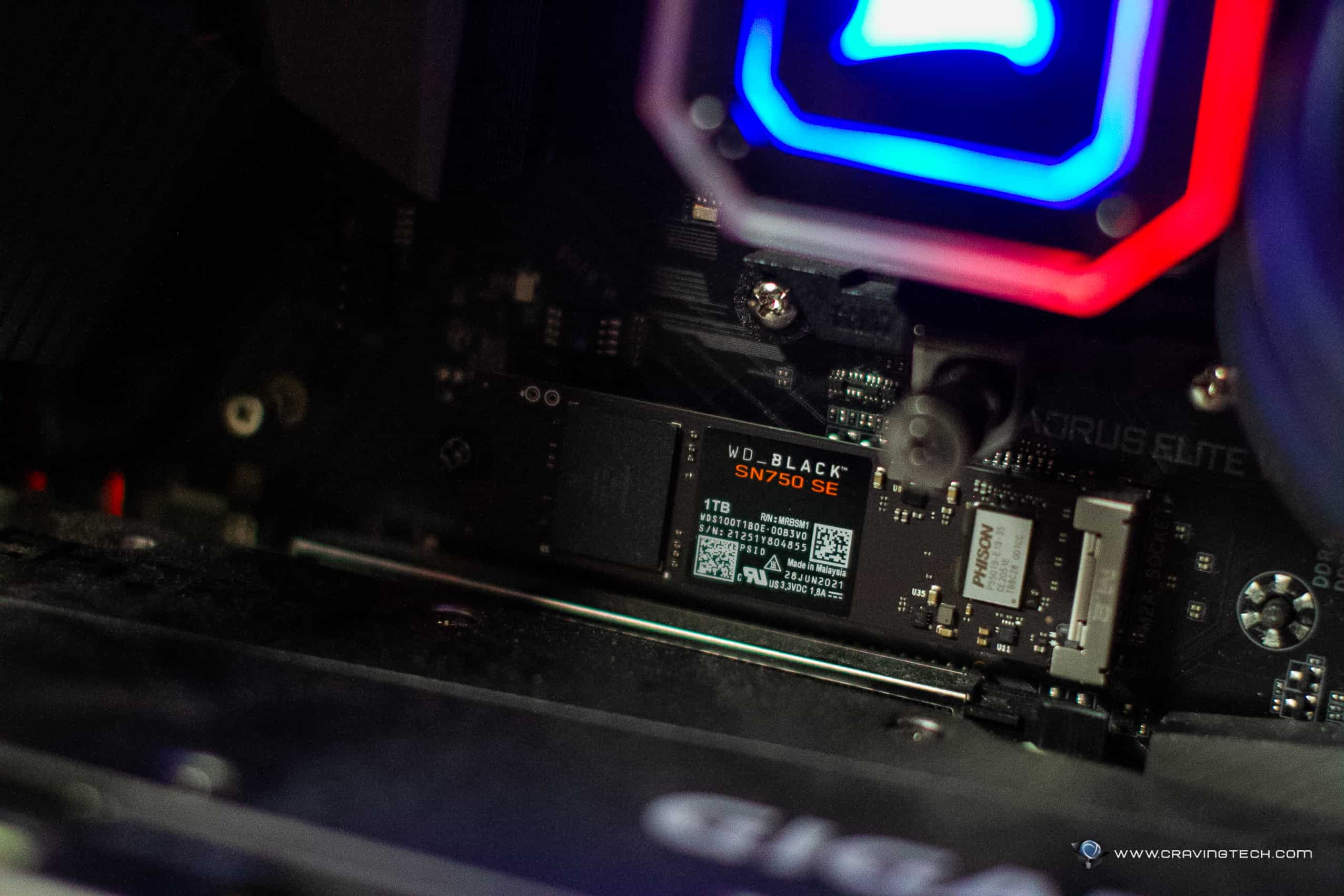 So should you be getting the WD_BLACK SN750 or SN750 SE? Well, the new SE utilises the PCIe Gen4 interface, has a slightly faster reading speed (at the expense of a slightly writing speed), and 30% more power efficient (definitely a good thing if installed on a laptop) at around A$20 more compared to the original SN750.
If you are going to use it as an operating system or gaming drive, you should be getting a slightly better performance with the newer WD_BLACK SN750 SE while still making it affordable like the previous model. And while I don't know much technically between PCIe Gen3 vs Gen4, there might be more hidden performance & handling increase behind the scene so it'd be best to actually utilise the latest, modern PCIe architecture.
WD_BLACK SN750 SE retails for A$79 (250MB), A$115 (500MB), and A$209 (1TB). Available now at retailers around Australia.
Disclosure: WD_BLACK SN750 SE review sample was supplied for reviewing