Note: This is a guest post written by Usama Nasir

Camera360 Android Application Review – One of the most important part of a smart phone is its camera. Most of the phones come with a built-in camera application that lets you take pictures with very basic functionality.
This basic camera application lets you complete take a picture with ease but the customization options are almost negligible.
When it comes to phones like Sony Ericsson Xperia Play, the camera functionality deteriorates further as Xperia Play neither carries the side snap shot button nor the zooming functionality. At this point camera applications come into play. Although there are a number of Smartphones camera apps but few actually offer unique functionality and features.
One of the camera applications I came by recently is the Camera 360 app for Android. It is available free on the Google Play market and you can download it easily from there. Camera 360 lets you customize your images to a brand new level. With its stand alone feature, Camera 360 could be your sole camera application as it offers taking quick snapshots and instant customization. Today I'm going to tackle some of the basic features of Camera 360.
Interface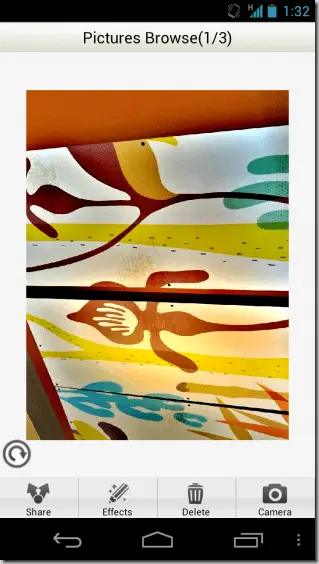 The Interface is comprised of two silver tabs that enclose the screen from top and bottom. In the upper portion, there lies flash, camera settings and front/back camera selection buttons. While the bottom tab contains image effects, burst/stabilizer shooting, Camera360 settings, storage/sharing and the main snapshot button.
Image Effects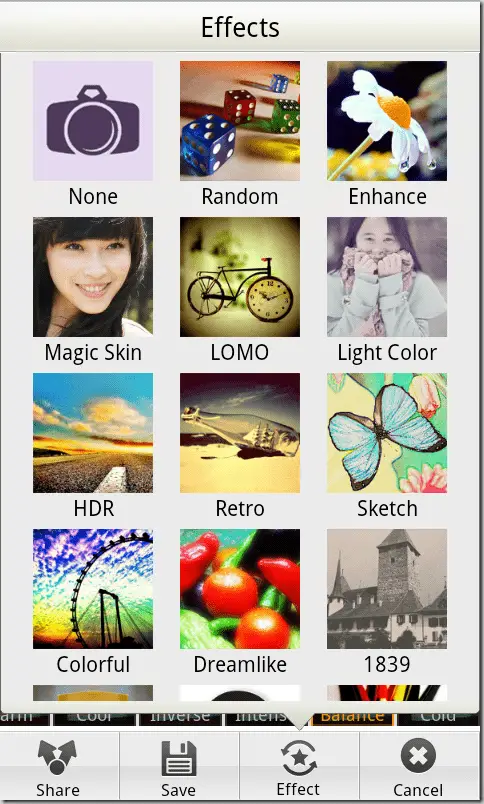 The image effects range from image enhancement effects and scenes tabs. The image enhancements include effects like Magic skin, Retro, Sketch, Colorful, Dremalike, 1839, and many more. These enhancements are preliminary options that you can select before taking the image. All you have to do is select one enhancement before taking a snapshot. Once the shot is taken, Camera 360 will automatically give you 7-10 further enhancement options depending upon your first enhancement selection. These next set of enhancements includes effects like black & white, brightened, lighten, outlined images etc.
Each one of all the first line enhancements is special in their own manner. For example Magic skin is basically meant for giving a glow to your skin and you might not be needing Photoshop editing after taking photos with this enhancement selected.
Others like Sketch and Colorful are self explanatory. The 1839 and Retro enhancements will give your photos a vintage effect. There is also the big head enhancement that will make caricatures out of your photos. The second-line enhancements would let you select further effects that might uplift your photos even more.
The scene tabs let you choose custom templates for your photos that you can download from the internet. The default template is a painter painting on canvas and that canvas could be your photo. There are a number of templates available online for you to make your photos all the more engaging.
Burst/Stablizer Shooting
Burst mode lets you take 10,20 or 30 images in a burst from which you can select the best. This feature is same as that of Samsung Galaxy SIII that takes a number of photos with one shot. The stabilizer mode is probably the best feature in Camera360 app. Once this mode is active, your camera won't take any photo till it's completely stabilized in your hand. The app detects your hands vibrations. Any vibration that would hinder the way of effective optimized shooting will prevent your camera from taking the shot. Once you minimize your hands vibrations, the camera360 will automatically take the shot. Other options include the timer shooting option as well.
Metering, Exposure & Light Adjustment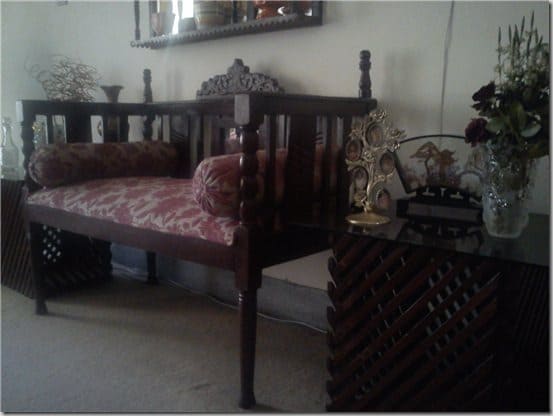 These shot effects let you enhance the coloration of your images. The light adjustment will automatically adjust the light exposure of your camera. Or you can also manually set the exposure in the options panel.
You can also easily adjust the white balance, contrast, saturation, and sharpness. Using the settings button on the screen , and there is access to changing the ISO, metering, exposure compensation (+/- 2EV), metering, and much more. You can also adjust the camera volume, image save location, image quality and resolution of the Camera360 options panel.
In short, Camera360 offers a lot when it comes to photography. The improvement in phone camera over the years has made it possible now to take professional photos from a Smartphone. Although not as professional as you can take from DSLR cameras but nevertheless Smartphone cameras let you take casual photos which are quality as well.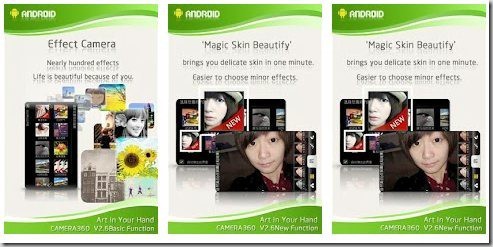 Applications like Camera360 adds to this by offering so many options and utilities for your photos. The easy user interface, quick functionality and rapid response makes this app one of the best among the Smarphone camera apps.
Camera 360 Ultimate for Android 2.0 and above | Camera 360 for Android 1.5
For more technology, application and phone reviews you can head over to my blog http://youthfrenzy.com.
Note: This guest post was written by Usama Nasir who is a medical student, a part-time blogger, and a graphic designer. He loves writing about technology, blogging, gaming and graphic designing. Currently he is reviewing phones, games and apps on youthfrenzy.com.