Plantronics GameCom 780 review – Plantronics making a gaming headset? Some hardcore gamers may go "Pfft!" hearing or imagining this thought. Though my reaction wasn't that extreme, I did wonder whether they were good enough to be able to make a gaming headset.
In my mind, their products (headsets) were geared towards business or corporate people, rather than the gaming community.
Apparently, I was wrong and so might you. Behold, the Plantronics GameCom 780!
Plantronics GameCom 780 Review – Packaging
Plantronics GameCom 780 Review – Design
Do not let the stylish design fool you. The headset is actually quite durable, strong, and surprisingly, light. When I got the package, I was expecting it to be much heavier.
The ear cushions and headband are also comfortable (padded), even when I used it for several hours of non-stop gaming. The ear cups design makes sure that you are immersed in your own world and be spoiled by the sound quality. The ear pods can also be laid flat to the surface for easy storage inside your drawer, for example.
The cable length is about 2 meters, durable yet thin, though the USB connector is unfortunately not gold plated (which are commonly used for gaming peripherals).
I like how you can see the cable outside of the ear cups, which gives it a funky retro look (some may disagree as it is more likely to be damaged than having it inside). However, Plantronics does promise "superhero-strength" cords and joints in the official product page.
There is a mute switch for the microphone and also volume adjustment wheels (with audible indicator).
Plantronics GameCom 780 Review – Features
Easy to install
Using Plantronics GameCom 780 requires the easiest steps – installing the driver and that's it! No settings to configure and no complicated options to browse. Simply plug the headset into a USB slot and your ears will be pampered straight away.
Virtual Dolby 7.1 Surround Sound
The Dolby® Headphone and Pro Logic® IIx technologies enable an awesome 7.1 surround sound experience. You just have to listen to it to believe it (as words can't simply describe it). There's a button to enable the Dolby Surround Sound on and off underneath the ear cup (with Blue light indicator). You can also use the icon on the Windows system tray.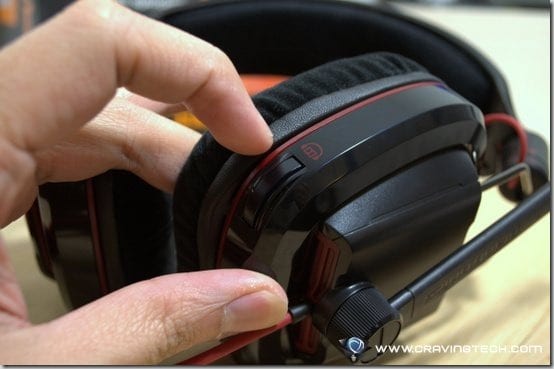 When enabled, it feels as if the sound is coming from speakers in front of you, rather than through the headset! Music comes to life and playing Diablo III with feels much better (as I can hear the shattered ice clearer, among other things)! However, I do feel that when the Dolby Surround Sound is turned on, the audio positioning goes a bit off.  Of course, no matter how good the sound and audio positioning is, it's still a virtual 7.1 surround sound.
Apart from that, however, I'm having trouble to decide at times whether I should turn the Dolby Surround Sound or not! Both sound great in different ways.
I also love the Bass on this headset. It's quite powerful compared to my other gaming headsets that I reviewed in the past. Explosions in Battlefield: Bad Company 2 feels more dramatic and my ears are also dancing with excitement during my music listening test. Audio is crisp and crystal clear.
Noise cancelling microphone
The microphone has noise cancelling feature, which is handy when you have to bring this headset into a tournament (or when you are playing on a network gaming place). Probably not so much when you are playing inside your quiet room, but it's still a great feature to have nonetheless.
You can mute the microphone with the microphone mute button explained earlier.
Plantronics GameCom 780 Review – Conclusion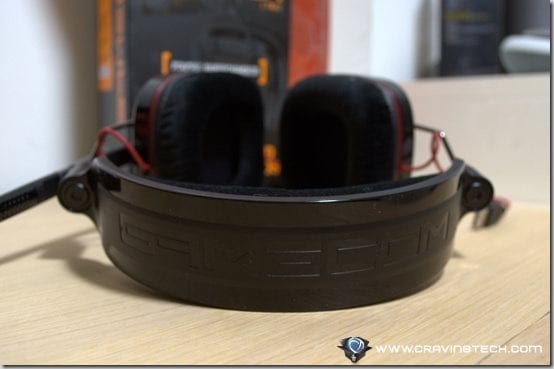 Plantronics GameCom 780 Review Conclusion
Plantronics GameCom 780 is stylish, comfortable, durable, and best of all, sounds awesome! Although it's actually a stereo headset, the Virtual Dolby 7.1 surround sound does not disappoint, for both playing games and listening to music/movies.
The headset is also comfortable and lightweight. I didn't feel any unease feelings at all during my several hours of gaming tests with the GameCom 780.
Again, the sound quality of this headset is jaw dropping and took me by surprise when I first tried it on. If you want a gaming headset that is affordable with great sound quality and also for listening to music, Plantronics GameCom 780 is highly recommended (assuming you don't mind with having a virtual surround sound).
Note: Plantronics GameCom 780 review sample was provided for the review
Plantronics GameCom 780 Review