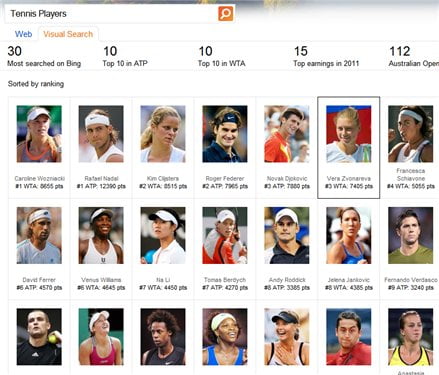 Some say we tend to work better and more efficient when it involves pictures. The theory is the same when people searches for information. Bing Australia's search engine now delivers a list of visual searches available (Bing Visual Search) on tennis players, recipes, and many more.
In theory, this should make us quicker to search. For me, if I already know the info that I want, I find it quicker to just type the keywords search. However, if I see a dog on the street and wonder what the breed is, Bing Visual Search will be the way to go.
Go now to try Bing Visual Search or read below for the official press release.
BING Launches Visual Search In Australia
Visual Search provides consumers with a new way to search using images
Bing.com.au
Sydney, Australia, February 7th, 2011: Continuing to push the boundaries for how consumers think about and use search, Bing Australia has launched Visual Search, a new search user interface designed to visually enhance the search experience.
Unique to Bing, Visual Search presents search results as data-rich image galleries instead of text links, helping people make faster, more informed decisions. When searching via a Visual Search gallery, users have the option to quickly scroll through the galleries or make one-click refinements using the quick tabs, which are specifically relevant to the type of results they are browsing.
Unlike a standard image search, which delivers a library of static images from the web, Visual Search galleries cluster relevant images and information, going beyond standard web-crawled results and relying on structured data sets from trusted content partners and providers such as Wide World of Sports, Fodor's Travel Guides and Freebase.
When scrolling over an image in the Visual Search gallery, users have access to additional rich content from Bing to find more information related to their search. For example, hovering over a celebrity image will bring up biographical information while clicking on the image will give access to news, pictures or recent tweets retrieved by Bing.
"Bing Australia is absolutely committed to providing a localised, more organised and visually appealing search experience for Australian consumers. We are constantly looking at delivering innovative features to help reduce the number of clicks consumers need to make to find what they are looking for, and have a visually delightful experience doing so," said Alex Parsons, Director of Marketing and MSN Products.
"Visual Search is the latest unique feature we have added to Bing in Australia to improve the search experience by providing relevant results in a way that is both efficient but also a more graphic way for consumers to enjoy and 'visualise' their search experience."
The Visual Search feature was developed following a study conducted by Microsoft Research that revealed people can find what they're looking for 20 percent faster using rich visual information rather than just links in many key decision-making scenarios. Through Visual Search, Bing has applied this insight to categories of search where imagery is a large component, such as travel destinations, animals or people.
Bing Visual Search launches in Australia with 16 galleries generated using local data, with more galleries, including Brisbane, Adelaide and Perth restaurants, sport teams, and entertainment categories to be added this year.
Visual Search galleries on Bing Australia at the time of launch include:
Popular celebrities
Recipes
Cricket players
Tennis players
Melbourne restaurants
Sydney restaurants
Top iPhone apps
Top Twitter users
Top Windows Phone 7 apps
Travel destinations
World beaches
World leaders
Australian prime ministers
Dog breeds
Bing home page images
Cocktails
To see all the galleries available on Visual Search go to www.bing.com.au/visualsearch.