The Belkin Honeycomb Clamshell for 13.3" is a slim, nice, yet practical notebook/Macbook bag. It's designed not to be cumbersome but at the same time protects your notebook/Macbook inside it.
I took my 13.3" Macbook Air with the Honeycomb Clamshell interstate for the whole day (The Commonwealth Bank event at Brisbane) and a few travels so I had quite a good run with it for this review.
The honeycomb-textured surface provides a secure fit and a non-slippery feel. This is important when you need to carry it around without the strap next to your waist, say.
The surface does feel bumpy if you touch it with your finger and may feel awkward at first. However, with the anti-slippery feel and the protection it offers, I appreciate this unique design made by the team at Belkin.
I do wish that Belkin slips in a smoother cloth or material on the inside though. Your laptop (or my Macbook Air) is going to be in contact with the hard honeycombed-textured surface. It shouldn't scratch your notebook/Macbook but I'd prefer having a soft sleeve or material next to it rather than having it touched the hard surface.
The Honeycomb Clamshell has a few pockets/compartments:
One to place your notebook/Macbook in, secured with a Velcro.
A side storage pocket (unsecured), for papers, cables, passport, or any other objects you want to carry along.
A smaller compartment secured with a zipper.
One thing that I'd recommend Belkin is to have another pocket in front of the bag so I can put my easy-to-reach papers/documents without having to open the bag up every single time.
The Honeycomb Clamshell is unique because you can both put a strap and carry it as a shoulder bag or you can take out the strap and place it inside a bigger bag or suitcase. For a day trip, the Belkin Honeycomb Clamshell is all you need. On my whole day trip to Brisbane, I could carry my Bluetooth headset, network cable, documents, portable battery charger, and an iPhone cable along with my Macbook Air 13.3".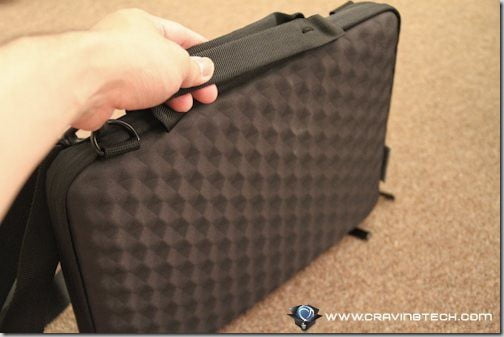 Overall, I love the Belkin Honeycomb Clamshell. It doesn't look funny and it doesn't attract attention, thanks to its compactness and relatively small size. The honeycomb-textured surface protects itself from bumps and also your notebook/Macbook inside it.
It can also be transformed into a shoulder bag or a simple notebook/Macbook case to be carried inside a bigger bag/case. There are a couple of minor adjustments that I'd like it to have but they are not crucial. Definitely recommended if you want to travel light while feeling protected.
Note: Sample provided for the review
Belkin Honeycomb Clamshell Pros
+ Lightweight
+ Compact in size and thickness
+ Can be carried with a strap or as a case
+ Notebook/Macbook's compartment is securely locked in place
+ Anti-slip
+ Has easy-grip handles
Belkin Honeycomb Clamshell Cons
– Doesn't have a front compartment (to store documents/flat objects that you are going to take out frequently). Have to open the bag each time.
– No extra inner soft-layer protection inside the compartment where the notebook/Macbook is
– Doesn't seem to be checkpoint-friendly.