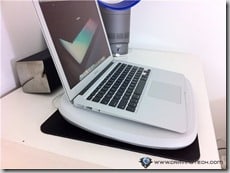 A compact, classy, and comfortable laptop cooling pad, thanks to the Belkin cooling lounge (not to be confused with Belkin laptop cooling lounge which apparently is a different product).
If you are getting tired of looking at your standard laptop cooling pad that you bought in eBay, this is probably the time to have a look at Belkin Cooling Lounge.
This cushy laptop cooling pad comes with a USB powered fan right in the middle of it (of course, you don't have to plug the fan in if you don't want to):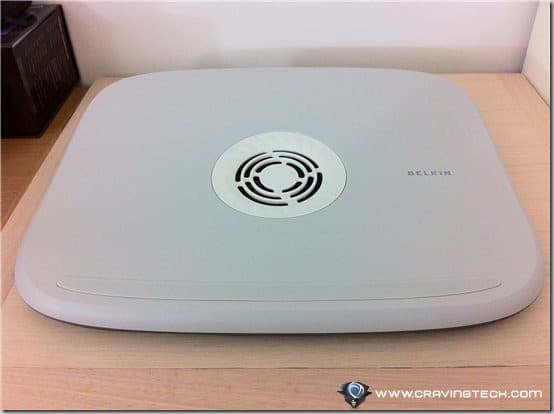 Although the fan has a small degree of noise, I find that it's fairly quiet and did not distract me at all when I was using my 13" MacBook Air (so yeah, the Belkin cooling lounge works on MacBook just fine too). Thanks to the curvy surface design, the hot air gets blown away easily underneath your laptop. Other laptop cooling pads have a flat surface and this makes it hard to chase the hot air away.

The USB cable comes out from the middle of the laptop cooling pad, so it can reach both the left and the right side of your laptop easily. Simply pick an empty USB slot (on any side of your laptop) and you are good to go.
Thanks to the cable design, it's easy to store it away inside the compartment if you are not using the fan: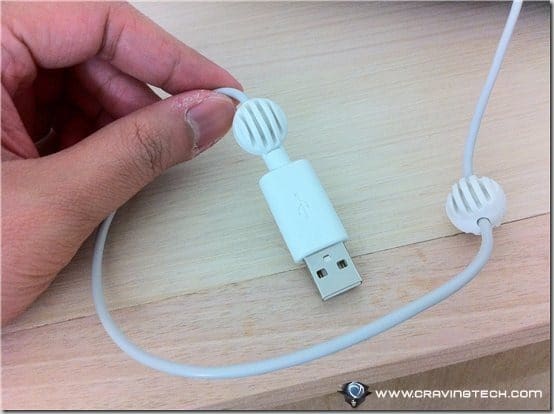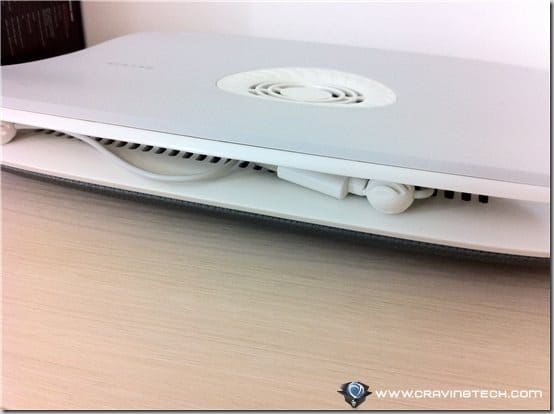 The compartment also serves as the place to pull the cool air in, creating a great ventilation system.
The Belkin Cooling Lounge is also comfortable, thanks to the cushion that made my lap a happy-chappy. The comfort and lightweight design allow you to use your laptop on this laptop cooling pad for long without feeling sore. It also has an anti-slip material at the front, to hold your laptop from ever sliding down (although the overall material is already non-slipping anyway)
The Belkin Cooling Lounge may not have other knick-knacks such as a built-in speaker, an extra stand, or anything but it's certainly one of the most compact and comfortable laptop cooling pads around.
Note: Sample was provided for the review
Belkin Cooling Lounge Review – Pros
+ Curve design for style and moving the hot air away
+ USB powered fan
+ Compartment to smartly store & hold the USB cable in place
+ Classy looking
+ Compact
+ Comfortable
+ Lightweight
Belkin Cooling Lounge Review – Cons
– Seems to be designed for small-sized notebooks (15" or below?)
– No extra features