Thanks to the ease of restrictions, both indoor and outdoor gathering are allowed here in Australia (some within a certain limit). That means, partying or having a meal together is as important as ever!
And gathering will get an extra oomph, all thanks to the JBL Xtreme 3 Portable Bluetooth speaker. With its rugged design, big sound output, and IP67 waterproof rating, you can let the party rumble without worries.
JBL Xtreme 3 Review – Packaging Contents
JBL Xtreme 3 Review – Design & Features
With four drivers and two JBL Bass Radiators, the JBL Xtreme 3 is nowhere short of big sound. It has a massive sound, and sure, a rather massive body to carry too. It's nowhere compact especially with a weight of around 2kg, but there is an included carrying strap included in the packaging so you can attach it to the two carabiners and sling the speaker over your shoulder.
Design wise, the unit has rubber feet and strips at the right places to keep the speakers stable when you place it on a surface and when you carry it over your shoulder with the strap. It's definitely very well-designed.
Controls are located at the top of the speaker unit where you can play and pause the track, change volume, skip to the next track, Bluetooth pairing, and also a Party Boost function – which will only work if you have other compatible JBL speakers to daisy chain them together.
You can connect to the JBL Xtreme 3 via Bluetooth 5.1 (up to two devices at the same time), but there is also a 3.5mm option. There are two USB ports: USB-A (5V/2.0A) and USB-C (5V/1.5A) to be used for charging the speaker and to charge other devices you have, like your phone.
Playing music for a few hours might definitely take a toll on the phone's battery life so why not utilise JBL Xtreme 3's big battery to charge the phone at the same time? I tried plugging my iPhone 12 Pro Max via the Belkin's Smart USB-C to Lightning and it's good to know that you'll never be running out of juice when you have the Xtreme 3 around.
JBL Xtreme 3 itself has around 15 hours of battery life which is more than enough for a party session. It will take around 2.5 hours to recharge it from empty to full.
JBL Xtreme 3 is IP67 waterproof and dustproof and IP67 basically means you can submerge the speaker under water for 30 minutes (up to 1 meter). Suffice to say, it is safe to bring it alongside you to the beach, or even place it next to the pool.
Having beers? No worries. There seems to be a built-in bottle opener as well, a perfect way to get the party started.
Sound wise, JBL Xtreme 3 can go quite loud and the speaker should please many bass lovers. You can even see the rumble on the radiators visually with your eyes when you are playing the right songs. The bass is obviously, not as deep as what you get from having a dedicated subwoofer but for a portable speaker, you'll love that extra bass boost. And this is definitely tuned for partying, so don't compare it with speakers specifically tuned for a richer, more naturally balanced sound.
JBL Xtreme 3 Review Conclusion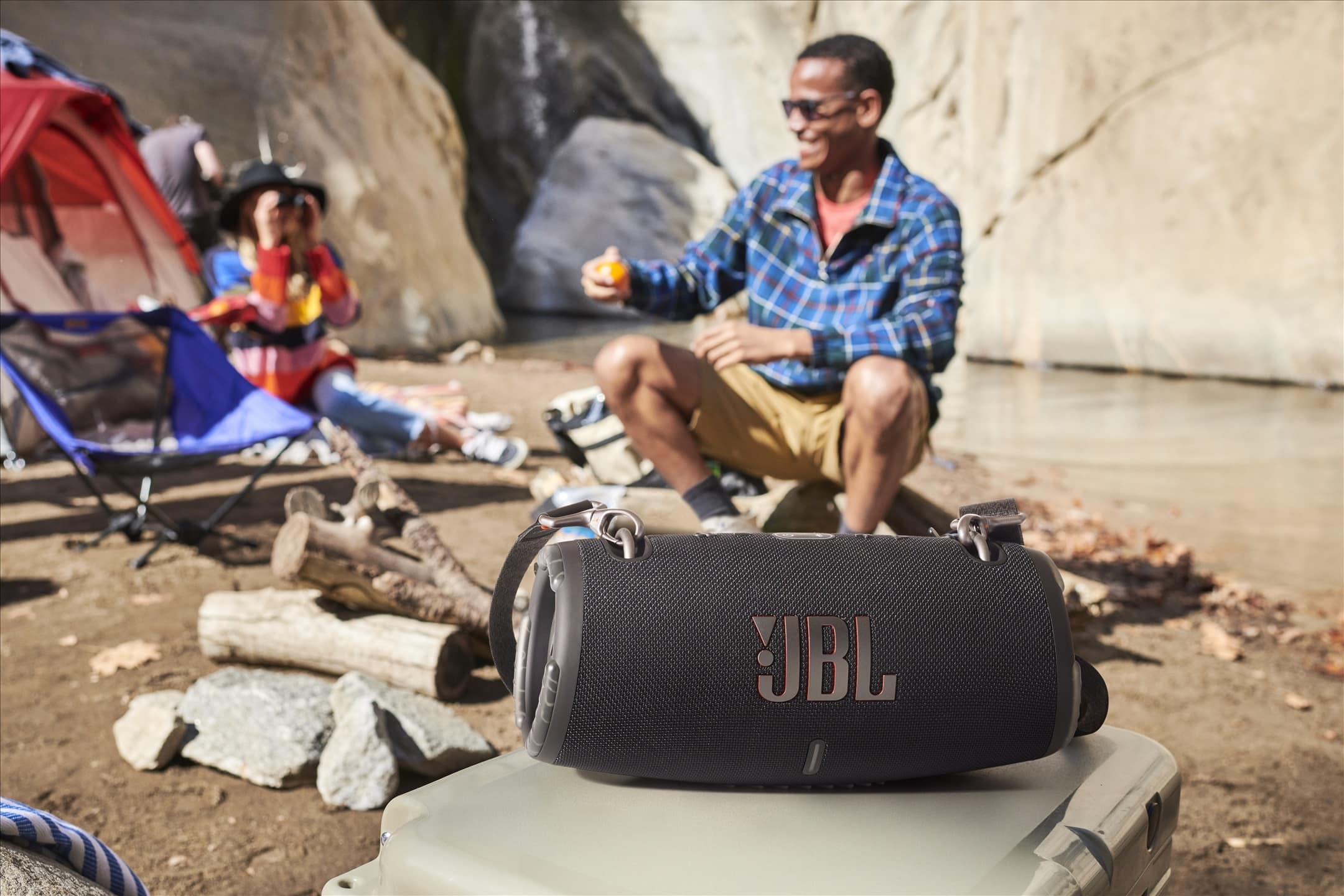 JBL Xtreme 3 is that perfect portable speaker for an outdoor picnic or party where you need a big sound that does not distort at high volume. Its IP67 rating also means that it is safe to carry the Xtreme 3 anywhere, anytime. Plus, you can even use the speaker to charge your phone while at it.
All these come at a price though – it is quite bulky and rather heavy at 2kg. However, thanks to the included strap that you can attach to the two carabiners on the speaker, you can carry this along your shoulder which makes it far easier to carry.
JBL Xtreme 3 is available now and retails for A$399.95 at JBL Australia and retailers around the country.
Disclosure: JBL Xtreme 3 review sample was supplied for reviewing but all opinions are mine and not paid
Pros
Rugged design, perfect for outdoor
Big sound, big bass
Built-in powerbank
IP67 waterproof and dustproof
Easy to carry with the included strap and carabiners
Cons
3.5mm cable not included
Bulky to carry (in exchange for that big sound and battery life)
No previous track button
No smart speakers function (i.e no Alexa or Google Assistant support)
Pricey