Note: This is a guest post written by William Judd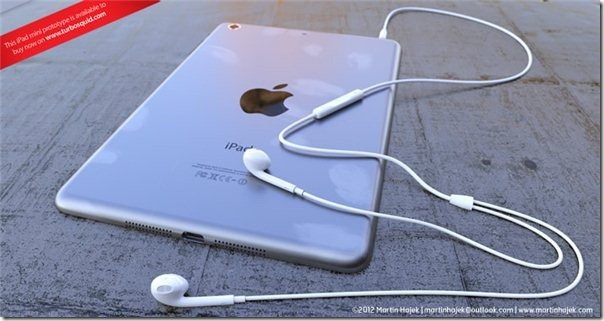 Veteran technology site AllThingsD is reporting some interesting things about the iPad Mini, after speaking with Topeka analyst Brian White. White has been talking to a number of Chinese suppliers of the iPad Mini, getting their thoughts on what's it's been like constructing the iPad Mini. He's also had a look at the design of the tablet itself, and while he can't list any details he's quite confident that the device will win over a large share of the market.
White reports that the iPad Mini will be "slicker than the new iPad" and that Apple aren't cutting corners in its construction. That points to a price point higher than that of competing Android 7″ tablets like the Kindle Fire HD, Nexus 7 and Nook HD, but also excellent build quality.
It also opens the door for the new tablet to include a high-resolution Retina display – interestingly, if the 7.85″ display of the Mini is at the same resolution as the iPad 3, 2048 x 1536, then it would have precisely the same pixel density as the iPhone 4 and 5 – 326 PPI. That means that Apple could potentially use the same sheets of display for the new iPad, which would allow for a greater cost savings and could even allow Apple to launch at a lower price point than expected for such a high quality display. With Google reportedly working with Samsung on a 10″ Nexus tablet with a similarly high resolution display, if Apple chooses to forgo the Retina levels of density and instead go with the same resolution as the iPad 1 and 2 – 1024 x 768 – then Android might have a further advantage in the space.
We expected to see an announcement of an iPad Mini press event this week, but so far this hasn't panned out. White has said that the manufacturers are finding it difficult to work on the iPad Mini and that the Mini "demands a lot of the companies manufacturing it… this could make the device hard to come by initially." That again points to a likely Retina display, as this would necessitate a bigger battery and more powerful internals to match.
More worryingly for the Apple faithful (and iPad Mini case manufacturers!) is that the device has rumoured to have suffered a last minute design change, which could see the shell of the device deviate from what's previously been leaked. A change this late in the design and manufacturing process would seem to point to an engineering problem rather than a mere aesthetic change, as Apple will know full-well that they don't have much time to spare.
Even with delays, we should expect the iPad Mini to come out before Christmas. Stay posted here for all of the latest news – if we hear anything further, we'll be sure to let you know.
Note: This guest post was written by William Judd from mobilefun.co.uk