Kobo Libra 2 Review – While I've never used the original Kobo Libra before, Kobo Nia was a great alternative to the popular Kindle with a retail cost of just A$129 at JB Hi-Fi. But Kobo Libra 2 definitely feels much more responsive, lighter, and has a better display.
Kobo Libra 2 is an ebook reader utilising the E Ink display technology and offers one of the best ebooks reading experience with a single hand.
Kobo Libra 2 Review – Unboxing and Packaging Contents
Kobo Libra 2 Review – Design & Features
Kobo Libra 2 has a 7″ E Ink Carta 1200 touchscreen with 300 PPI (1264 x 1680) resolution and adjustable brightness and colour temperature (what Kobo calls ComfortLight PRO). The device is powered by 1GHz processor and 32GB of internal storage space which can store over 20,000 eBooks within. In terms of performance and responsiveness, the Libra 2 definitely has enough powerhouse to keep the operation smooth and fast.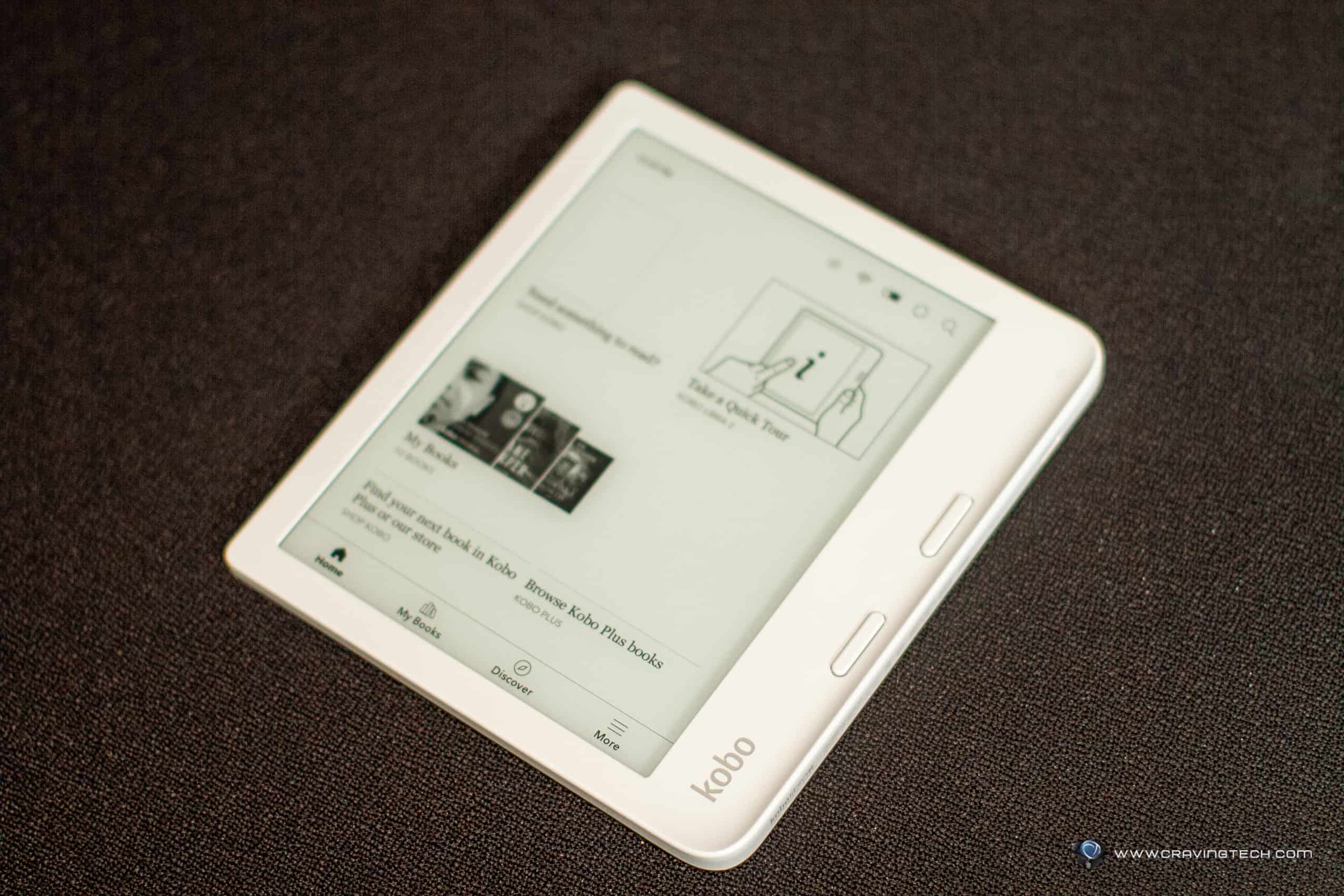 With 144.6 x 161.6 x 9 mm dimensions, the device feels flat (in a good way) and weighs around 215 grams. While it's heavier than the other eReaders I have (Kobo Nia's 172 grams and Kindle Oasis' 188 grams), I actually have no issue holding the eReader comfortably for a long while. It definitely has a balanced weight distribution to compensate.
Kobo Libra 2 has a grip area with physical page buttons to make it easy to read and flip your eBook pages with just one hand. This is very useful if you like to commute on a tram or train during peak hours where you're most likely be standing with one hand on the handles.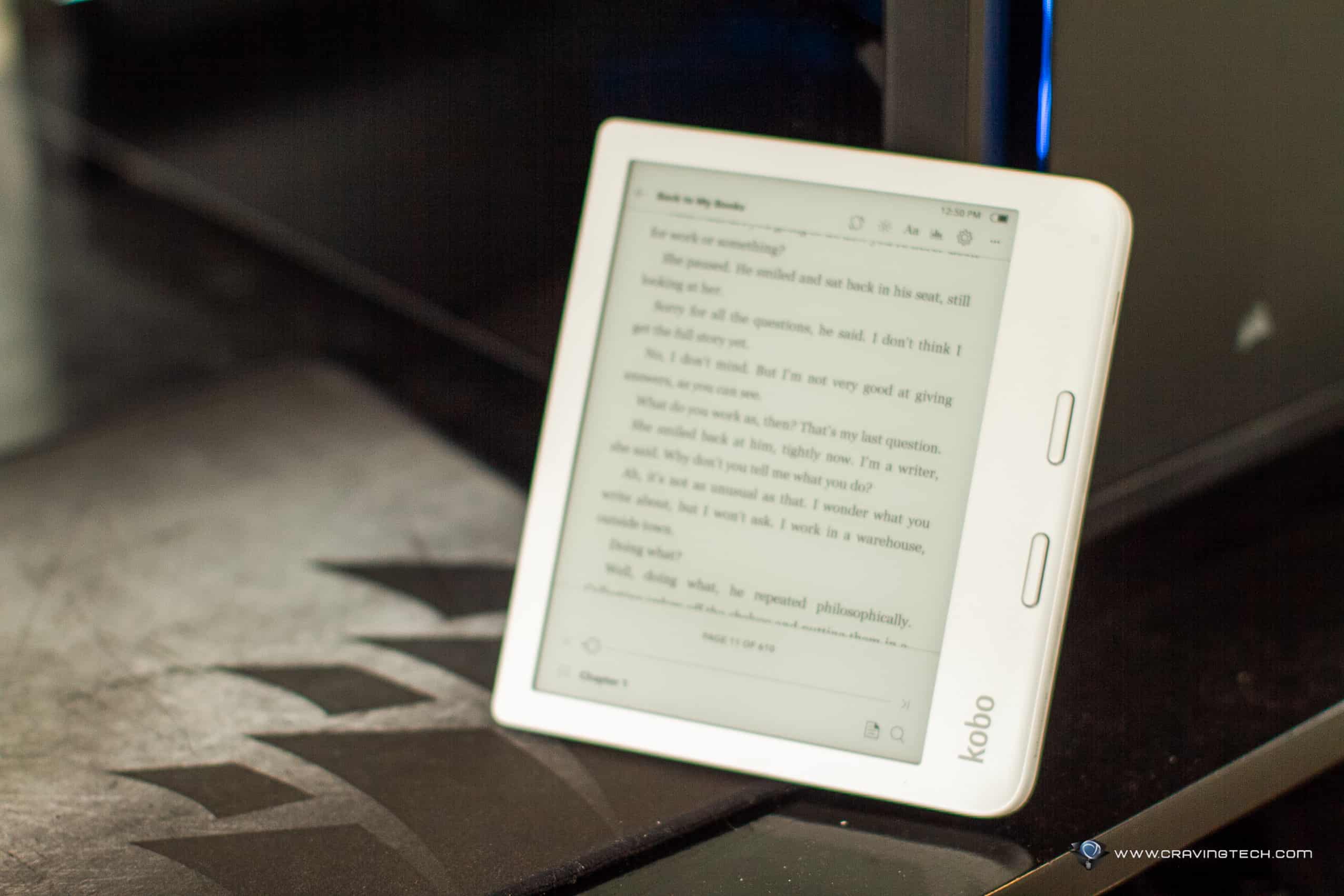 While it's nice to flip through pages on screen using your fingers (and you can, on the Libra 2), there are times where you can't and this old, but good design actually works really well. Sure, this takes some space on the device which can be used to have a larger screen but for comfort and practicality, this is actually better.
Left-hander or right-hander? No worries, because you can hold the eReader on either hand as the screen will automatically rotate to adjust (you can turn screen rotation off too to avoid it doing this accidentally).
There is also an option to read in landscape mode, which may be preferred by some.
The back of the device is textured, making it somewhat easier to grip compared to those shiny, sleeker aluminium surface.
If you prefer to listen to audiobooks like myself, you can also hook a Bluetooth headphone or speaker with Kobo Libra 2 and listen to Kobo Audiobooks. There is no internal speaker within the device.
Kobo Libra 2 is also IPX8 rated which means the eReader is totally waterproof or to be exact, can be submerged in up to 2 meters of water for up to 60 minutes. While you probably won't be reading an eBook while you go swimming, you can definitely take it out in the middle of thunderstorm, at the beach, or next to the pool (which reminds me how I miss those swimming pool bars in Bali).
These are the file formats that Kobo Libra 2 supports natively: EPUB, EPUB3, FlePub, PDF, MOBI, JPEG, GIF, PNG, BMP, TIFF, TXT, HTML, RTF, CBZ, CBR. So if you already have your favourite eBooks collection, you can read them on Kobo Libra 2 as long as they are in one of these formats.
There is also support for OverDrive which provides ebook and audiobook access to virtually all public libraries in Australia.
Kobo Libra 2 Review Conclusion
Kobo Libra 2 is an excellent eBook reader from Kobo with comfortable & ergonomic design, and a bright, responsive, incredible display. You can read with just one hand and flip pages with your thumb, while your other hand is busy stirring some cake mix or holding onto a pole on the train.
You can, however, flip pages on the screen with your finger (it's a touchscreen), rotate the screen so you can read with either hand, or even choose to read in landscape mode. This versatility makes the eReader desirable as it can be used by both right handers and left handers.
It also supports Audiobooks, though it's limited to Kobo Audiobooks and there are no internal speakers either so you have to connect it to a Bluetooth speaker or headphone. But it still is an excellent feature that you don't normally find in an eBook reader.
Kobo Libra 2 is available now in White or Black, and retails for A$279.99 RRP
Disclosure: Kobo Libra 2 review sample was supplied for reviewing
Kobo Libra 2 Review
Summary
An amazing eReader from Kobo for one-handed operation and also supports playing Audiobooks