RØDE AI-Micro Review – Have you ever wished you can record high quality audio using just your phone? While there are apps that allow you to record your voice using your phone's internal microphone, the result is just mediocre. It picks up a lot of noise and your voice sounds hollow. Compared to recording with those studio-grade microphones, the difference is quite night and day.
RØDE AI-Micro is here to change all that. It's basically an ultra-compact dual-channel audio interface where you can plug up to two microphones (TRS or TRRS) and record the audio in high quality to either your phone, tablet, or even laptops and desktops.
RØDE AI-Micro Review – Unboxing and Packaging Contents
RØDE AI-Micro Review – Full Specifications
Acoustic & Electrical Specifications
Frequency Response: 20Hz to 20kHz
Headphone Output Power: 125mW into 32?
Input Dynamic Range: 100dB A-Weighted
Gain Range: 0-26dB analog gain
Analog Inputs: 2 x 3.5mm auto-sensing TRS/TRRS
Analog Outputs: 3.5mm TRS headphone output
Computer Connectivity: USB Type-C
OS Requirements: macOS Big Sur and higher, Windows 10 (Build 19041) and higher, iOS 14 and higher, Android 9.0 and higher
Simultaneous I/O: 2/2
Number of Preamps: 2
Bit Depth: 24-bit
Sample Rates: 44.1/48kHz
Power Requirements: Bus Powered
Mechanical Specifications
Weight (g): AI-Micro: 13, SC21: 6, SC22: 4, SC23: 6
Dimensions (mm): AI-Micro Width: 40, Length 11.1, Height: 38.2. SC21, SC22, SC23 Length: 300
Compatible RØDE Products
SmartLav+
Lavalier GO
RØDELink Lav
All VideoMics
SC15, SC16, SC17, SC18, SC19, SC20, SC21, SC22, SC23
RØDE AI-Micro Review – Design & Features
It's smaller than the palm of my hand and can easily fit into a shirt's pocket. Two auto-sensing 3.5mm microphone inputs automatically adjust themselves so you can insert a TRS or TRRS microphone on any of them. There is also a headphone input so you can plug a headphone or earphone for audio monitoring and playback while recording.
The first input (labeled with number 1) can also be configured as a single stereo TRS input for use with stereo microphones so that's kind of cool.
On the other end, there is a USB-C slot, used to connect to your recording device. The packaging includes USB-A, USB-C, and Lightning cables so you can connect AI-Micro to any modern devices like an iPhone or Google Pixel 6/6 Pro. It's plug and play, so you can just connect without having to install any driver or application. The device should be able to recognise it directly and you can just start audio recording soon after.
I personally think the size and simplicity are the main strengths of the RØDE AI-Micro. Well, that, and also that it can record audio in 24-bit/49kHz. This makes it great for podcasting, interviews, livestreaming, or any kinds of content that requires crystal-clear audio capture.
I was testing the AI-Micro using their Lavalier GO (TRS) and smartLav+ (TRRS) wearable microphones. As expected, all I needed to do is plug them into any of the microphone input port and they'd just work. This is great because no matter what 3.5mm microphone you have at home (i.e TRS or TRRS), it will work with RØDE Ai-Micro.
The audio from Input 1 will be recorded in Left Channel and the Input 2 will be recorded in Right Channel, so you do need to convert them within your audio/video editing software later on.
The Lavalier GO and smartLav+ are pretty similar in terms of specifications and you won't be disappointed with either of them:
| | |
| --- | --- |
| Frequency Range | 20Hz – 20kHz |
| Output Impedance | 3k ? Typical |
| Signal to noise Ratio | 67 dB |
| Equivalent Noise | 27 dB Typical |
| Maximum SPL | 110 dB |
| Sensitivity | -35dB (17.8mV @94dB SPL) |
| Dynamic Range | 83dB Typical |
I'm not an audiophile or a professional audio grader but from what I've read, many still prefer the sound of smartLav+ as it's a bit richer and more bassy. But again, just grab whichever is available (or cheaper) in store and depends on what you need as well (TRS or TRRS).
They all come with a clip to attach the microphone to the actor/subject, a pop shield to minimise wind noise and vocal plosives (like hard 'b', 't', and 'p' sounds), and a nice pouch to carry all these in.
The cables are Kevlar reinforced and both have a length of 1.2 metres.
There is no Audio Gain or other controls on the RØDE Ai-Micro itself though, so you have to rely on the app you use to record the audio or boost it later with your video/audio editing software.
Lavalier GO:
Lavalier smartLav+:
Since you can plug two microphones at the same time through RØDE AI-Micro, you can record a one-on-one interview with ease, using a single device like a smartphone, tablet, or laptop.
Here is a comparison recording test using the iPhone 13 Pro Max internal microphone, RØDE Lavalier GO, and RØDE smartLav+ both plugged to the AI-Micro, recorded using RodeReporter iOS app. Please pardon my accent.
The internal microphone on the iPhone sounds hollow in comparison and it also picks the noise of my PC fans sitting on my desk (you may need to wear a headphone to be able to notice these).
RODE AI-Micro Review Conclusion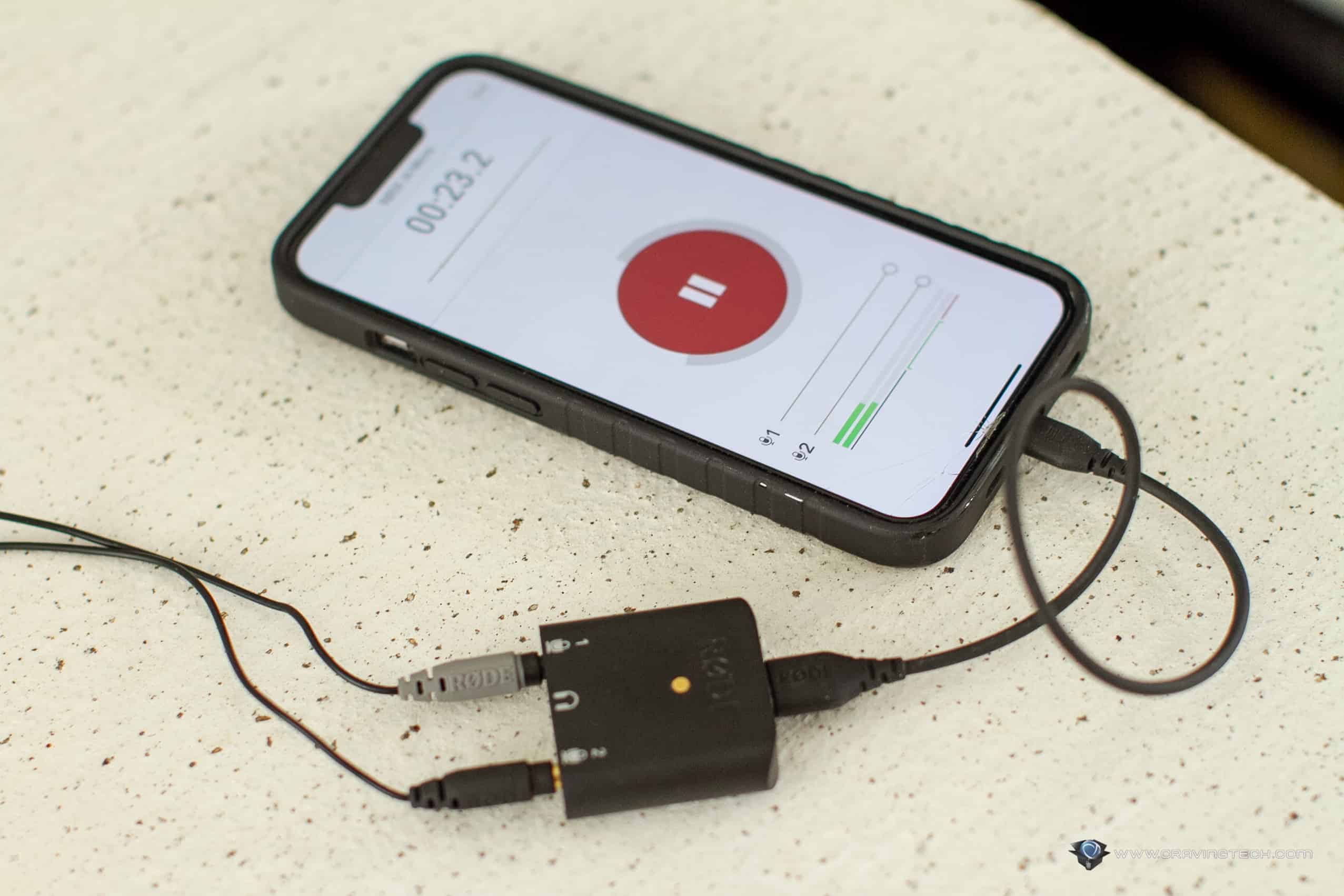 RØDE AI-Micro makes it really easy to record high quality audio using your portable devices like a smartphone. It's capable to record in 24-bit/49kHz, supports two microphones (TRS and/or TRRS) recording at the same time (Left and Right channel), and just works without having to tinker around with any setting.
The packaging includes USB cables with different connector types, including Apple Lightning so you can plug it straight to your iPhone.
It's a great, compact tool to carry around to create high-quality audio contents like podcasts or videos wherever you go.
We used to record short videos or interviews at our church using just the smartphone's internal microphone but thanks to RØDE, we are definitely planning to upgrade future videos' audio quality utilising the AI-Micro.
RØDE AI-Micro is available now for purchase and retails for A$130. RØDE Lavalier GO retails for A$79 and RØDE smartLav+ retails for A$89.
Disclosure: Review samples were supplied for reviewing