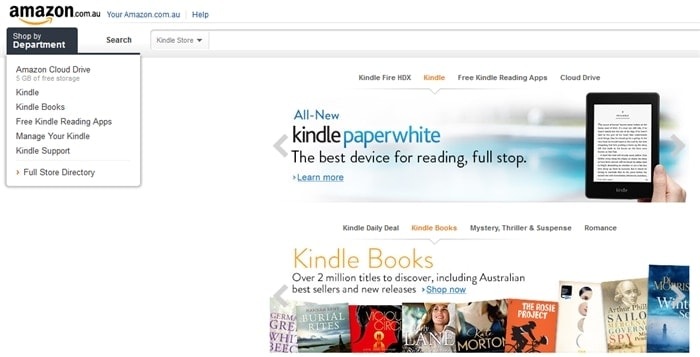 "Is there Amazon Australia"? That was the first question I asked myself after trying to get something from Amazon.com to be delivered here. It's true that some products like books and few other devices can be bought at Amazon U.S store and shipped to Australia, but not most of them.
People go their ways to find a drop shipping company that will ship the item to Australia at a cost, but it's never that straight forward. Today, we might see the end of the tunnel. The wait is almost over – Amazon Australia is here (or sort of).
Amazon Australia went live with the domain amazon.com.au, which is quite exciting. At the moment though, it is only selling Amazon Kindles (which is not bad) and Kindle Books. That's it.
There is another problem. The reason why we worship Amazon U.S is for the price. Buying things from the Amazon U.S Store + shipping cost to Australia is still much cheaper than buying the same product here within. How about Amazon Australia's pricing? Well…. not bad in a sense:
What about returning/refunding? Does having Amazon in Australia make a difference? From the looks of it, not really. From searching some info about returning the Kindle after purchase, it seems that we need to go to the same process as buying from Amazon U.S.
As much as how exciting this news is, it is still far from what Australians want. However, it is definitely a step closer to having a real "Amazon branch" here in Australia.