De'Longhi Magnifica EVO (Titan/ECAM290.83.TB) Review – You may already have an automatic coffee capsule machine at home but not too satisfied with the results. For example, your coffee don't really smell and taste as good as you'd hope for, you have limited options with the coffee types and selections, or you just hate having to recycle those used coffee capsules.
Whatever it is, you will be very pleased with the huge upgrade because this De'Longhi Magnifica EVO automatic coffee machine is a magnificent coffee machine. In short, it offers the same simplicity of just pressing a single button to make you coffee. However, this machine grinds real coffee beans the moment you want a cup of coffee which preserves the coffee aroma and really gives you fresh coffee literally. On top of it all, it also creates an excellent milk froth.
De'Longhi Magnifica EVO Review (Titan/ECAM290.83.TB) – Unboxing and Packaging Contents
De'Longhi Magnifica EVO Review (Titan/ECAM290.83.TB) – Design and Features
My De'Longhi Magnifica EVO machine comes with a sleek, titanium black design which looks really good on our kitchen bench. It definitely adds an aesthetic value to your home and the overall design will fit any modern home just fine. Surprisingly, the machine is also quite compact because it doesn't take that much space on the bench (it's taller, not wider). The whole combination of silver and black theme is definitely very eye-pleasing.
Plus, there is an intuitive colour display on top of the machine with colour coordinated icons and a soft touch control panel. It shows the types of coffee you can make and with just a touch, your coffee will be served right in front of your eyes.
The machine has its own milk system which is called LatteCrema System and it can add really good, creamy milk foam on top of your coffee. The included milk container is labelled based on how much milk you should pour for recipes like a Cappucino, but here is the magic part. One of my favourite features on the machine is called MyLatte and this basically lets the machine detect and use ALL milk you have poured into the milk container.
The Magnifica EVO is the only automatic coffee machine I've used that has this feature. It just makes things simple, yet customisable for every member of your family if they drink with their own cups. You can also program the machine to remember the milk quantity used.
The milk froth is creamy with rich texture, and always at the right temperature (you can change the temperature through settings, from Low, Medium, and High). My wife also praises how good the milk froth is compared to the other machines we've had (we've used about five different machines here at home in the past for comparisons).
However if you don't like foam on your coffee too much, there is unfortunately no option to adjust the amount of foam made by the LatteCrema System. It's a pity, but you can just throw the foam away on top of your cup with a spoon after, so it's not really a big of a deal. But having a machine at this premium price, there should be an option somewhere.
There is an option to change your preferred coffee aroma though: Mild, Medium, and Strong. You can also adjust the coffee mill and change the grinder adjustment to your liking with 13 adjustable grind settings.
Cleaning can mostly be done under the tap but most parts are dishwasher-safe too (make sure to double check in the manual). I like how the machine auto cleans the coffee spout when the machine is turned on and off (either manually or automatically), and you can also let the machine clean the milk container's intake tube and spout after making a coffee.
There is a water filter inside the water container which should delay the descaling process longer. De'Longhi recommends to replace the water filter every two months (or when the machine is not used for 3 weeks) so make sure to count that into your cost. The official one from De'Longhi costs around A$30 each so it's like having to pay a monthly subscription of A$15 if you are following the advice. You can also get third party brands at Amazon for half the price.
Thankfully, it should comfortably replace the cost of you going to a cafe to get your coffee hit. And buying coffee beans is far cheaper compared to buying coffee capsules. Plus, you can now shop around for your favourite coffee beans or grab the beans you like from your favourite cafes like Market Lane, Proud Mary, St. Ali, Patricia, and so on.
And yes, the coffee tastes really, really good with this machine.
De'Longhi Magnifica EVO Review (Titan/ECAM290.83.TB) Conclusion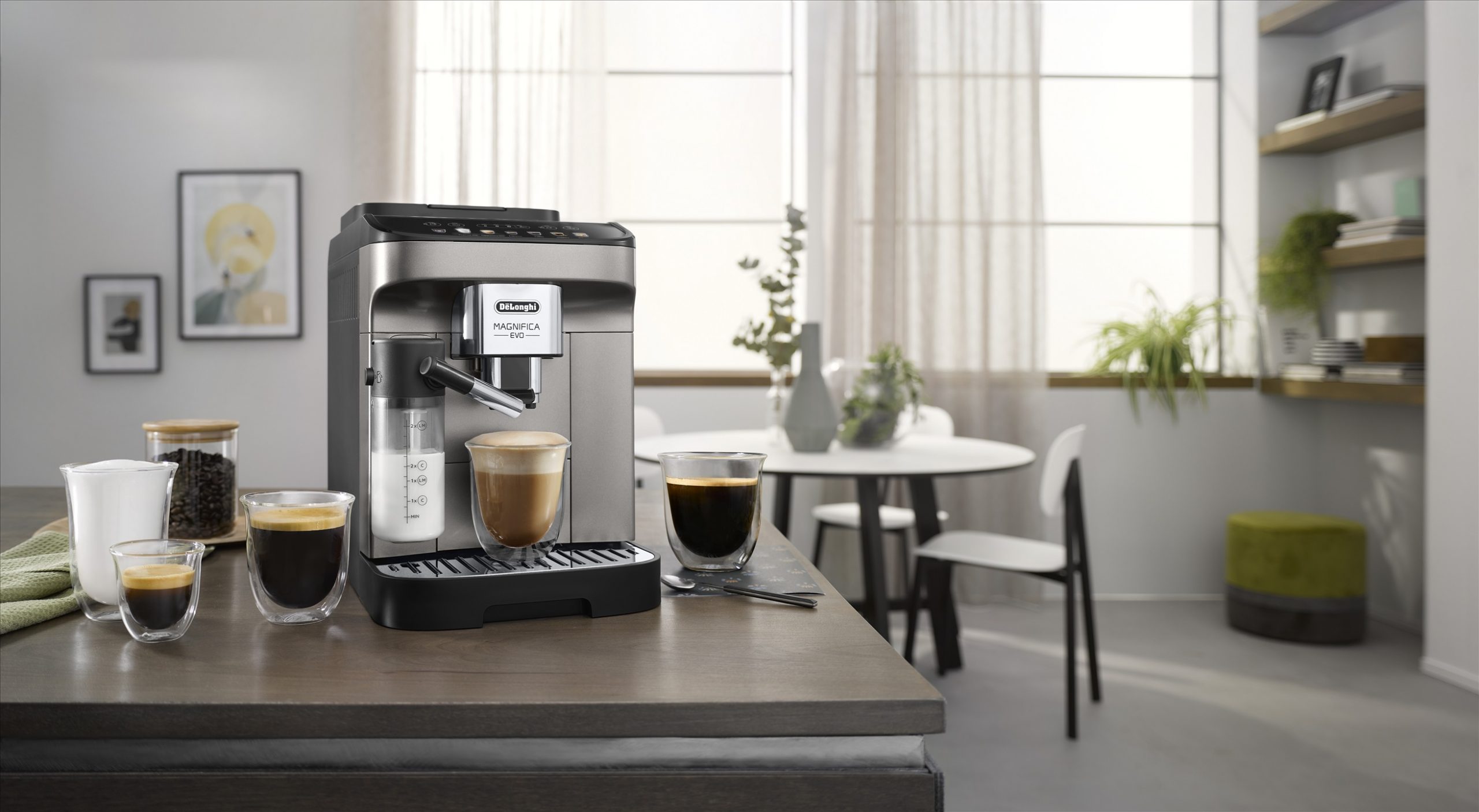 De'Longhi Magnifica EVO is a simple-to-use and sleek-looking automatic coffee machine that makes great coffee and milk foam. It uses real coffee beans to make coffee (it has its own grinder) and a LatteCrema System to create milk foam.
The coffee tastes and smells great. The froth is perfectly textured and foamy. With just a button press, you can create one of the seven recipes which include Hot Water and Foamed Milk (which is perfect if you just want to drink a hot milk or chocolate during the cold nights here in Melbourne).
It's also the only machine I encounter so far where you can just pour milk into the milk container and the machine can auto detect and use up all the poured milk inside. No more having to throw left-over milk away or store the container in your fridge. It's a simple but game-changer feature.
De'Longhi Magnifica EVO is the perfect machine when you really need good coffee at home but don't have the barista skill to support it. I've been using the Proud Mary coffee beans on this machine (about A$15 for 250 grams) and making milk-based coffee 2-3 times a day. I love this machine so much as it also has saved me lots of money from having to get my coffee elsewhere (which costs around $5-6 these days). I've since then grabbed a variety of coffee beans from popular cafes in Melbourne like Patricia, Market Lane, Maker, etc.
De'Longhi Magnifica EVO (Titan/ECAM290.83.TB) retails for A$1,399 and available to purchase from DeLonghi.com, Harvey Norman, Good Guys, Bing Lee, Myer and JB-HI-FI. You can also try Amazon.com if you don't live in Australia.
Disclosure: De'Longhi Magnifica EVO ECAM290.83.TB review sample was supplied for reviewing
De'Longhi Magnifica EVO Review
Summary
An easy to use, automatic coffee machine with great coffee taste and milk foam. One of the best automatic coffee machines out there. It can also detect the amount of milk in the container and use all of them automatically
Pros
Premium, stylish, and compact design
Make excellent coffee and milk foam
Intuitive, easy-to-use touch interface
Can auto detect and use all the milk inside the milk container
A variety of coffee options, including foamed hot milk and hot water
Offers various settings like aroma strength, coffee temperature, grinder adjustment, etc
Auto cleans itself
Has replaceable water filter, and all parts are washable under the tap (also dishwasher safe)
Cons
Can't adjust the amount of froth
Water filter needs replacing every 2 months and it costs A$30 each