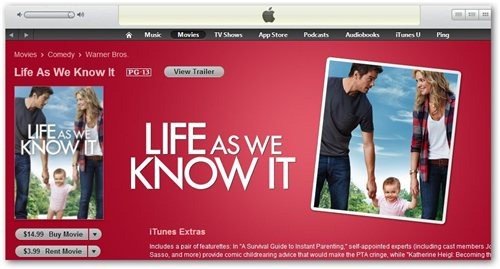 This is basically a $15 iTunes Gift Card giveaway, sponsored by Warner Brothers for Craving Tech readers. The $15 iTunes Gift Card, if you win it, is meant to be used to purchase the "Life As We Know It" movie (played by Katherine Heigl and Josh Duhamel) from the iTunes store.
"Life As We Know It" Synopsis:
After a disastrous first date for caterer Holly (Katherine Heigl) and network sports director Messer (Josh Duhamel), all they have is common is a dislike for each other and their love for their goddaughter Sophie. But when they suddenly become all Sophie has in this world, Holly and Messer must set their differences aside. Juggling careers and social calendars, they'll have to find common ground while living under the same roof. Josh Lucas, Christina Hendricks, Hayes MacArthur and Jean Smart co-star in this tart and tender romantic comedy directed by Greg Berlanti (Brothers & Sisters, Everwood).
Life As We Know It is available now on Demand and For Download: http://bit.ly/f0FI2q (will open your iTunes and point to the movie details page). Check it out!
"Life As We Know It "Movie Trailer from YouTube:
$15 iTunes Gift Card giveaway to purchase Life As We Know It
How about a chance to win a $15 iTunes Gift Card? You can use this gift card to purchase the movie at iTunes store. Of course, you are not under the obligation to use the credits to buy the movie, but hey, why not? It's worth checking out and watch together with your loved ones!
How to win the $15 iTunes Gift Card – Just post a comment on this form that you want it, as simple as that!
I'd appreciate if you tweet or share this giveaway to your friends though. Random winners will be chosen on the 7th of March 2011.
Note: Gift card can only be used on U.S iTunes Account