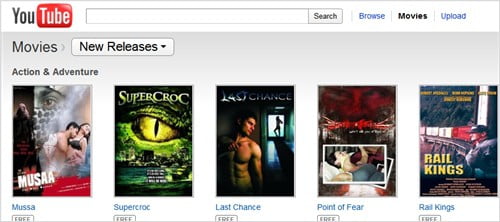 Recently, YouTube released a new section on their official site, called YouTube Movies. You can now watch full length movies on YouTube but of course, don't expect new blockbuster movies available for free. The classic movies are free to watch on YouTube (streaming) and you cannot download and store them on your hard drive (though I wonder whether a plug-in hack or something might allow this access in the future).
Nevertheless, if you like watching those classic movies, you don't really need to spend a dime since you can just watch the full movies online for free at YouTube (or through Crackle app on iOS devices).
For recent blockbuster movies, however, there is an option to "rent" them. Prices to rent start at $2.99, depends on the movie (or when a movie was released, I guess). During the rental period, you are free to watch that rented movie as many times as you like (online streaming). This means you can watch your movies anywhere you are, as long as you have an internet connection and access to YouTube. You can watch the movie on your phone, tablet, or PC/Mac anywhere.
Unfortunately, it seems that only people from the United States can have access to rent these movies at this stage. Not to sure when Australians or other countries can have access but I'm sure it will not be long.

I think this is a good start as nowadays, we are too lazy at times going to a video store and would just want to simply select and watch movies legally from our living room. I do wonder what's going to happen to video rental stores now that we can have these digital movies easily through the net.
Anyway, check out the release of YouTube Movies trailer below:
What do you think of this? Will you pay $3-5 to rent a digital movie and watch it in the comfort of your living room (or bedroom)?