If word games like Scrabble turns you on, then WordsWorth is definitely Worth a play. You link letters to make words in a honeycomb structure, rather than a plain old board. The idea is to make words out of the letters by linking the letters in one flow. Of course, it's not as simple as it sound or it will be a boring game. Instead, there will be bonus tiles and score multiplier based on the rarity of the letters (ex: Letter Z has a higher point than a vowel, etc).
But what makes WordsWorth so addictive is the multiplayer and the iOS 4.1 Game Center integration with Matchmaking, Leaderboard and Achievements.
In WordsWorth, there are 3 different game types:
Classic (play at your own pace, turn by turn. Winners decided after a specific goal has been met (8 rounds, 10,000 points, etc))
Timed (similar to classic, with a live timer)
Tumble (you must use the letters drop from the top to make words before they fill up the screen, like Tetris). Unfortunately you have to throw out an extra cash to enable this mode.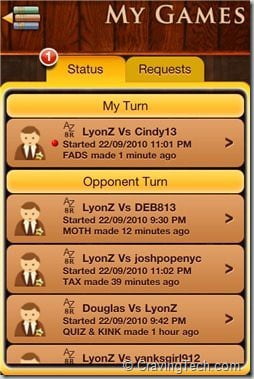 There is a single player game for unlocking achievements and also a good way to practice before you start fighting with other players online. However, the multiplayer is where WordsWorth really shines so don't be practicing too long.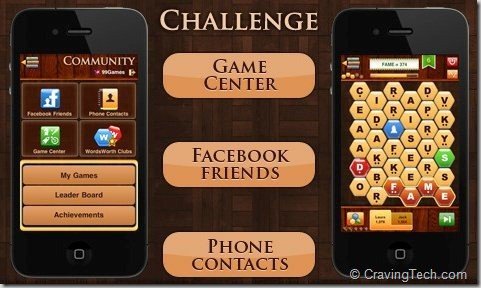 Rather than assigning you to a random dude (if you don't have any friends to play with), you can pick an opponent yourself from the WordsWorth community. The WordsWorth club is categorized well so you won't be fighting a veteran in your first game unless if you want to. For example, I went to the "Practice Club" because I could pick players who have only been playing a few games. There is a smart scoring system too called the Vocab Power and your score increases every time you win a multiplayer game. This way you can compare yourself with the opponents you are trying to challenge. You can also see how many wins and loses the opponent has so you can pick a worthy or "worthless" opponent. I actually picked those who were losing a lot for starters – yeah I was mean :)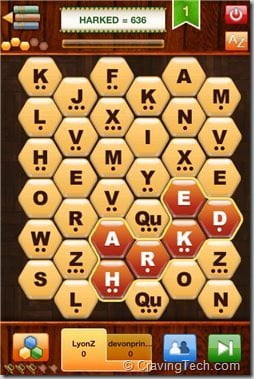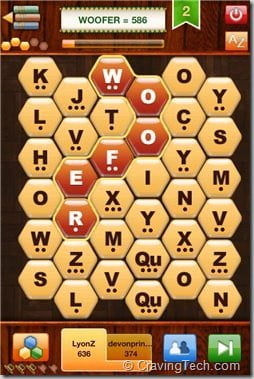 What I like most is the "Recently Online" group though. When you feel like playing WordsWorth with a few people, this is the one you should browse first. Most of the time, your challenges would get accepted quickly and you will be busy linking letters not long after.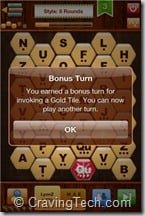 There are special tiles in the game such as bonus tiles when you create words longer than the minimum word size consecutively (the default is 3-letters but you can change this in the settings). There is also a penalty time-bomb kind-of-tile if you or your opponent ever decide to re-scramble the letters on the board.
WordsWorth is fun, simple, and highly addictive. There are customizable settings so you can have different games with different people simultaneously. You can play with many players at the same time and as long as you are not playing the Timed mode, you can play it anytime, anywhere at your own pace. My only wish is that there are more notification settings because at the moment, you only get a badge notification and a soft ding sound when it's your turn to play.
Oh, don't forget that I have 4 WordsWorth promo codes to give away!
WordsWorth – 99Games Online Private Limited
Note: Promo code provided for the review