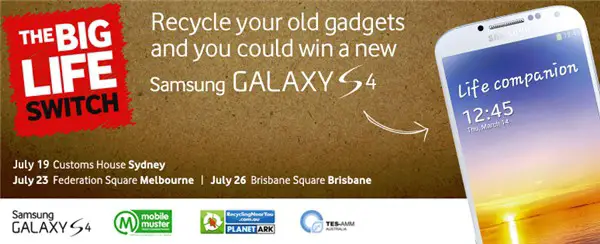 Samsung and Vodafone Australia are giving away 3 Samsung GALAXY S4 every hour at the Big Life Switch events. The whole idea is that for you to recycle (throw away) your certain old electronic equipments at the event because you have made the switch to a better, newer, companion – that is the Samsung GALAXY S4.
According to the terms and conditions, these are the eligible items for you to bring to the event and recycle to have a chance in winning the new phone:
Game consoles, pedometers & other fitness trackers (such as heart-rate monitors or watches), TV remote controls, MP3 players, mobile phones, digital translators or phrasebooks, digital cameras or camcorders, handsfree car kits, surround sound speakers or external portable mobile phone speakers, mini hifi systems, digital day planners or personal digital organisers, clock radios or alarm clocks
It's clear that you don't really need these anymore once you have the Samsung GALAXY S4 in your hands (check out Craving Tech's Samsung GALAXY S4 review to find out more about what this phone can do).
The Big Life Switch event will be held in 3 different capital cities of Australia:
Sydney: Customs House, Circular Quay  (July 19th 7:30AM – 11:30AM)
Melbourne: Federation Square (July 23rd 11:00AM – 3:00PM)
Brisbane: Brisbane Square (July 26th 9:00AM – 1:00PM)
And now that Vodafone 4G is available (depends on where you live), there is no reason not to grab this chance!
Check out vodafone.com.au/biglifeswitch  for more details!