Note: This is a guest post written by Jeeva Shanmugam – During its Google Live Paris event yesterday (February 8), Google outlined its AI vision and provided more information on Google Bard. To those of you who aren't aware, Google Bard is a chatbot powered by AI that was introduced by Google CEO Sundar Pichai earlier this week through a blog post.
It's hardly a coincidence if that has a ChatGPT-like feel to it. Google wants to compete with the ChatGPT chatbot from OpenAI, which is also proven to be quite popular, with Bard. In this article, we will look at a few of Google Bard's features and how it may compete with the popular chatbot ChatGPT.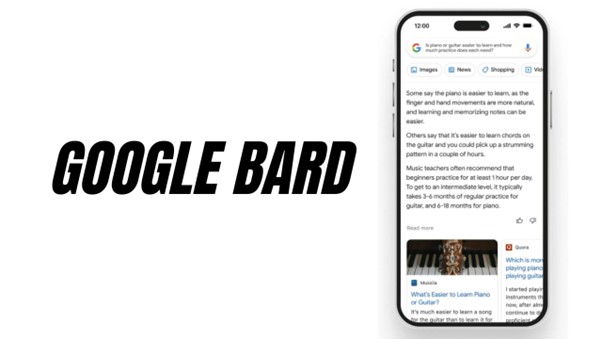 To be precise, the chatbot will more broadly be available to the public in the coming weeks and is a competitor to OpenAI's ChatGPT. The bot, however, is not off to a good start; experts have noted that Bard made a factual blunder in its very first demonstration. After ChatGPT was released, Microsoft and ChatGPT's developer OpenAI announced a collaboration that will see the chatbot incorporated into both Bing and Edge.
This will enable users to communicate with Bing about their search queries and receive responses in natural language. Similarly, Google Bard's goal is to improve Google search. Most people turn to Google when they need a quick factual response.
However, more and more people are questioning, more specific questions to Google, and for users to quickly gain a wider perspective and learn more, Google Bard will try to condense difficult material into digestible formats.
As previously, customers may receive complex information in plain English. In addition, Google's chatbot can provide consumers with current, reliable, and accurate information. The new chatbot from Google might be considered a rival to ChatGPT because it was developed and unveiled in such a short period rapidly grasp the larger picture and learn more from the web thanks to the integration of Bard with Google Chrome, which processes complicated material and different views into digestible formats.
The Google CEO stated, "Soon, you'll see AI-powered features in Search that process complex information and multiple perspectives into easy-to-digest formats, so you can quickly understand the big picture and learn more from the web: whether that's seeking out additional perspectives, like blogs from people who play both the piano and the guitar, or going deeper on a related topic, like steps to get started as a beginner."
Features of Google Bard
The following are some of Google Bard's key features:
Users may experience the synthesis of strength, intellect, and creativity with Google's Chatbot Bard.
Response and the web will be used by Bard AI to gather data from people.
A lite model version of the LaMDA is being used by Google as it initially rolls out the AI system for testing.
To advance the AI system in the future, the emphasis will be on gathering input via Bard.
Google Bard AI Event Announcements
But Google announced more yesterday than simply Bard. With Google Lens, you'll soon be able to search what you see in photographs and videos across websites and applications you already use without ever leaving the app on an Android smartphone.
For instance, if you receive a video of someone in the United States, you may long-press the power or home button on your Android phone, select "search screen," and Lens will recognize the location and give you the option to click to go further.
You can now search a photo and text simultaneously thanks to a new Multi-Search feature that is being rolled out across all languages and locations where Lens is accessible. An upgrade to Google Maps will include a function called immersive view.
With this function, you may virtually travel to destinations you've always wanted to see. To generate digital representations of the entire planet, immersive view integrates countless Street views and aerial photographs. It also includes further details like the weather, traffic, and potential crowd levels.
More contextual translation choices with explanations and various examples in the target translated language will be available to users of Google Translate. Depending on what you're trying to say, it will know what words or local idioms to employ. Initially, this will be offered in English, French, German, Japanese, and Spanish; other languages will follow soon.
Google Bard vs ChatGPT
Since ChatGPT has been trained with data up to 2021, it often correctly provides data information up to that date, but it sometimes has trouble with more recent data. Convolutional Neural Language Model LaMDA, created by Google as part of its Dialogue Applications program, powers Bard.
Currently, Google is offering the Bard with a LaMDA variant that is more lightweight. This is so that Bard can reach more consumers and receive more feedback. Smaller models often require less computational power. To make sure that the quality of the responses it receives from Bard is kept to a high level and is founded on real-world facts, Google will combine the feedback it receives from external users with its own internal testing.
Wrapping it All
Since the popularity and use cases of ChatGPT, most tech companies are coming forward to launch their chatbot, indeed Google is also one of them, but when ChatGPT was introduced, it was available for public testing, and anybody interested in using it just needed to sign up for an account on OpenAI's website.
With Google's new Bard, that won't be the case, though. The corporation isn't yet making the tool available for public usage because it is still in the first testing stage; just a few chosen people will have access to it.