Note: This is a guest post written by Jeeva Shanmugam – Looking for WatchOS 10 release date? What are WatchOS 10 new features?
Apple's WatchOS 10 is the next-generation operating system for the Apple Watch, set to launch in the fall of 2023. The new OS is designed to offer a more personalized, intuitive, and seamless experience to users. It will bring several new features and enhancements, making it the most significant update to the Apple Watch. Let's discuss a few of its expected features, compatible devices, release dates, and more.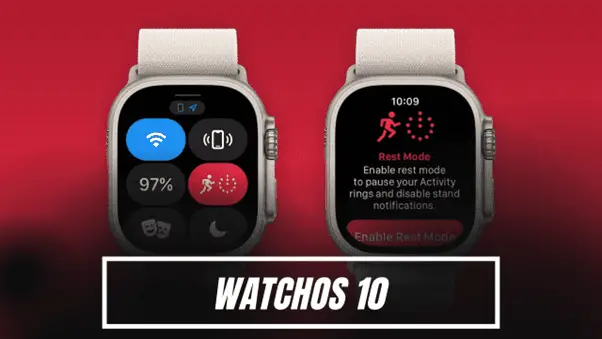 We'll probably get a sneak peek at what Apple Watch owners may anticipate from wearable computing in the next year with the release of the unofficial watchOS 10 software, which is anticipated to be unveiled at WWDC 2023. It's virtually certain that Apple's flagship wristwatch will gain some new features.
Whether you're wondering if your old Apple Watch will operate with the new software or if Apple will reveal interesting enhancements, big announcements are coming in June. These are the features we presently know about watchOS 10 and additional ones we hope to see in this year's software release based on historical data.
WatchOS 10: Expected Features / WatchOS 10 New Features
1.   App for Native Notes
It's expected that the Apple Watch will have a note app. I'm excited about note-taking applications. The software would presumably sync with your iPhone via iCloud if the Notes app was already installed on your phone. If you need to write a to-do list or jot down an original idea, having a Notes app would allow you to do so without using your iPhone. The same holds when you access notes you've taken on your iPhone using your wrist.
2.   Health Dashboard
Although you can access various sorts of health data across several Apple Watch applications, there isn't a single place where you can review your activity, sleep, and menstrual cycle information. What would ideally be an extension of the Health app from the iPhone may also be replaced with a dashboard-style software designed just for the Apple Watch experience.
3.   Recovering Features
Apple Watch rings do not allow you to take a day off, unlike, for instance, the Oura Ring or the top Garmin watches. It's critical to give your body time to rest and recover, whether you've been engaging in strenuous exercise, are growing unwell, or haven't been getting enough sleep.
4.   New Watch Faces
The Apple Watch is anticipated to get several new watch faces with the introduction of WatchOS 10, including the well-known Minnie Mouse watch face, which is noted for its whimsical appearance and is likely to satisfy Disney fans. A basic Numerals face with a large-font time display and a new Activity face with progress indications for fitness goals are two other new watch faces.
5.   Improved Siri
Another major update is the integration of Apple's virtual assistant Siri, which will now offer more contextual and personalized responses. Siri will be able to understand natural language and proactively offer suggestions based on users' habits and preferences. For example, if a user is running late for a meeting, Siri will suggest sending a message to inform the attendees.
Note: These are just rumored features from the past, we have to wait until the official launch.
WatchOS 10 Release Date
If there are no substantial changes to the current situation, WatchOS 10 should be presented at WWDC 2023 on June 5 together with iOS 17 and other software improvements. It is also expected that the long-awaited Apple AR/VR headset would be presented at the event.
After WWDC, watchOS 10's developer beta will presumably become accessible. According to the timeline from previous years, the public beta should then make its appearance sometime in July. WatchOS 10 should be released in its entirety in September, most likely within the same few weeks as the introduction of the Series 9 Apple Watch.
WatchOS 10 Compatible Devices / WatchOS 10 Compatible Apple Watch Models
Apple ultimately stopped supporting the Apple Watch Series 3 with substantial modifications to watchOS 9 compatibility. With the Apple Watch Series 4 through the Apple Watch Series 8, Apple Watch SE (2022), and Apple Watch Ultra, frequent software updates are now accessible. Nevertheless, some functionalities are only available for a few models.
Wrapping it All
WatchOS 10 is shaping up to be a significant update to the Apple Watch operating system. It will bring several new features and enhancements that will make the watch more personalized, intuitive, and seamless.
With the note-taking feature, integration of Siri, improvements to fitness tracking, and new health features, WatchOS 10 will provide users with a more immersive and holistic experience making the Apple Watch an even more versatile and indispensable device for users.