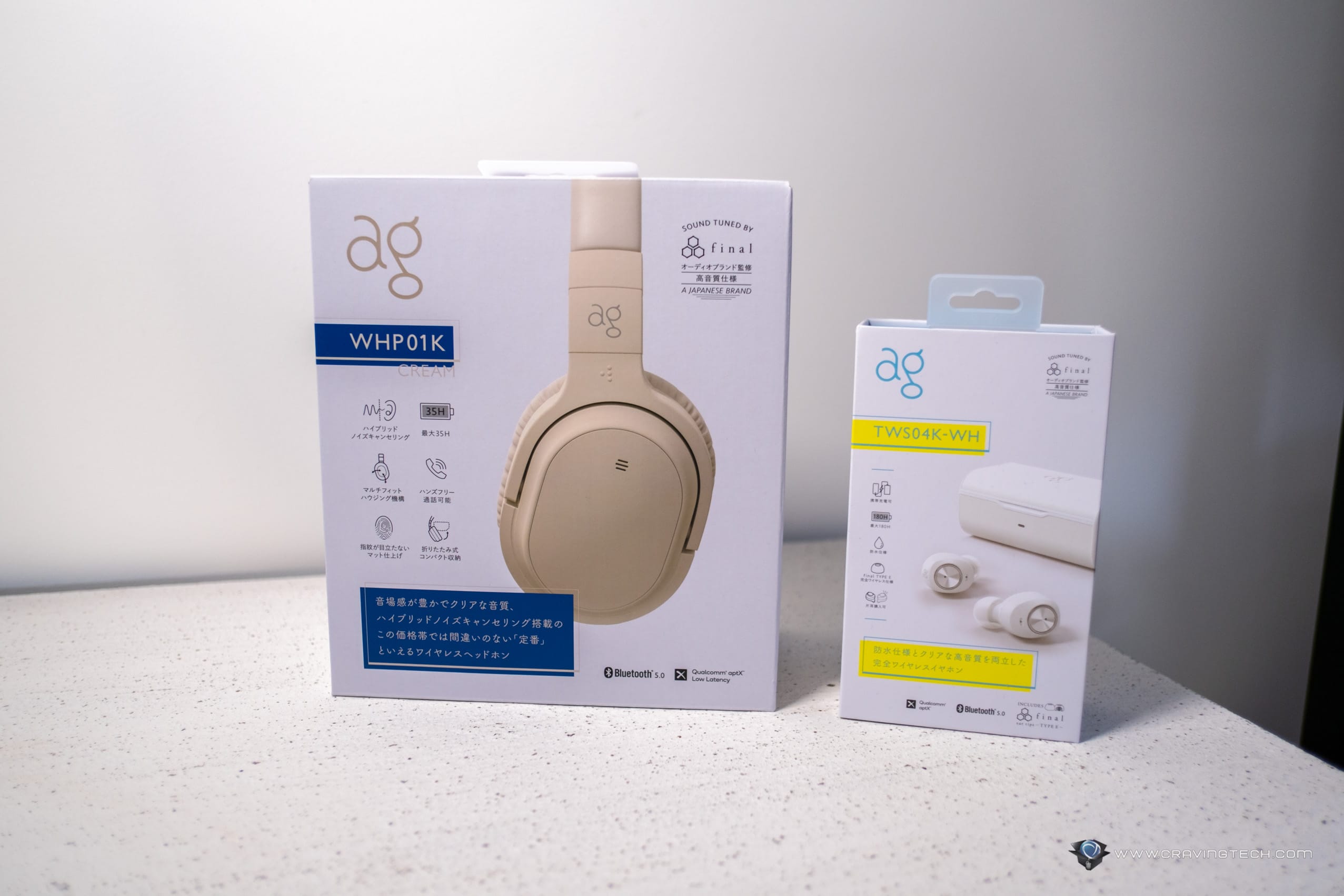 ag is a sub-brand established by a Japanese high-end audio brand, Final who has been in the high-end audio technology industry for over 45 years. ag focuses on delivering audio products fine tuned by Final which means you'll get that superior, high-quality audio on Final audiophile products but at an affordable price.
While you can usually get cheap earphones and headphones in the market, they usually sound pretty disappointing: distortion at a higher volume, muddy and overpowering bass, or tinny sound that makes your ears hurt after a while.
From where I see it, the ag products sound really good at the expense of losing some advanced features and using cheaper, non-luxurious materials. In addition to SBC and AAC, they also support aptX LL which delivers superb sound quality with exceptional connection stability.
I have their AG-WHP01K ANC headphones and AG-TWS04K true wireless earphones today, and they do sound awesome.
AG-WHP01K ANC Headphones
The AG-WHP01K is available in three different colours (Black, Cream, and Dark Grey) with a single colour theme overall. From the first look, you can clearly see that it doesn't look like a stylish, premium headphone like the Sennheiser MOMENTUM 3 Wireless and also feels rather heavy.
However, the paddings are not being sacrificed, both on the ears and on the headband as they are soft and offer plenty of comfort. The soft-textured powder coating also offers dirt resistance and fingerprint resilience.
The controls are located on both ear cups to to turn the headphones on and off, control volume, and turn Active Noise Cancellation on and off. There are no controls to skip or rewind tracks though.
You can still use ANC even when the headphones are powered off, which means you need to remember to turn it off or it will use battery (you can actually see visually that the green ANC light is still lit on). This design decision is because you can wear the headphones and enjoy its active noise cancelling feature without listening to music.
You can also enable ANC even when you connect the headphones to an audio device through the 3.5mm jack, making it perfect to use with the in-flight entertainment system when you are flying.
There is no HearThrough feature (where you can listen to your surroundings) or different types ANC levels to pick from. Music will still be playing too if you take the headphones off, a feature that is normally reserved for high-end headphones.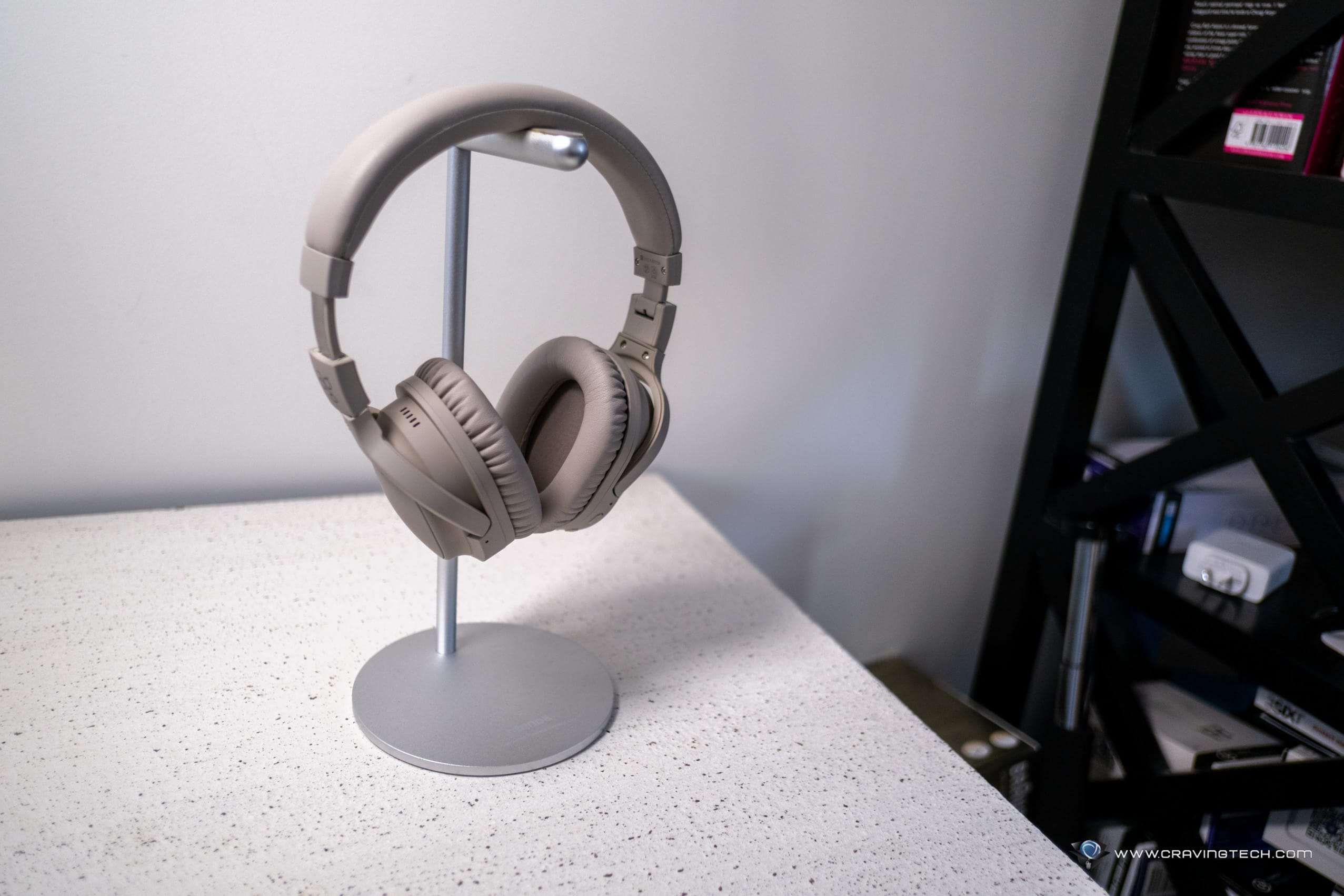 But despite of these shortcomings, the headphones sound really good and of course, the price is highly affordable for just A$149.99. The audio is crystal clear and has a great balance across the channels.
Battery life is about 25 hours with ANC on, or 35 hours with ANC off, with standby time of 400 hours with ANC off.
AG-TWS04K True Wireless In-Ear Earphones
AG-TWS04K is great to be used outdoor or as you exercise, thanks to its IPX7 rating (which means it can also be submerged in water at a depth of one metre under 30 minutes).
The packaging includes 5 ear tip sizes, including a really small ear tip size that I rarely encounter on earphones I've come across with. Suffice to say, there will be a perfect ear tip size for everyone.
With a single multifunction button, you can play/pause, skip to next/previous track, and also lower/raise volume. You can also receive, end, and refuse incoming calls with the same button. Plus, it supports triggering Voice Assistant like Siri and Google Assistant.
A synthetic leather charging case is included that can charge the earphones 20 times before requiring a charge. The earphones themselves can last between 6-9 hours.
The case itself is a bit bulky and heavy compared to most earphones charging cases, but definitely offers more built-in battery capacity of 2,600mAh.
And as expected, the audio quality isn't disappointing at all. It feels perfectly balanced and the earphones have the power to drive the sound. Though there's no ANC, the passive noise isolation is more than enough to keep you immersed.
The AG-TWS04K is available in two different colours: Black and White, and retails for A$199.99
---
The AG-WHP01K and AG-TWS04K are the first ag products under the K-series that aim to provide high sound quality at affordable prices. They definitely sound great for the price and backed by a really popular Japanese high-end audio brand, Final.
They do weigh a bit more and don't look as stylish as $500 headphones and earphones, but if you want to focus on the sound quality without having to pay the premium tag for style, these ag audio products are definitely suitable for you.
Plus at these prices and sound quality, they make great gifts for your loved ones.
Disclosure: AG-WHP01K and AG-TWS04K review samples were supplied for reviewing