Tt eSPORTS CRONOS review – Though I have just reviewed the 50mm drivers' DRACCO Captain gaming headset, the Tt eSPORTS CRONOS with 40mm drivers does not disappoint, thanks to its strikingly stylish design and the lower price.
Not many can afford the high-end gaming headsets so the CRONOS is a perfect product to get without sacrificing material and design quality.
Tt eSPORTS CRONOS Unboxing Video
Tt eSPORTS CRONOS Review – Packaging

Tt eSPORTS CRONOS Review – Design & Features
Even when the CRONOS' 40mm drivers may not sound as good as the DRACCO Captain's 50mm drivers, the quality of the sound does not falter much. Also note that many gaming headsets are equipped with the same drivers size as the CRONOS.
For playing different genre of games, the CRONOS is far from sufficient. Music and environment effects come to life in Shogun: Total War 2 and I often jumped from my seat upon unsuspecting enemies firing their shots in CounterStrike:Global Offensive. I do expect the Bass can be deeper but each to their own preferences.
But what makes the CRONOS a better value for money compared to similar gaming headsets specifications, is its design quality.
The LYCRA® head-pad design reduces pressure on the head and increases comfort when I wear the headset for hours of gaming. The 3 sections somewhat make the headband look more stylish and the color is also classy (on the Black version; the CRONOS is also available on White).
However, the most mesmerising look comes from the lights on the ear cups exterior (assuming you plug the extra USB cable in).  The ambient matches the glossy finish, which should make people think that you are wearing a luxurious headset. Sadly, this is definitely for show. I mean, if you are wearing this headset in your own bedroom, it will not matter much – since you can't really see it anyway. However, place the CRONOS into a headphone cradle such as this Tt eSPORTS Hyperion and you are in for a show!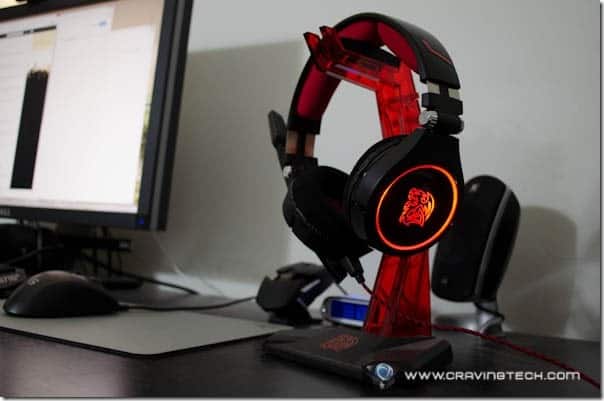 Nothing can brighten up your day except for going into your room and be pampered with that hypnotising red glow from CRONOS!
The microphone boom is bendable so you can position it anywhere to improve your voice clarity or put it aside when not needed.
The CRONOS is also highly portable. The cables can be unplugged and carried away within the included pouch. There is also a separate cable to be used on your smartphones or any supporting device, perfect for mobile gaming. Simply swap the cables to go from desktop gaming to mobile gaming (or even for music listening while you wonder about).
CRONOS' versatility and mesmerising design are just too good to be missed if you are looking for a good (desktop and mobile) headset with great value for money!
Disclosure: Tt eSPORTS CRONOS review sample was sponsored for the review
[AMAZONPRODUCTS asin="B00E38BPJ0″]