Note: This is a guest post written by Jeeva Shanmugam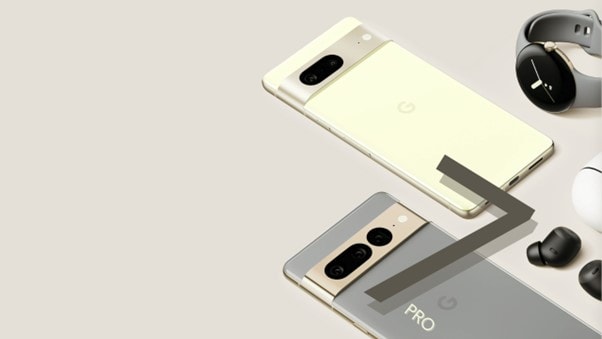 Google made users' jaws drop with its recent smartphone launches. I was not a fan of Pixel smartphones until the launch of the Pixel 6 as the Pixel 5 looked like typical Android smartphones which are not so unique. But with the launch of Pixel 6, Google has changed users' perspectives towards their smartphones.
Now with the new Pixel 7/7 Pro, Google has implemented a lot of its software features and fine-tuned their smartphone, not just with software but in contrast to the hardware of the Pixel 6.  With that being said, I'm going to discuss the 5 best feature upgrades of the Google Pixel 7 that lift my eyebrows up.
Although Google Pixel 7 and Pixel 7 Pro's design may not be as innovative, the typical recent Pixel design with a small camera modification stands out from the Pixel 6's. It's not an issue and that's not even my concern too.
But what I am concerned about is, Google adopted a distinctive design aesthetic and introduced intriguing new features to the Tensor processor Google's processor that primarily focuses on TPU for AI and ML.
This year's iteration is a clear improvement over the previous year's model since Google has stayed with these decisions while acknowledging their merits and the implementation of the pixel devices made users consider Google as a flagship smartphone. Let's get deeper into the Google Pixel 7/7 Pro.
1. Tensor G2 Chipset
In comparison to its predecessor, the Google Tensor G2 has more sophisticated machine-learning capabilities. According to Google, it does tasks 60% quicker and 20% more effectively. So, this improves the Pixel 7 phones' comprehension of voice and language.
The new Tensor 2 chip, in contrast to Tensor G1, features four ARM Cortex-A55 CPU cores operating at 1.8GHz, two ARM Cortex-A78 CPU cores clocked at 2.35GHz, and two ARM Cortex-X1 CPU cores. Which basically improves software capabilities for faster delivery of AI and ML.
The Tensor processor within the Pixel 6 phones enables Google's machine learning algorithms, enabling the phone to work and make advanced camera tricks available to everyone in real-time across several languages. And with the Pixel 7, Google is implementing the way machine learning works and its delivery of more accurate results across the usage of the smartphone in the real-world scenario.
2. Pixel 7 has a 4K front camera
Pixel phones are well-known for their photography, mostly because of Google's excellent image-processing tools. The 50MP f/1.85 GN1 main and 12.5MP f/2.2 ultra-wide lenses present on the Pixel 6s may not have been replaced by Google due to this software.
As an upgrade now Google Pixel 7s features a 4k front camera. Now not only the rear but the front camera is very useful to take good photos and videos,
3. Pixel 7 features a long battery life
One of the major concerns that hold me back from buying the Pixel smartphone is the battery because users will not use a flagship phone just to make calls and reply to emails. They will think to play with it. So, the battery should be in a state to withstand the power.
Google has now addressed the battery and increased its capacity. Google Pixel 7 features a 4300 mAh and the Pixel 7 Pro features a 5000mah battery that can last up to 72 hours so power is retained for long hours.
4. Pixel 7 features the best camera to date
It's hard to compare the Pixel cameras with any other Android smartphones. Google is always the best in software, not so surprisingly,  the new Cinematic Blur setting on the Pixel 7 cameras maintains your subject clear while blurring the backdrop.
On the other hand, the Tensor G2 chip makes the Photo Unblur function possible, which may give out-of-focus pictures a fresh perspective. A 48MP telephoto camera with 5x optical and 30x digital zoom is also included in the Pixel 7 Pro for shooting amazing macros and distance shots.
New sensors let the Pixel 7 photograph more effectively in low light, and pixel's Real Tone technology ensures that all skin tones may be correctly depicted.
5. Google Features a free VPN
I think it's the most needed feature of the smartphone. Google paid attention to users' safety and included a free VPN with the Pixel 7 phones. A solid VPN may be quite helpful especially with so many apps seeking to follow you online.
All Pixel 7 phones will come with a free built-in VPN service to protect users' identities online.