Note: This is a guest post written by Jeeva Shanmugam – We recently got a piece of news stating that Meta is working on a new text-based app to compete with Twitter. Users will be able to sign on to the app, codenamed P92 or Barcelona, using their Instagram account and password. Their primary app followers, handle, bio, and verification will also be sent across.
Indeed, "Threads", Meta's much-anticipated social media companion app, is now available on the App Store and Google Play Store. Simply search for "threads" in the Instagram app to discover a ticket symbol, touch it, and watch a spinning ticket disclose your Instagram username and a local launch time.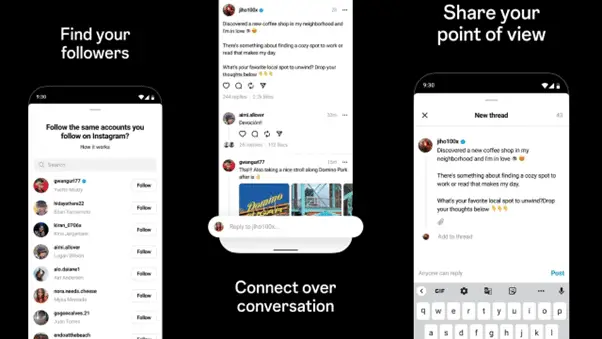 Scanning the provided QR code will take you to threads.net, the online site for this intriguing new platform. Threads provide a more intimate and customized method of communicating with loved friends by allowing users to exchange text, photographs, videos, and Stories with just their closest friends.
Threads, which is accessible on both the App Store and the Google Play Store, advertises its UI with visually appealing screenshots that mimic prominent text-focused social media sites such as Twitter, Mastodon, and Bluesky.
Users receive access to their familiar Instagram profiles within the app by logging in using their Instagram handle. They may seamlessly interact using a thread-like framework, exchanging a variety of information like text, photographs, and videos. Threads add a new dimension to social media by allowing users to organize their discussions and engage with their followers in a more engaging and dynamic way.
The "Threads" app is much anticipated especially after Elon Musk's new policies and restrictions on Twitter users. Elon Musk's Twitter platform has lately undergone substantial changes, including the implementation of safeguards such as preventing unregistered users from seeing tweets and imposing temporary rate limits for logged-in users.
However, these new changes have resulted in significant interruptions for Twitter users, with claims of service outages over the weekend. Along with these changes, Twitter has made substantial changes to TweetDeck, a popular tool used by journalists and social media professionals.
Threads from Meta, in a nutshell, presents a new way for people to interact with others who share their hobbies and interests. This platform allows the sharing of text, photographs, and videos among community members by allowing users to build or join groups focusing on their preferred themes.
Furthermore, Threads allows users to directly engage with and follow their favorite creators, providing a platform that stimulates conversations, creativity, and deep connections. Threads, in essence, transform the way people connect by fostering a dynamic arena that celebrates common interests and fosters meaningful relationships.
Threads App Features
The app will have a feed where users may publish text posts of up to 500 characters in length. They will be able to add links, photographs, and videos to their postings as well. The app is currently in development, and it is ready for launch.
This new app may represent a threat to Twitter, which has struggled to increase its user base in recent years. Instagram has a considerably larger user base than Twitter, and the new app may be able to entice some of Twitter's users. Only time will tell if the new Instagram app is a hit. However, it is evident that Meta is serious about competing with Twitter, and this new app is a step in that direction.
Threads App Launch Date
The highly anticipated Threads app is set to launch on July 6, 2023, at 10 a.m. Eastern Time. The appearance of the app's own page on the App Store, proudly proclaiming its compatibility with iPhone devices, is a strong indicator of its preparation for release.
Notably, the app has discovered an early listing of Threads on the Google Play Store, adding to the growing excitement over the upcoming debut of this revolutionary platform. The disclosure of these interesting data demonstrates the thorough planning and excitement around the imminent launch, leaving users and enthusiasts alike excitedly anticipating the dawn of a new era in social media communication.