It's not a surprise anymore that all the new cars are always equipped with the latest and greatest in technology. For example, I'm still amazed at the technology where the car can automatically do a parallel parking by itselt, but there seems to be a lot more coming!
The latest Mazda 6 is equipped with "i-ACTIVSENSE" and "i-ELOOP" technology – details follow shortly.
Mazda 6 i-ACTIVSENSE
What's an i-ACTIVSENSE technology, you asked? It's basically an advanced safety technologies installed inside the car to help in preventing and reducing the severity of accidents. For example, the system can detect lane markings on the road and warn drivers if they are going sleepy and wobbly.
It can also detect cars in blind spots which is handy when you want to change lanes or make a turn (though I don't think my driving instructor is going to be happy with me not doing that head-check).
The system can also automatically brake when there is a potential of a crash at certain speed, reducing the severity of a crash (which sounds pretty handy when you, ahem, are checking your Facebook status while driving. PS: not recommended)
Other handy feature includes an adaptive beam control (low or high), depending on the environment and degree of illumination needed.
Mazda 6 i-ELOOP technology
The capacitor-based i-ELOOP brake energy regeneration system will be standard across all Mazda 6 range (there is also the Mazda 6 Wagon). The car will store energy that normally gets wasted by braking inside a capacitor, which will then be used to power the car's secondary system such as the audio system, interior lighting and a few others. This technology is very fuel efficient and according to Mazda, can save fuel by up to 10% (by conserving energy as much as possible).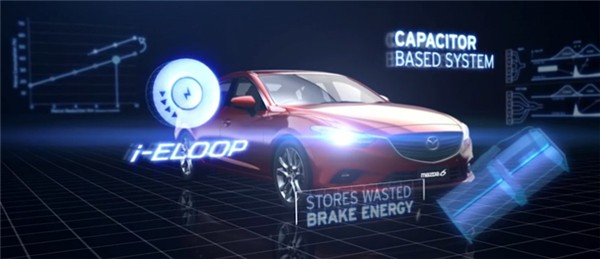 There seems to be a lot of research, design, and work being put into making the Mazda 6 as energy efficient as possible, without compromising its performance. Not to mention that it looks pretty awesome too, even without all these technologies being installed inside.
Mazda 6 video:
Note: This post is sponsored by Mazda