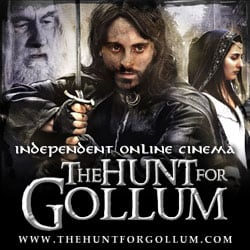 The Hunt for Gollum is a fan made movie (non profit) set  in the Lord of the Rings universe (so you'll meet again with Gandalf, Aragorn, and other important characters). But of course, instead of Virgo Mortensen & Liv Tyler, you'll see different movie casts.
At the moment, you can only watch the Hunt for Gollum online (available in HD quality) but you will be able to download the movie some time this year.
The movie is about 40 minutes long and worth a watch. Of course, don't compare it with Peter Jackson's real Lord of the Rings trilogy!! Nevertheless, after watching this, it made me want to watch the whole Lord of the Rings trilogy once more.
Hunt for Gollum Official Site.