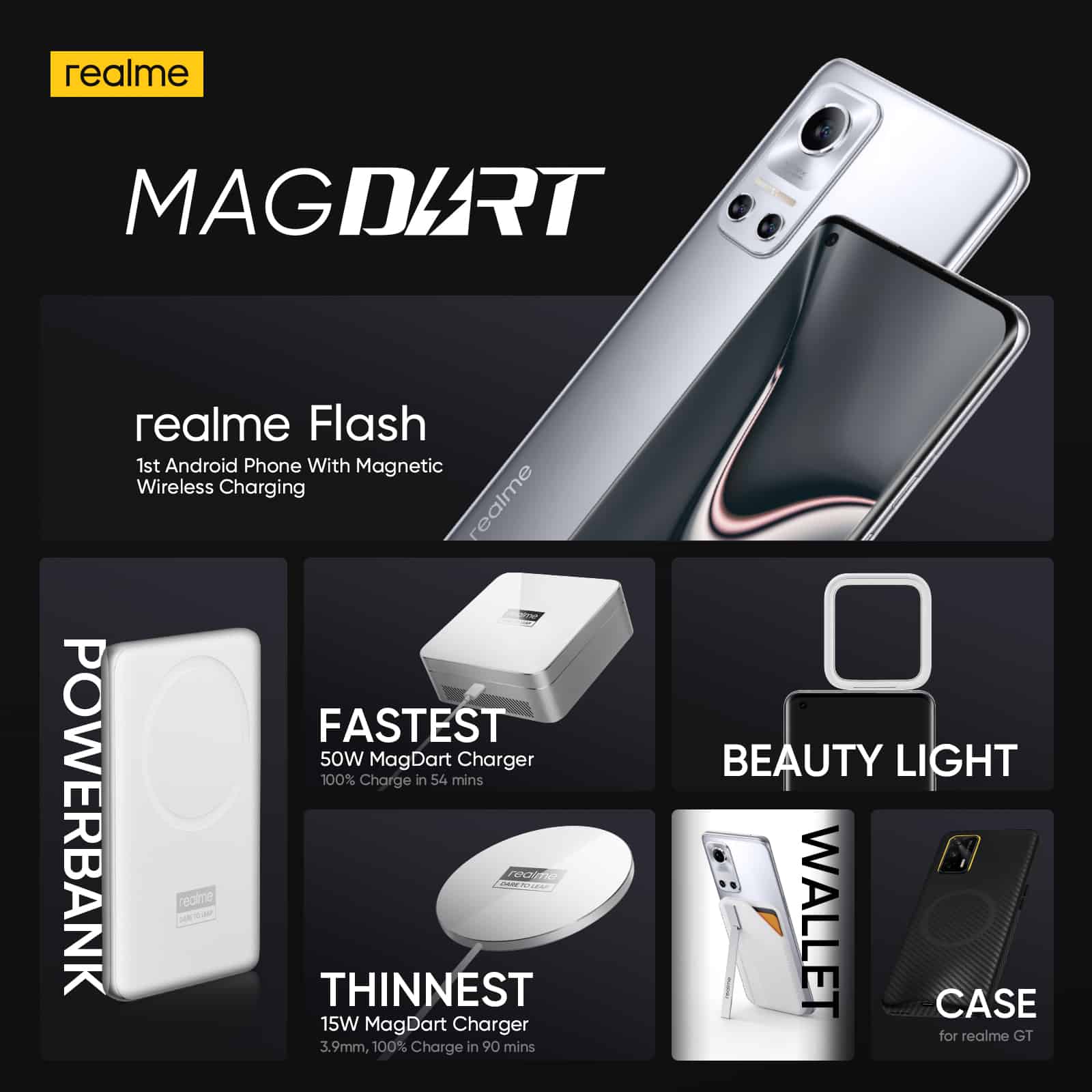 If Apple has MagSafe, than realme has MagDart.
MagSafe is Apple's magnetic technology that is now built onto the back of the latest iPhone 12 models. It has a lot of practical use, as accessories can now be quickly and seamlessly attached on the phone: cases, wireless chargers, and many more.
Android doesn't have one yet, until now. realme has just unveiled a range of new Android based magnetic wireless charging solutions with realme MagDart technology, a 50W magnetic wireless charging solution and the first of its kind for Android.
realme Flash will also be the 1st Android phone with Magnetic Wireless Charging.
The 50W MagDart charger is the world's fastest magnetic wireless charger and features an active air cooling system to quickly remove heat.
But if you are looking for a slimmer charger, the 15W MagDart is only 3.9mm thin which is 26.4% slimmer than the Apple MagSafe charger and still is faster. It can charge 4,500 mAh battery from 0 to 100% in 90 minutes.
There are also other MagDart accessories announced: a 2-in-1 MagDart Power Bank & charging base, MagDart Beauty Light, MagDart Wallet, and MagDart Charging Case.
And realme didn't just unveil magnetic chargers & accessories, but also a new concept phone: realme Flash. It features a 4,500mAh battery capacity and can support up to 50W of MagDart wireless charging. That is 0 to 20% battery in just 5 mins, and 0 to 100% in just under an hour.
Here is the full realme MagDart unveil event if you want to have a closer look: