Unagi E350 Scooter Review – Among the other electric scooters I've used and reviewed here at Craving Tech (REID E4 Plus, ROBOGO Rapid, and Segway-Ninebot F40A), the Unagi Model One E350 definitely has the best look and style, plus the most compact in size.
Upon opening the box and seeing the accessory box and the scooter itself, you know you are in for a visual treat (much like when you are about to open your brand new iPhone).
So while there are lots of different electric scooters with different style, size, power, and features, the Unagi E350 is definitely made for urban travel, where you will be riding mostly on flat urban terrain. The escooter is compact in size and easy to carry. All these mean you will lose some comfort and extra features, but we'll get back to that.
Unagi E350 Review – Packaging Contents, Unboxing, and Setup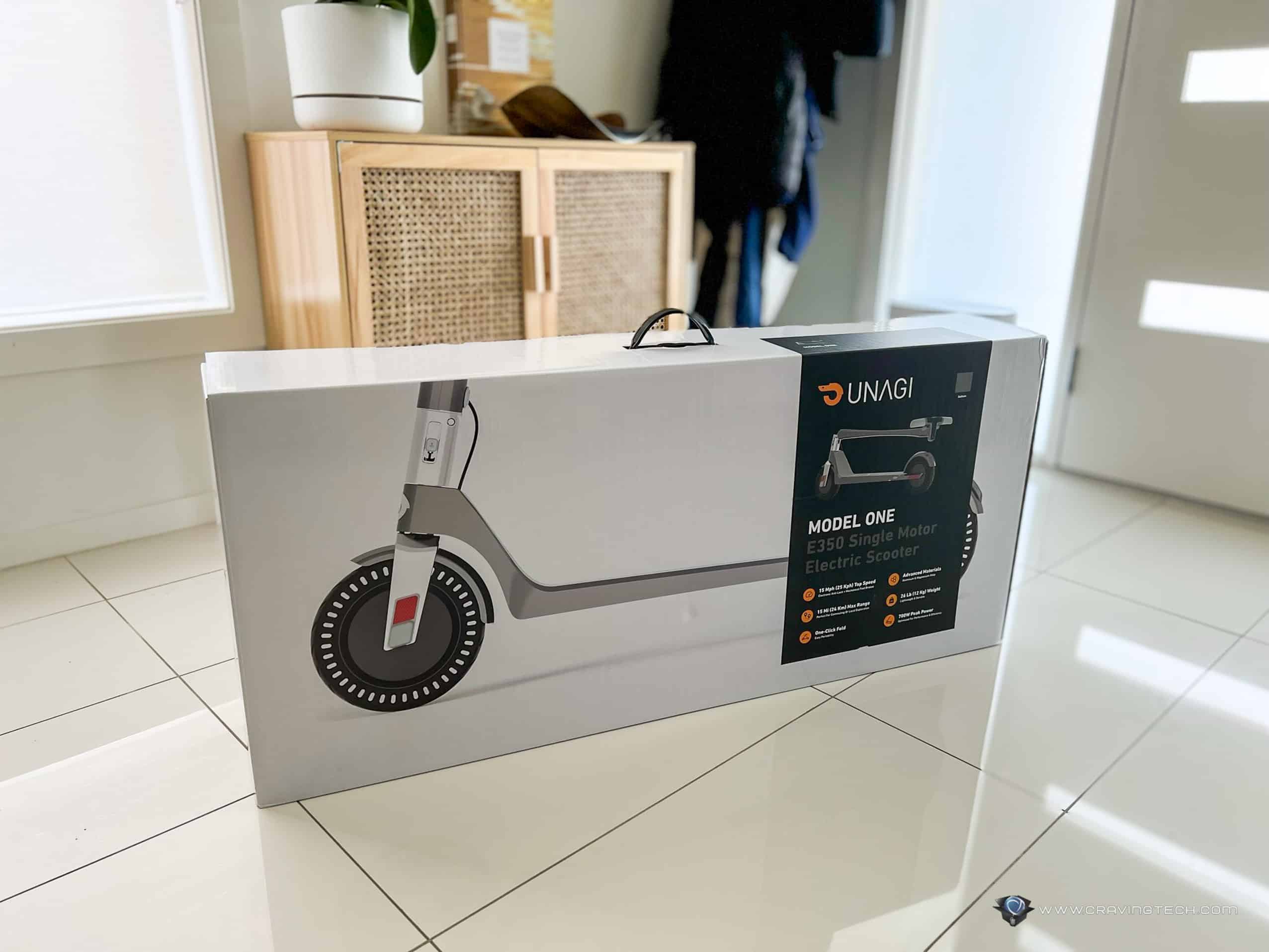 Unagi E350 Review – Design & Features
The Unagi E350 is a single motor, 350W electric scooter. The pricier and more powerful Unagi E550 has a dual 250W motor which gives you more power for riding on steeper roads and hillier terrains. But if you are planning to use the scooter mostly on roads and paths, the Unagi E350's power is more than enough in my experience.
With the specs, the escooter can go up to 24km/hr with 24km range before you need to recharge it (up to 5 hours charging time).
It's made from machined aluminium with embedded silicon, Toray carbon fiber tube (the same carbon fiber as Elon Musk's Space-X rockets), and magnesium handlebar. The deck is one, seamless surface by combining a piece of machined aluminium with embedded silicon on top.
Folding the E350 is different compared to other escooters I have. With the E350, you just have to press the one button to fold the handle, and then lock it with a satisfying click.
Usually after folding the handle, you'll have to lock it somewhere else through a hinge. The E350 is unique in that the handle looks like it's floating in the air. Surprisingly, the locking mechanism is very sturdy even when I hand carry the escooter around with just one hand. It's definitely quicker and easier.
The kickstand is hardly visible (it definitely took me some time to find out where it is without having to look at the manual), making the escooter look minimalist when you ride it. I'm not exactly a fan of the tiny kickstand as it's not as sturdy as the usual, bigger ones.
Unlike the other escooters I've tried, you trigger the primary, electronic brake by pushing down the brake level with your left thumb. It takes some time to get used to (normally you'd have a brake lever). Alternatively, you can step on the rear fender step brake with your foot as needed (which is an awkward move and takes even more time to get used to). Thankfully, I find that I've never needed to use that rear fender step brake during my ride tests as the primary brake already gives enough braking power.
The escooter weighs about 12kg which is pretty light compared to other scooters like the heavier-16kg Segway-Ninebot F40A. Four kilograms of weight is a big difference if you have to carry the unit up the train station stairs or into the boot of your car.
But what you don't get with this lighter design is comfort.
The Segway-Ninebot F40A is a larger escooter but it offers a smoother ride. With the Unagi E350, you'll definitely feel every bump as you ride across bumpy roads and paths. Compared to the other escooters I've tried, the Unagi E350 definitely has the roughest ride. While the escooter itself can go off-road just fine, t's definitely designed for urban travellers.
It's a good escooter if you are the type who wants to get from/to your office/home from the train station (and then carry it inside the train or bus), grab a bit of bite to eat at the nearest cafe, moving from one class to another at the campus, or just need to travel a shorter distance on city roads and paths.
It has a front LED light with 47 lumens of brightness and rear brake LED for safety. There is also a digital horn which sounds funny, but it does the job.
There are three speed controls, and all other information such as the current speed and total distance travelled are displayed on the sleek, display screen.
Unagi E350 Review Conclusion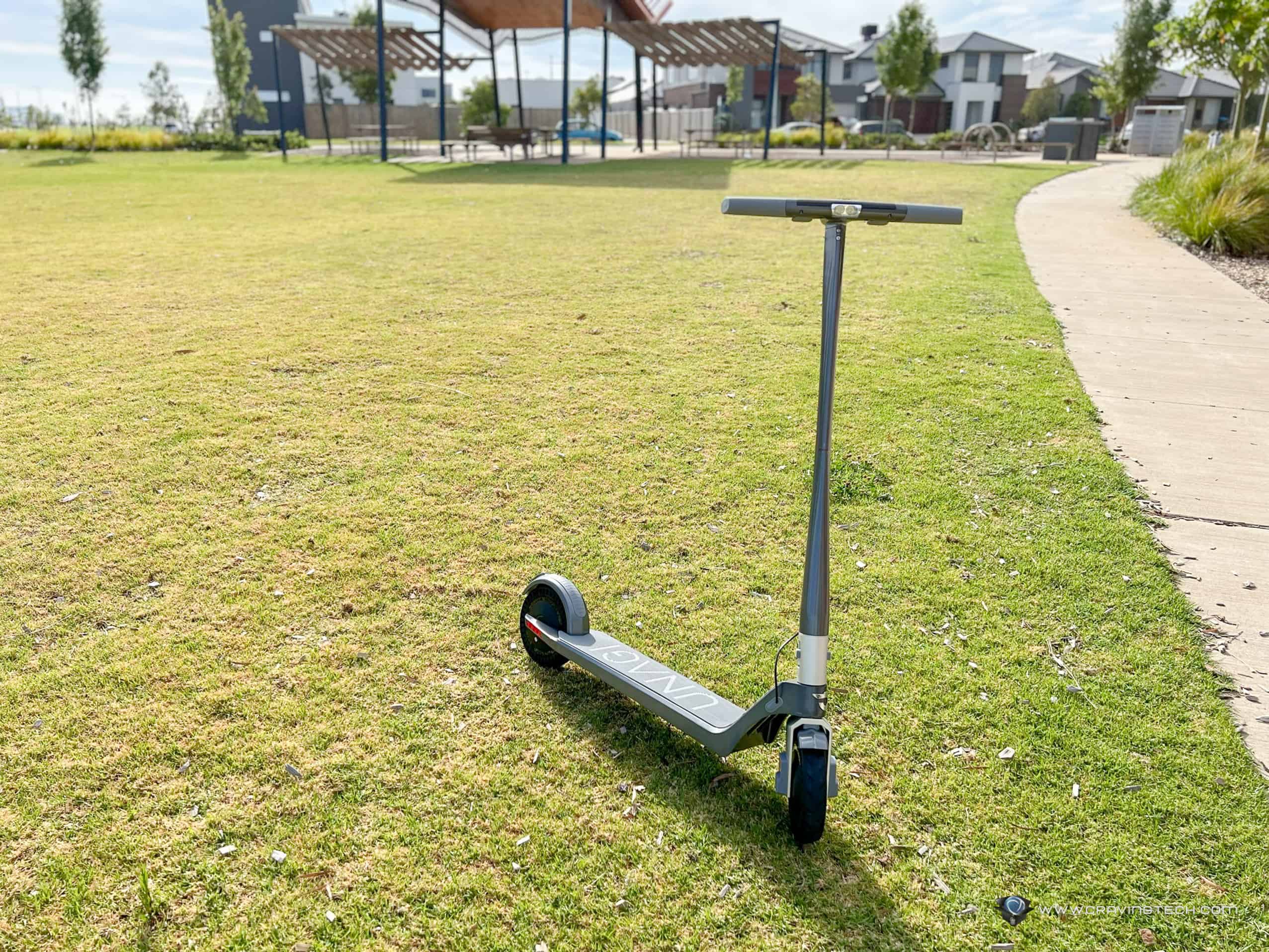 Unagi E350 is a lightweight, compact, stylish-looking electric scooter with premium materials and attention to detail that make it looks sleek and minimalist. It's an electric scooter that people would comment and ask you about when you ride it on the road for sure.
The kickstand is tiny and the deck/footstand is not that long, but the Unagi Model One E350 is the electric scooter you want if you prefer simplicity and practicality over comfortable ride.
Thanks to the compactness, it doesn't take up that much space in the house, easier to carry around compared to other bulkier and larger escooters, and has more than enough power to take you from point A to point B with ease.
And oh, Iggy Pop (popular musician, singer, and songwriter in the U.S) also declares the Unagi scooters as: "Unagi, experience euphoria without the psychedelics." He stars in the Unagi scooters campaign so you'll be seeing his face in many Unagi campaign videos.
The Unagi Model One E350 has just the perfect combination of style, power, range, speed, and weight. It retails for A$1,299 but is currently on sale for A$899 at JB Hi-Fi by the time this review is written.
As always, please double check the rules and regulations on your state to make sure that you can actually ride an electric scooter or the Unagi E350.
There are other Unagi scooters out there so make sure to Google around for more Unagi scooter reviews to pick the one that suits your needs the most.
Disclosure: Unagi Model One E350 scooter review sample was supplied for reviewing
Unagi Model One E350 Review
Summary
Unagi E350 is a compact, modern, and stylish electric scooter made for urban travel
Pros
One of the most stylish looking scooters out there
Minimalist, modern
Compact in size
Easier to fold than most other escooters
Supported by Iggy Pop
Cons
Rougher ride on bumpy roads and terrains
No app connectivity to lock the scooter or other advanced features