ROBOGO Rapid Review – There are times when you just don't feel like walking for 15 minutes to get to the nearest train station especially during a hot, summer day. You can grab a bike and cycle away, sure, but it will still leave you all sweaty.
Unless of course, if you get an electric scooter like the ROBOGO Rapid. After owning and driving an electric vehicle like the Tesla Model X, riding an e-scooter feels like a more natural choice and the experience is more fun than having to pedal manually.
The Rapid from ROBOGO came pretty much 90% assembled and it didn't take me long to complete the whole package (assemble instructions come with the packaging, along with a user guide). The Rapid is pretty easy to use so you can pretty much throw away that manual shortly after.
What makes this electric scooter special compared to the others in the market is the accelerator pedal. Most electric scooters place the accelerator on the steering bar/handle, where you need to either use your thumb or the whole hand to accelerate. While that's fine, there are times where you feel like you need to make a quick hand signal to turn but you can't really let that hand go.
By having the acceleration method using your foot, you can do that quick hand signal and this also frees up your hand for better steering.
Thankfully, the acceleration is not abrupt and sensitive when you place your foot on the pedal, thanks to the linear acceleration. You can completely floor the pedal and it will still steadily accelerate.
The feel to drive is similar to driving an electric vehicle like a Tesla with the double braking system. When you take your foot off the pedal, regenerative braking will kick in. The speed decreases though it will not go to a complete stop like a Tesla does. This allows you to turn slowly on a corner or intersection and if you want to stop completely, you can utilise the hand brake.
The hand brake is located on the left steering bar, along with the bell to alert pedestrians of your presence. The brake is quite strong and sensitive though, so it may take some time to adjust to. But when you really need to hit that brake hard, you'll be thankful for it.
Specs wise, ROBOGO Rapid has 350W motor power with maximum speed around 25km/h. It's equipped with front 10″ + rear 10.5″ inflatable tyres and shock-reducing footpad. Riding the scooter is pretty smooth and enjoyable.
You can also hear the motor sound when accelerating which adds to the fun and thrill factor! This is probably one of my favourite parts while riding the scooter.
The display screen can show your current speed and the distance traveled. You can also see the remaining battery life and the top speed limiter (3 different settings). Two control buttons are used to adjust the top speed and turn the front light on and off.
For the evening ride, you can turn the front lights on (they are quite bright) and there is also an automatic rear light for extra safety. The screen is a bit hard to see while riding but hey, you are supposed to focus on the road anyway.
You can also fold the electric scooter for storage or when you need to carry it on the train, go up the stairs, or place it in a car's trunk. While you can easily carry it with one hand, it weighs 12.5kg so you probably don't really want to carry it all the way from the train station to your office, say. There will always be compromises if you want to make an electric scooter lighter (i.e battery life, among other things). But you may also want to look at their SWIFT model if you are looking for a lighter unit.
ROBOGO Rapid has an IP54 rating so you can ride it in the midst of rain (which I did the other day) or storm. The charging port is also water sealed. According to ROBOGO, it takes around 5-6 hours to fully charge the e-scooter so you can just leave it charged overnight if need be.
ROBOGO Rapid Review Conclusion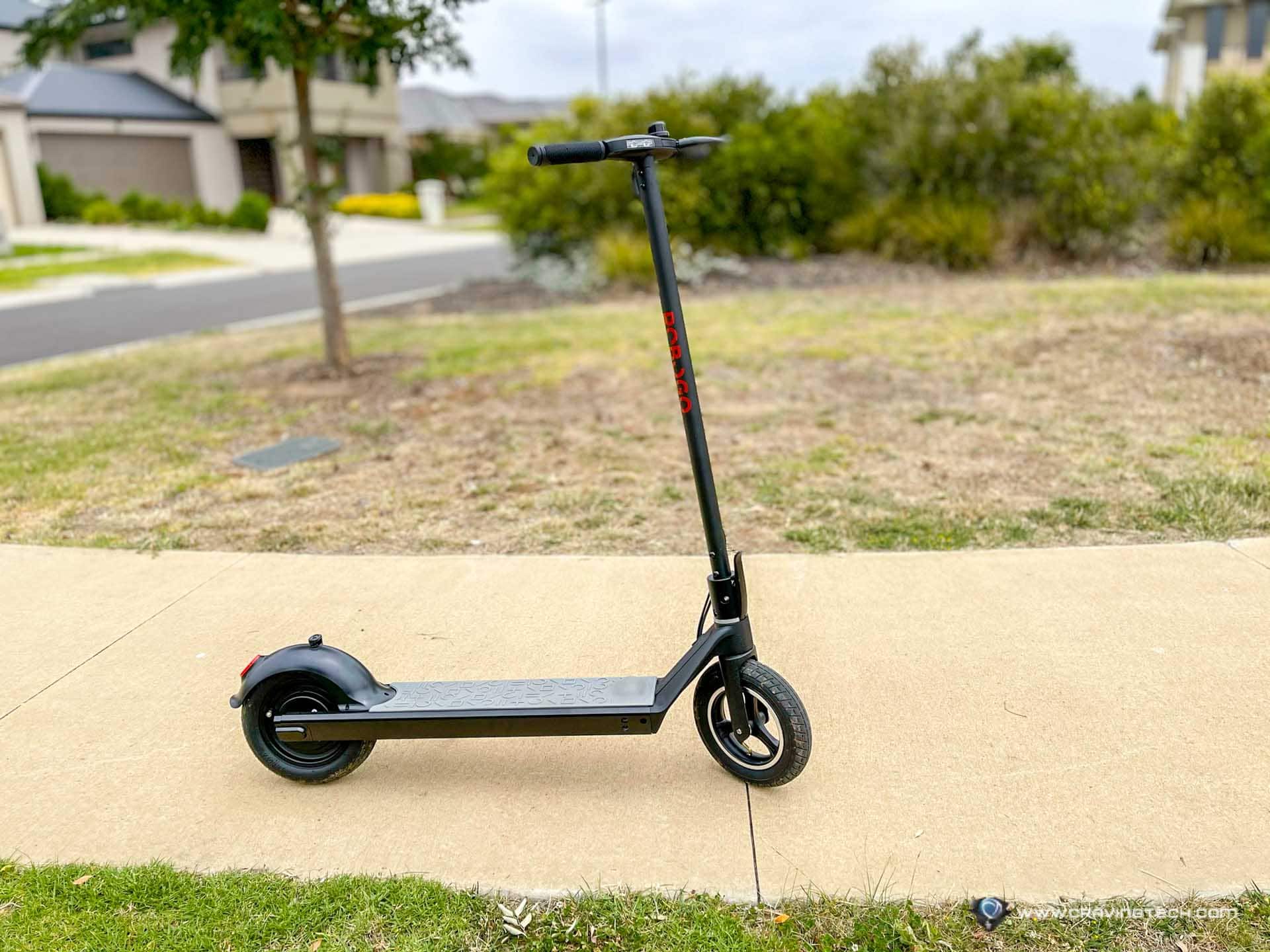 ROBOGO Rapid electric scooter is fun and smooth to drive, plus it has a sleek design and display info. The accelerator pedal design is definitely unique among the other electric scooters in the market, and ROBOGO is on the right track here.
Having the foot pedal design frees your hand to firmly hold the handle for steering, or for a quick hand signal when you need to. It also makes the ride feel natural if you are used to driving an electric vehicle like a Tesla; press your foot harder to accelerate and disengage the foot accelerator slowly to decelerate (regenerative braking).
The scooter also has a nice, weight balance overall which makes it feel sturdy when you ride.
It does not have advanced features and controls like other competitors in the market though, but this is what makes ROBOGO Rapid simpler to use and you can just focus on riding and get to your destination without having to worry about Bluetooth connection, or trying to remember what button does what.
ROBOGO Rapid retails for A$980 but it is currently on sale for A$870. You can purchase it through ROBOGO website or Catch.com.au. Please make sure that you read and follow the law and regulations in your state for riding an electric scooter.
Disclosure: ROBOGO Rapid review unit was supplied for reviewing but all opinions are mine
ROBOGO Rapid Review
Summary
The first and only electric scooter in Australia with a foot accelerator pedal. Fun and thrilling to drive
Pros
Good looking e-scooter
Simple to use
Fun to drive
Foot accelerator is a joy to use
Has front and rear lights
IP54 rating
Can be folded away
Cons
The hand brake is quite sensitive and takes some time to adjust to
No advanced features/controls like cruise control, a dedicated app, lock mechanism, etc.