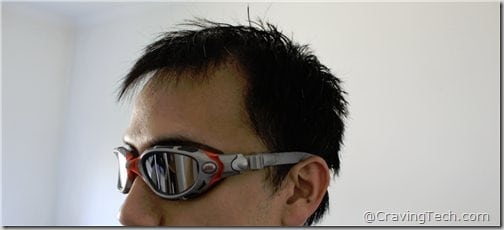 I was given a chance to play around with the Zoggs' Predator Flex goggles and also the Four Stroke Positive Drive Fins swimming fins.
Now, I haven't actually swum for 10 years so I was quite excited to have an excuse to do so again.
I truly love the Predator Flex goggle design. It doesn't look funny and in fact, it's actually a very stylish looking swimming goggle:
Overall, I like how they put a nice color touch on the nose bridge and near the adjustable strap system:
The one that I have is the Silver/Red but there is also a Blue/Yellow one. Both colours feature mirrored lens.
The Predator Flex utilises 4 Flexpoint Technology which is a unique design by Zoggs to take frame flexibility to the max. The 4 Flexpoint Technology actually allows the frame to flex to face for a comfortable fit (colored in red). They are flexible yet pretty sturdy when I wore them on the face. Even after a non-stop swimming session without taking the goggle off, the Predator Flex still fits sturdily on my face. There was no water leaking in which normally happened to my old goggle.
The Predator Flex still felt comfortable even when I swam for more than an hour. Normally I had to take my goggle out every now and then as I got uncomfortable around the nose and eyes due to the pressure.
I'm amazed at how clear the Zoggs' Predator Flex goggle is, even after I swam for quite some time. There was no fog too when I wore it to swim, thanks to the Fogbuster technology. I laughed when I remember at how I needed to clean my old goggle's lens every 10 minutes or so because they got too foggy to see.
The Four Stroke Positive Drive Fins are also uniquely designed to be different. It feels like wearing a tight shoe/sandal than a swimming fin. In fact, it actually doesn't look like a fin at all. Four Stroke Positive Drive Fins are supposed to increase flexibility and also provide more power when you swim.
It's also easy to walk around in them so you don't have to take them on and off when you want to move to different pools, say. Unlike other swimming fins which were designed for freestyle swimming, the Four Stroke Positive Drive Fins are uniquely designed for all four strokes. No matter what your favorite style is, the fins will work flawlessly.
The key benefits of the Four Stroke Positive Drive Fins are:
The Offset Foot Pocket that promotes natural supination (opposite to pronation) in the kick turning the kicking motion into positive drive.
The Ellipsoidal shaped blade that provides ideal thrust in all of the main four kick cycles.
The Hoop Rail foot pocket and High Warp blade that combine to promote optimum foot position, foot speed and flexibility.
The Ergonomic Foot Pocket that is designed to provide exceptional foot comfort and
The Closed Toe feature gives complete front of foot stability thus providing greater energy transfer in the kick.
The Four Stroke Positive Drive Fins are available in sizes ranging from 2-3 through 13-14 so you can get these to train your kids how to swim too.
Overall, I'm very happy with quality of Zoggs' swimming products, especially the Predator Flex goggles, which I've been recommending to everyone who came to my house these past few days. Thanks to Zoggs, swimming is fun once again.
There will be 2 Zoggs' Predator Flex Goggles to give away exclusively at Craving Tech. But for now, please head over to Nuffnang's official blog post Zoggs' goggles giveaway for a chance to win 1 out of 50 Zoggs goggles!