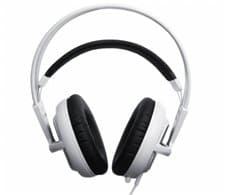 SteelSeries has just released version 2 of its Headset named Siberia that delivers superior sound isolation, comfort, and design for Gamers and Audiophiles!
The first Siberia Headset was launched back in 2004 so 5 years have passed before we are introduced with Siberia v2. Siberia v2 sports an "invisible" retractable microphone system that pulls out from the left-ear cup which is a cool thing! Often we get annoyed by the pesky microphone on our headsets!
Siberia v2 new 50mm speakers will ampliffy the bass and overall volume as well as improve the frequency response to 10-28,000 Hz. If you don't really understand the mumbo-jumbo, suffice to say that Siberia v2 is optimized for professional gaming and provides a crystal clear sound which is important for multiplayer gaming, especially FPS games.
Bruce Hawver, CEO of SteelSeries, said:
Every element of the Siberia v2 has been optimized for pro-gaming, making this headset a preferred piece of equipment for the world's best competitive PC gamers. What's even more impressive is that the headset is multifunctional with its ability to deliver an unparalleled audio experience for music lovers and VOIP users.
SteelSeries Siberia v2 Full-size Headset specifications:
50mm speakers
Impedance: 32 Ohm
Frequency: 10-28,000 Hz
[email protected]: 112dB
Cable: 1m + 2m extension
Jacks: 2* 3.5mm
Retractable microphone: 50-16,000 Hz, unidirectional
The Siberia v2 will be offered in two versions, with and without a USB soundcard. The virtual surround 7.1 soundcard offers a consistent sound experience, ensuring gamers the exact same sound and settings no matter where they are in the world or at what computer they are playing. With the easy to use software provided with the headset, the user can easily customize equalizer settings, profiles and other output settings.
SteelSeries Siberia v2 Full-size Headset will be available all over the world in November 2009. Pricing will be announced at that time as well.
Source: SteelSeries Press Release, Chicago, 18th September 2009